Ho Chi Minh City, often referred to as Saigon, is a bustling metropolis that never sleeps. It's a city of contrasts, where modern skyscrapers stand tall beside historic French colonial buildings, and the streets are a symphony of motorbike engines and street vendors' calls. Amidst this lively chaos, one thing stands out as a symbol of relaxation and leisure – coffee.
Vietnam is one of the world's largest coffee producers, and coffee culture runs deep in the veins of its people. In Ho Chi Minh City, you'll find a vibrant coffee scene that seamlessly blends tradition and innovation. From ancient drip coffee techniques to chic and contemporary coffee shops, Saigon has it all.
In this article, we'll take you on a journey through the top 5 coffee shops in Ho Chi Minh City that you absolutely must try. Whether you're a coffee connoisseur or just looking for a cozy spot to unwind, these cafes offer unique experiences and, of course, exceptional Vietnamese coffee. So, let's dive into the rich and aromatic world of coffee in Saigon!
Little HaNoi Egg Coffee
Opening hours: 8:00 AM – 10:00 PM
Address 1: 119/5 Yersin, Pham Ngu Lao Ward, District 1, Ho Chi Minh City, Vietnam
Address 2: 2nd Floor, 212 Le Lai Ben Thanh Ward, District 1, Ho Chi Minh City, Vietnam
Address 3: 169L, Ky Con, Nguyen Thai Binh Ward, District 1, Ho Chi Minh City, Vietnam
In the bustling heart of District 1, Saigon, it's quite rare to find a tranquil and gentle coffee shop. Fortunately, amidst the hustle and bustle, Little HaNoi Egg Coffee emerges like a new oasis, offering a contrasting experience to the fast-paced life outside.
From the outside to the moment you step inside, Little HaNoi Egg Coffee maintains its unique character, with a classic yellow color dominating the central theme. The yellow walls or the vintage tiles give you a subtle feeling of nostalgia.
Every corner of Little HaNoi is decorated in an old-fashioned style, with black and white photos that seem old but evoke recent memories. Everything at Little HaNoi is extremely simple and rustic, but this doesn't make the place feel old; on the contrary, Little HaNoi exudes elegance and sophistication.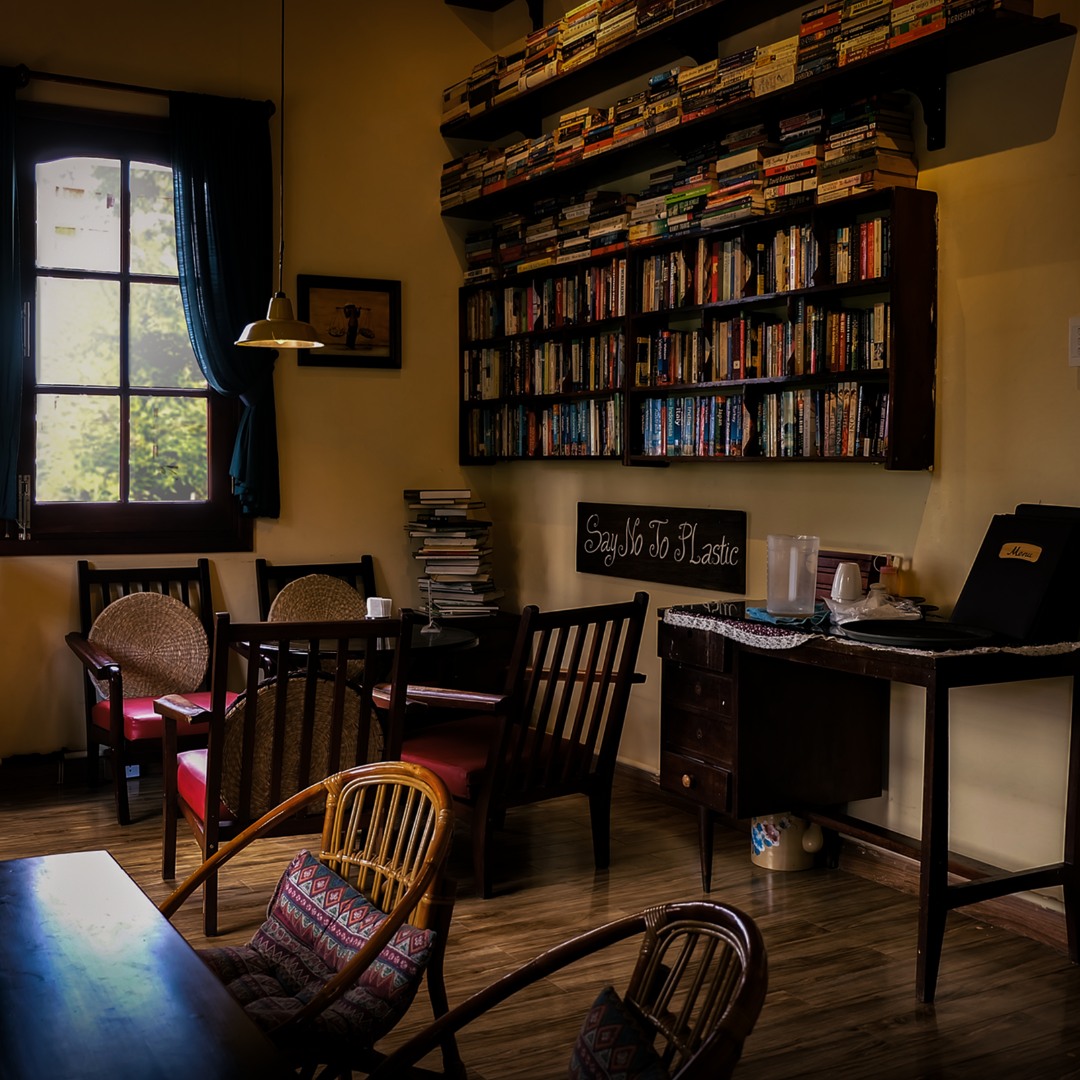 Little HaNoi is gentle and warm like a Hanoi girl. It retains the old architecture of Hanoi, with sloping walls that bear the mark of time. It features soft, relaxing music and a serene atmosphere, enough for you to reminisce about bygone days.
In addition to its serene ambiance, Little HaNoi also serves its customers delicious meals prepared in the café's style. Breakfasts are not overly elaborate but are nutritionally balanced, providing essential energy for your long work or study day.
Little HaNoi Egg Coffee is a coffee shop that embodies the essence of Hanoi, from its structure, space, to its flavors. Moreover, Little HaNoi Egg Coffee holds a hidden treasure trove of books, an expanded world of words seemingly unfolding before your eyes.
When you visit, make sure to try the egg coffee and cocoa coffee. You won't be disappointed. Experience the entirety of Hanoi through your sight, taste, and smell. It's beautiful in its arrangement, delightful in its flavors, and fragrant in its aroma.
Little HaNoi Egg Coffee – The hidden gem, the unique culture. It all began with tea and egg coffee, a traditional Hanoi drink. Many people in Hanoi couldn't afford condensed milk and instead added egg yolk and sugar to their coffee, creating a beverage now emblematic of Vietnamese coffee culture.
Cà phê vợt
Vot coffee, also known as "kho coffee" or "bit tat coffee," was brought to Vietnam in the 20th century by the Chinese community living in Saigon. It represents the fusion of two cultures. During that time, phin coffee was considered a beverage for the middle class, while vot coffee was the favorite drink of the common laborers. It provided them with a brief moment of relaxation before returning to their challenging daily lives.
The name "vot coffee" comes from the brewing method. A large strainer is typically used to extract the coffee. After two rounds of filtration, the coffee retains its distinctive flavor, offering a harmonious blend of strong coffee taste with a sweet and creamy aftertaste.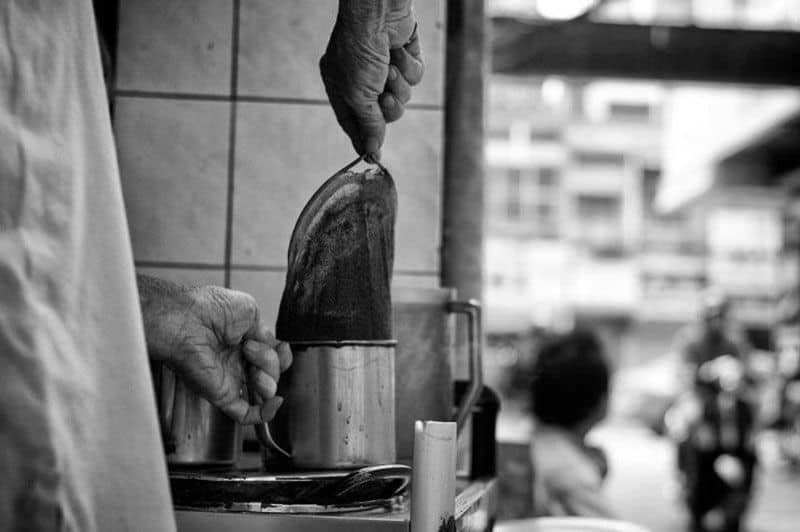 Over time, vot coffee has become an indispensable part of the lives of Saigonese. Despite the development of modern coffee brewing methods, these coffee shops still line the streets. They are familiar places for many, where they can revisit the nostalgia of the past and immerse themselves in the atmosphere of the vibrant Saigon of the 1990s.
Vot coffee boasts a rich flavor, with the pure aroma of coffee combined with a sweet, slightly creamy taste. People in Saigon often enjoy vot coffee slowly, savoring it while engaging in leisurely conversations or reading newspapers. This is a distinct characteristic and refined pleasure of Saigonese.
Cheo Leo Cafe
Address: 109-36 Nguyen Thien Thuat, Ward 2, District 3, Ho Chi Minh City.
Cà phê Vợt Ba Lù
Address: 193 Phung Hung, Ward 14, District 5, Ho Chi Minh City.
Cà phê Vợt
Address: 330 Phan Dinh Phung, Ward 1, Phu Nhuan District, Ho Chi Minh City.
Cà phê Vợt Bùi Vien
Address: 1 Bui Vien Street, District 1, Ho Chi Minh City.
Là Việt
The coffee culture in Vietnam has flourished across various provinces and cities, but in Saigon, it has evolved with a focus on specialty coffee brands, often referred to as the "third wave" of coffee. Là Việt is one of the notable brands leading this movement, offering not just a great cup of coffee but also a coffee culture experience.
In Da Lat, Là Việt appears as a small coffee workshop where visitors can witness the various stages of coffee roasting and processing, creating a more hands-on experience. Meanwhile, in Saigon, Là Việt is nestled in the alleyways, closely tied to the alley culture. This provides visitors with a serene atmosphere, emphasizing sharing and community.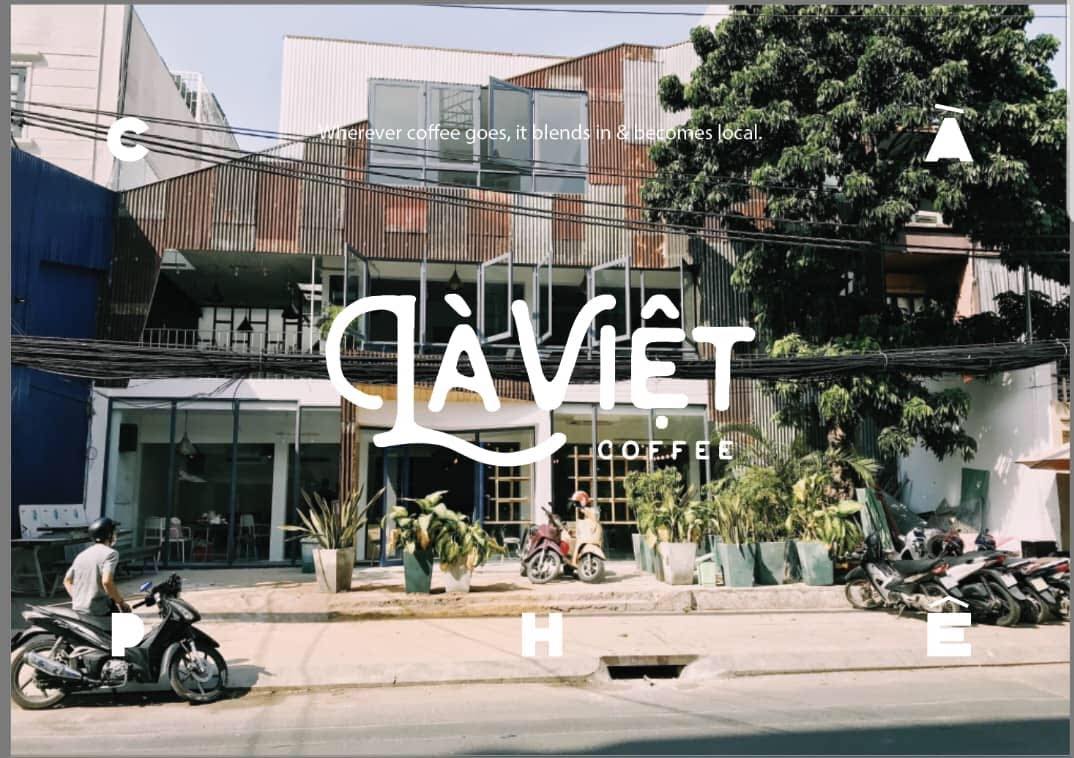 For anyone seeking a quiet space to read, chat with friends, work, or escape the hustle and bustle of the city, Là Việt is a must-visit with four locations in Saigon. Among these, Là Việt on Tú Xương and Hai Bà Trưng streets is situated within charming two-story white villas. They feature spacious verandas surrounded by lush greenery, with floor-to-ceiling windows that maximize natural light and create a sense of openness and comfort for customers. Each space is designed in bright colors complemented by the warm tones of wood, with views of the inspiring world outside, featuring fresh greenery and both French and Vietnamese architectural elements.
Defining the creations at Là Việt is no easy task. In many cases, it's about unique drinks. Sometimes, it's a variation developed from traditional recipes.
When you visit Là Việt, coffee beans and typical Vietnamese ingredients like palm sugar, coconut, cinnamon, star anise, ginger, or tamarind serve as inspiration for their creative menu. This approach not only adds unique flavors to their drinks but also shows respect for the local culture.
Là Việt's criterion for making drinks is that the ingredients should harmonize with coffee to create a balanced yet distinctive taste. This philosophy has resulted in outstanding items like Coffee Phở, Coconut Milk Coffee, Tamarind Coffee, and Palm Sugar Coffee, all of which have garnered the support of their customers. When you visit the cafe, you can even try coffee made from the 2018-2019 season's beans from Monday to Friday at the brew bar, featuring Cold Brew (using Honey Process beans) and Batch Brew (using Special House Blend beans), brewed with a Mocca Master machine.
According to the latest update by the reputable magazine Big Seven Travel, Vietnam has three coffee shops listed among the top 50 in Asia, as voted by over two million coffee enthusiasts worldwide. Là Việt is proudly ranked at number 6 on this prestigious list.
Address: 193 Hai Bà Trưng Alley, Ward 6, District 3, Ho Chi Minh City, Vietnam.
Address: 6D Trần Quang Diệu Street, Ward 13, District 3, Ho Chi Minh City, Vietnam.
Address: 16 Bà Huyện Thanh Quan Street, Ward 6, District 3, Ho Chi Minh City, Vietnam.
Phúc Long Coffee & Tea House
Phuc Long, founded in 1968 in the renowned tea highlands of Bao Loc, Lam Dong, was established with the mission of producing high-quality tea and coffee products.
In the 1980s, Phuc Long opened its first three stores in Ho Chi Minh City, located on Le Van Sy, Tran Hung Dao, and Mac Thi Buoi streets, aiming to introduce pure Vietnamese tea and coffee to domestic and international customers.
Particularly, the Mac Thi Buoi Phuc Long store, situated in the heart of District 1, was the first to serve Phuc Long's distinctive tea-based beverages and premium machine-brewed coffee, typically found only in upscale restaurants at that time.
In 2000, Phuc Long officially became the Phuc Long Production and Trading Limited Liability Company.
In 2007, Phuc Long acquired tea hills in Thai Nguyen and constructed a tea processing plant there to preserve the natural quality of Thai Nguyen tea. They also invested in building a coffee and tea processing plant in Binh Duong, equipped with modern machinery and HACCP certification to ensure food safety standards for both domestic and international markets.
In 2012, Phuc Long ventured into the food and beverage sector by opening a Phuc Long Coffee & Tea store in Crescent Mall, District 7, with a self-service model in a modern setting.
In 2015, they developed 10 stores in Ho Chi Minh City, establishing their brand with bold-flavored tea and coffee products.
In 2018, Phuc Long opened a second factory in Binh Duong, owning tea hills in both Thai Nguyen and Bao Loc. They expanded to over 40 stores in various major cities and began entering the Hanoi market.
In 2019, Phuc Long expanded its presence with 70 stores and continued to grow its network from South to North, distributing tea and coffee products to various retail outlets and supermarkets.
With over 50 years in the industry, Phuc Long has always placed quality and innovation at the core of its tea and coffee products and proudly stands as a pioneering brand in the field.
Trung Nguyen Coffee
Trung Nguyên – The Iconic Coffee Brand of Vietnam
Trung Nguyên Coffee is one of the foremost and renowned coffee brands in Vietnam. Established in 1996, Trung Nguyên brought the finest Robusta coffee beans in the world to deliver millions of delicious coffee cups to consumers every day.
Utilizing cutting-edge world-class technologies and a unique secret recipe that cannot be replicated, Trung Nguyên Coffee has successfully catered to diverse coffee connoisseurs' tastes. Presently, Trung Nguyên has a presence in over 60 countries worldwide, including the United States, Canada, Russia, the United Kingdom, Germany, Japan, China, ASEAN, and is cherished by consumers globally.
Key Milestones of Trung Nguyên:
In 2012, Trung Nguyên was voted as the most beloved coffee brand by Vietnamese consumers.
In 2016, the corporation introduced the Trung Nguyên Legend Café concept, becoming the largest coffee shop chain in Southeast Asia.
By 2018, the two coffee masterpieces, Trung Nguyên Legend and Trung Nguyên Legend Capsule, were launched and have since earned consumers' full trust.
The coffee products distributed by Trung Nguyên include instant coffee, roasted coffee, creative coffee blends, Legendee Weasel Coffee, and Weasel Coffee, among others.
---