Ho Chi Minh City, often referred to as Saigon, is a treasure trove of cultural richness and dynamic energy. Among its many attractions, the local markets stand out as vibrant hubs that offer a glimpse into the city's authentic daily life. From the bustling alleys of Ben Thanh Market to the hidden gems of Binh Tay Market, these top 7 famous markets not only showcase a wide array of goods and flavors but also provide a captivating window into the heart and soul of this captivating metropolis. Join us as we explore the enchanting world of Ho Chi Minh City's local markets and uncover the essence of its bustling spirit.
Tan Dinh Market
Address: Hai Ba Trung Street, Tan Dinh Ward, District 1, HCMC
Tân Định Market, as recounted by the locals, dates back to 1926 and has now evolved into not only one of the city's oldest traditional markets but also a historical landmark of the metropolis. Back then, it was renowned as the affluent market due to its higher prices compared to others. Positioned at the heart of the city, it boasted car parking areas on both sides, with a horse-drawn carriage station behind. Its reputation was also buoyed by the availability of fresh and delectable produce, both meat and vegetables.
In addition to its prominence as a produce market, Tân Định Market held the distinction of being Saigon's largest and most budget-friendly hub for fabric trading. What some Saigonese might not know is that the precursor to Tân Định Market was known as Phú Hòa Market, established in the late 1870s and 1880s, which held significance as one of the key markets in Northern Saigon at that time. From 1912 onwards, the market underwent reconstruction and was christened Tân Định Market, a name that endures to this day.
Boasting distinctive French architectural influences, Tân Định Market is renowned as one of the five oldest surviving markets in Saigon, alongside Bến Thành Market, Bình Tây Market, An Đông Market, and Bà Chiểu Market. Despite its inception in 1926, the market retains its uniqueness and pivotal position in District 1's epicenter, an area characterized by high population density and vibrant lifestyles.
Strategically located, the main gate of the market adjoins Hai Bà Trưng Street, while the rear gate is connected to Mã Lộ Street, and one side meets Nguyễn Hữu Cầu Street. Its external facade features an impressive and distinctive gateway design, while the interior architecture, while not particularly exceptional, carries its own charm. By day, the market hums with bustling commercial activities, and by night, it transforms into a vibrant hotspot with various eateries surrounding it.
Ho Thi Ky Flower Market
Address: Ho Thi Ky Street, Ward 1, District 10, Ho Chi Minh City
Hồ Thị Kỳ Flower Market stands as Saigon's largest wholesale flower market, tracing its roots back to 1987, amassing over three decades of existence. Nestled along the road that shares its name, Hồ Thị Kỳ Street, it finds its abode next to the Lê Hồng Phong apartment complex, in Ward 1 of District 10. This vibrant market is a bustling hub for a myriad of fresh blooms, primarily sourced from Da Lat city and other locales such as the Southwestern provinces and even Hanoi.
Operating throughout the day, Hồ Thị Kỳ Flower Market comes alive at the crack of dawn, as people engage fervently in buying and transporting flowers to welcome the new day. During festive occasions, the market pulsates with even more fervor and activity. The market's role as a primary source of fresh flowers ensures relatively affordable prices, making it among the most budget-friendly options in Saigon. A diverse array of flowers, ranging from chrysanthemums, marigolds, and celosias to exquisite orchids, roses, sunflowers, and lisianthuses, burst forth in vibrant displays, each stall vying to showcase their radiance.
Beyond its flower specialization, the market also offers intricate flower arrangements, handwoven baskets made from materials like bamboo and rattan, and various floral arrangement tools, granting flower enthusiasts ample space for creativity and decoration. Hồ Thị Kỳ Flower Market's charm lies not only in its blooms but also in the avenue it provides for floral aficionados to explore and express their passion for all things floral.
Ba Chieu Market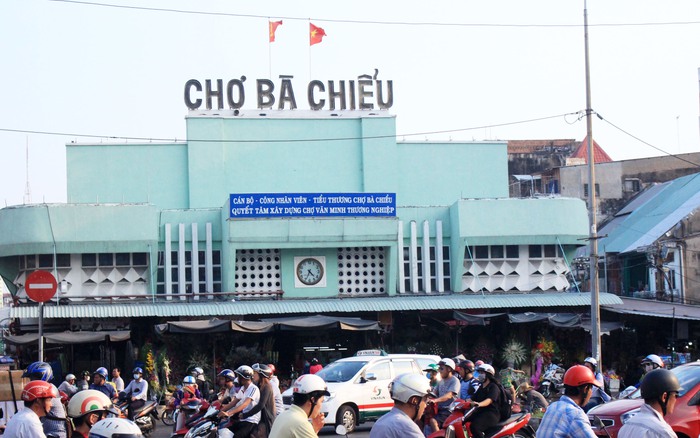 Address: 141 Bach Dang Street, Ward 2, Binh Thanh District, Ho Chi Minh City
Established in 1942, Bà Chiểu Market, initially known as "Xổm Market," earned its name due to its relatively small size and the locals' practice of sitting low while trading, unlike the organized stalls seen today. By 1987, the market underwent renovations and upgrades, transforming into the spacious and well-organized marketplace it is now. The market comprises around 800 households and boasts 40 main categories of products.
Renowned as one of the largest markets in Ho Chi Minh City, Bà Chiểu Market has become a shopping haven not only for the residents of Bình Thạnh District but also for city-wide locals and neighboring areas. Here, you can find an array of goods, from clothing, footwear, and bags for all genders and ages to household items.
Another name that Bà Chiểu Market goes by is "Secondhand Market" or "Used Goods Market." This moniker accurately reflects the abundance of secondhand items from across the city and nearby regions available here. The variety of secondhand goods predominantly encompasses fashion items, including clothing for all ages, footwear, and accessories from budget-friendly to upscale brands.
Furthermore, Bà Chiểu Market is well-known for its wholesale opportunities, as items such as clothing, footwear, leather goods, beauty accessories, and more are offered at competitive prices without compromising on style. This allure attracts not only the younger generation but also local residents to flock to the market for shopping. Despite its reputation as a long-standing retail market in Saigon, Bà Chiểu Market still has spots within its precinct that cater to wholesalers seeking quality yet affordable secondhand goods.
Cho Lon
Address: 57A Thap Muoi Street, Ward 2, District 6, Ho Chi Minh City
The 17th to 19th centuries are often regarded as a pinnacle period in history, marked by the emergence of urban centers, marketplaces, and trade hubs, coinciding with the influx of Chinese immigrants to southern Vietnam during that time. In 1778, the Chinese community began establishing the Chợ Lớn town, which laid the foundation for what was to become Saigon.
By 1865, when the French occupied Southern Vietnam, the city of Chợ Lớn was established. In 1931, the French further amalgamated both areas into one entity, referred to as the Sài Gòn – Chợ Lớn region. Amidst numerous changes and transformations within the country's divided and evolving landscape, the Sài Gòn – Chợ Lớn region evolved into the capital, Sài Gòn. At that time, the name Chợ Lớn was retained as a district, encompassing District 5, District 6, and part of District 11.
It can be said that Chợ Lớn remains the sole place in Saigon that has preserved and safeguarded the cultural, architectural, and religious values of centuries past. Here, you can unmistakably sense this heritage through every corner, every tile, and the enduring classical architecture that has remained unaltered.
Amidst a continuously developing Saigon, the enduring Chinese cultural influence can still be observed everywhere – in their cuisine, language, trading practices, and ways of life. During each mid-autumn festival, the Lương Nhữ Hộc Street becomes resplendent with thousands of lanterns, captivating numerous children who come to partake in the festivities.
Dan Sinh Market
Address: 104 Yersin Street, Nguyen Thai Binh Ward, District 1, Ho Chi Minh City
Established in 1954 and spanning over 60 years, Dan Sinh Market is a unique trading hub specializing in vintage items and electrical equipment. Initially, the market was dedicated to selling surplus military uniforms, both old and new, from the U.S. Army. Over time, the range of items expanded, diversifying into clothing, used items such as vehicle parts, and gaining particular popularity.
From around 1990 to 1992, the market began incorporating new goods alongside its vintage offerings. By 1997, spurred by economic growth, vendors expanded their merchandise to include a broader range of new products, essentially eclipsing the vintage selection. Dan Sinh Market evolved into a sought-after destination for tourists, both domestic and international, as well as Vietnamese expatriates, who visited Saigon to acquire cherished souvenirs.
With the advent of the 2000s and the liberalization of trade, easier import and export facilitated the rise of electronic stores, supermarkets, and shopping centers. Consequently, Dan Sinh Market experienced a decrease in its bustling atmosphere.
Today, Dan Sinh Market remains a repository of bygone treasures, encompassing items such as porcelain, conical hats, vintage photographs, and old banknotes. Prices here are not measured solely by monetary value but rather by historical significance. The longer an item has been in existence, the higher its perceived value. When making a purchase, buyers are often regaled with tales about the antique, its age, and the historical context behind each piece.
---