Perhaps, you have heard a lot about Vietnam – a tiny but marvelous country with the richness of history on the world map, yet an authentic journey will open your mind to utterly new and astonishing things of this land. Dream about such a trip and ever wonder where to come first? Then, Ho Chi Minh City is supposed to a satisfactory answer to this case, according to many locals. Here, itineraries for 3 days in Ho Chi Minh City (Saigon) in forms of Vietnam day trips, day trips in Vietnam or premier group tour are indeed too great to experience.
Day 1: Ho Chi Minh city full day tour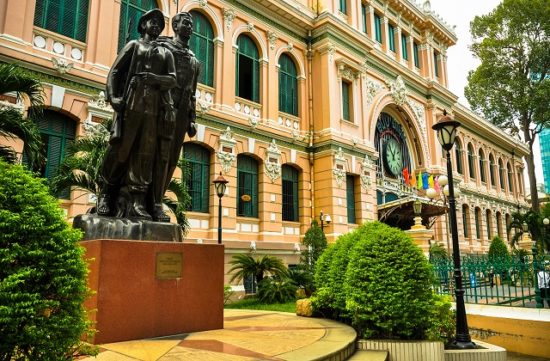 Saigon central post office in Ho Chi minh city
To make the morning trip on the first day of 3 days in Ho Chi City fantastic, you are advisable to pay a visits to Reunification Palace (a symbol of the Minh Vietnam's independence), where the tank of North Vietnamese Army smashed the entrance gate to signal the end of the Vietnam war in 1975. It is meaningful to experience and bring home to us the Vietnam's history.
Later, join a sightseeing tour to outstanding French architectural structures of that high-octane city, such as Notre Dame Cathedral and Old Central Office. Those buildings are exactly marks left after the French colonial era many years ago. Besides, it is with great regret that you ignore Thien Hau pagoda and Chinatown as you can understand a part of the city's culture. Binh Tay market is the final stop for the morning trip around Ho Chi Minh City, where you will be dipped into the pulsating atmosphere of the urban life.
In the afternoon, head toward War Remnants Museum to see the big exhibition of Vietnam and Indochina wars. The visit is supposed to be a chance for you to gain more understanding of how Vietnamese people in the past suffered losses and pains due to the war. After this delicate destination, you should spend the rest of the afternoon to explore streetfood as well as market culture of the locals at Ben Thanh Market.
An alternative for experiencing an afternoon in Ho Chi Minh City is joining a cooking class to get a new look about the Vietnamese cuisine. Not only do you enjoy culinary delights at the restaurant where the cooking class is operated, but also grab valuable knowledge about the Vietnamese culinary art from experienced and skilful chefs.
With the coming of night, it's believed that what stuns you so much is a dinner cruise on Saigon River and a water puppet show. Try imaging how awesome it is when you admire the great view of the city in dazzling lights and night-amusement spots scattered in the heart of the downtown.
Book now
 Saigon Food Cook and The City price from $50
Day 2: Cao Dai Temple and Cu Chi tunnels tour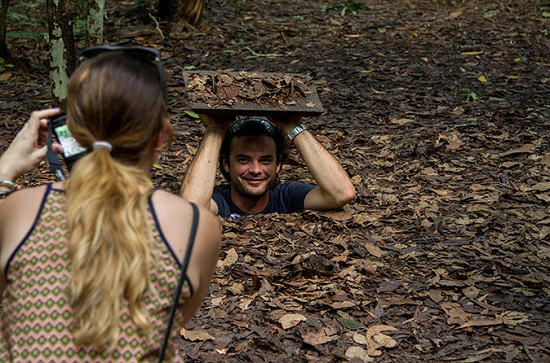 Cu Chi tunnels is one of the top 10 attractions travelers must visit in Ho Chi Minh City
After the first day full of activities, you have an idea that there is no place to do and see in Ho Chi Minh anymore, don't you? Nevertheless, the trip to Cao Dai Temple and Cu Chi tunnels tour, quite far from the city center will not let you down at any cost.
Cao Dai Temple also called Holy See Temple in Tay Ninh Province is the headquarter of Cao Dai sect; their religion is viewed as a hybrid of Buddhism, Confucianism, and Christianity. The most striking feature of this structure is that there is a big holy eye (the religion's symbol) above the entrance gate. More wonderfully, if coming here soon, you can attend the midday mass of the Cao Dai faithful.
As for Cu Chi Tunnels, it is not a lie that the landmark is considered as a typical example of an incredible underground village as all what met the demand of Vietnamese people during the war was available here. Depicted as the vast network of more than 200km, Cu Chi Tunnels comprise weapon storage facilities, hospitals, living areas, command centers and kitchen, etc., all of which helped the guerrillas successfully cope with the enemies. Especially, the tunnels were totally made by hand, illustrating the smartness and creativeness of Vietnamese people.
A hint for you to experience nightlife is booking a motorbike tour by myride.com to be guided through different pulsating street corners and understand the life of the city's people at night.
Book now
 Cao Dai Temple – Cu Chi Tunnels (full day trip) price from $31
Day 3: Mekong Delta trip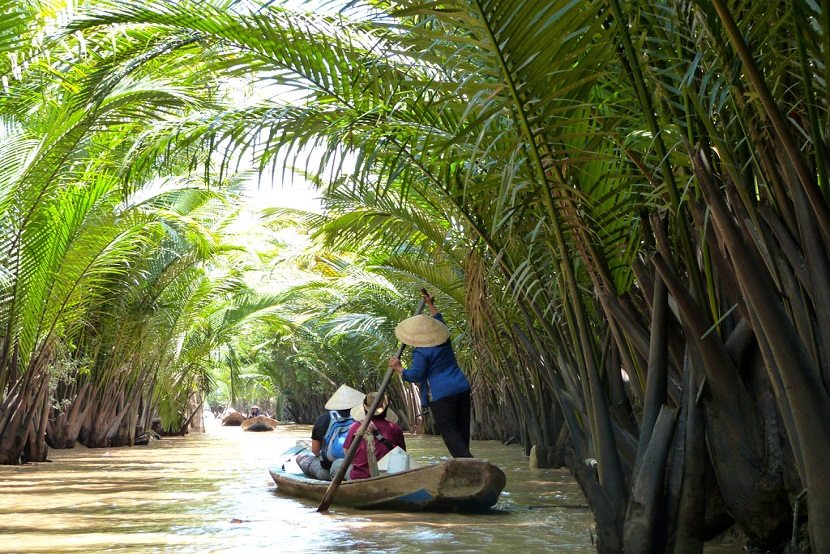 Mekong Delta day trip. Don't forget that!
How about what to do on the last day of the journey of 3 days in Ho Chi Minh City? The Mekong Delta will be an ideal travel spot because you can relish the fresh air and tranquility of the water area such as My Tho, Ben Tre, Cai Be, Ham Luong and others. Besides, the Mekong Delta allows you to learn valuable and fascinating things in the culture and lifestyle of river people, e.g. floating markets, coconut fudge mills, and handicrafts. Especially, the Delta cruise is indeed stunning to try. Don't forget that!
A O show is what you should choose for your nightlife experience as the picture of the peaceful and charming countryside is sophisticatedly simulated on the stage. It deserves to be enjoyed.
Book now
 Mekong Adventure Day price from $49
---