To perfect your Vietnam package tours in Ha Giang Province, some following suggestions on the must try food will be a considerable contribution. Let's see!
Rolled Rice Cake with Egg (Banh Cuon Trung)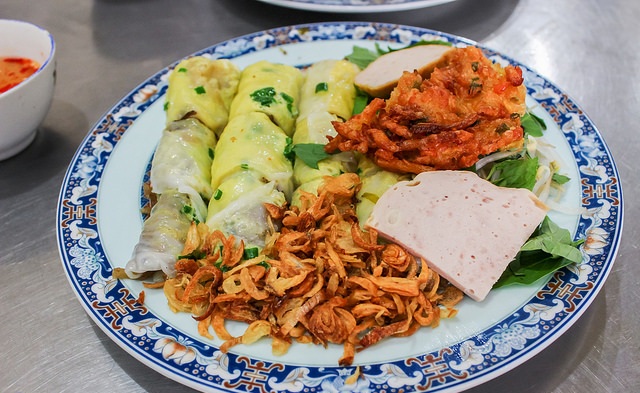 Rolled Rice Cake with Egg
Ha Giang Rolled Rice Cake with Egg is a unique specialty easily falling into the target of travelers to Ha Giang Province. What draws them to the dish first is its tantalizing aroma wafting in the air in the early morning when the local vendors start opening their food booth to serve passing-by customers. This is the attractive smell of the broth with scallions and steamed pork rolls served with the main course. As soon as a customer arrives, the vendor will immediately make the rolled rice cakes, then add one egg, and wait a few seconds until they are wonderfully cooked. The cakes are enjoyed when they have still been hot; that is the reason why the food is an ideal choice in the cold weather of the morning in Ha Giang.
Thang Co
Referred to as the must try food in Ha Giang, Thang Co, carrying an unforgettable flavor will be an interesting experience for your Vietnam package tour. It is believed that Thang Co is derived from China, and later it was spread towards the mountainous areas of northern Vietnam. Looking at the pot of the food, you probably find it difficult to recognize ingredients used to cook it, but simply, there are just pork (beef or horsemeat is an alternative), its organs, some herbs, and seeds. It is very stimulating sit around the pot and savor a hot bowl of thang co while talking to the locals about their culture.
Sticky rice cooked in bamboo pipes (Com Lam in Bac Me)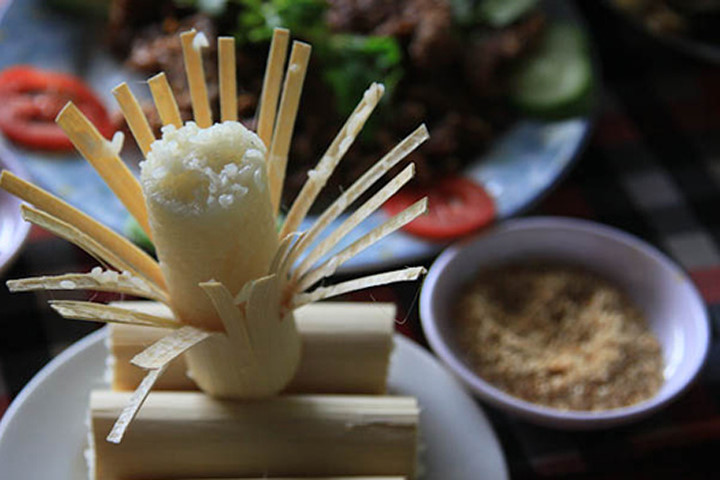 Sticky rice cooked in bamboo pipes is one of the must try food in Ha Giang
It is easy to know why Com Lam Bac Me becomes a famous delicacy and the must try food in Ha Giang as well. It is because Ha Giang is regarded as a fertile region where luscious sticky rice used to cook the com lam strongly grows. To have a perfect bamboo pipe with sticky rice, the cooking process needs to be carried carefully. First, sticky rice will be soaked into water for a certain time and then poured in a bamboo pipe sealed with banana leaves. The food's flavor is enhanced due to the right amount of salt added to the pipe. Another significant part of the process is how to grill the pipe. The pipe is grilled well on the fire wood for less than one hour until the aroma starts spreading in the air.
Five-color Glutinous Rice (Xoi ngu sac)
Five-color Glutinous Rice
To a tour package in Vietnam, you ought not to miss Five-color Glutinous Rice as it is not only eye-catching, scrumptious, but also carries a special meaning you will get excited. Even wonder why the food has five colors and what each of them symbolizes? Yes, there are traditional values behind these colors and all of them are depicted as the five basic elements on earth, Ying and Yang philosophy. Of course, you will feel good when tasting this food because all of the colors used to cook it are totally from nature (for example, red is from gac and yellow is from turmeric).
Lon Cap Nach
Another amazing choice in the list of the must-try food in Ha Giang is Lon Cap Nach (it can be translated pigs "carried under arm"). The name stems from the habit of the local people carrying bought pigs under their arm home from the market. It is just a general name for the pigs; the locals will use the pigs for many different dishes, such as roasted pork, grilled pork, fried or steamed pork. The most special thing is that the food will be savored with a fantastic sauce almost suitable for it. It surely deserves a try.
Thang Den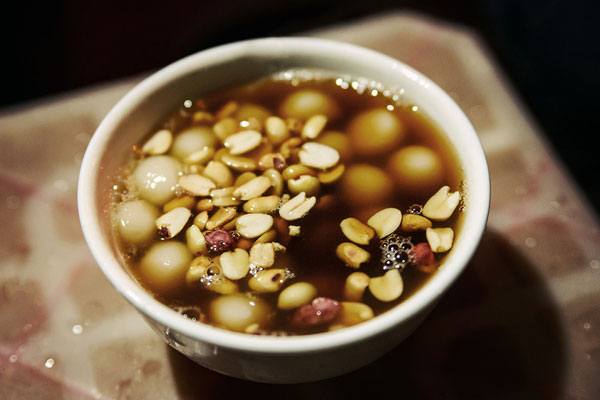 Thang Den
Don't hesitate to try a bowl of thang den when you make a Vietnam package tour to Ha Giang. It will surely give you a great experience. It is easy to realize some ingredients inside the food as it includes balls made from sticky rice flour and ground peas as the filling and is boiled in water. This is a sweet soup, so you will see some related items, such as coconut milk, peanuts, and sesame. To those who love sweet soups in Vietnam, trying thang den is definitely a must.
Book now: The North East Loops 6Days price from $438
Tam Giac Mach Cake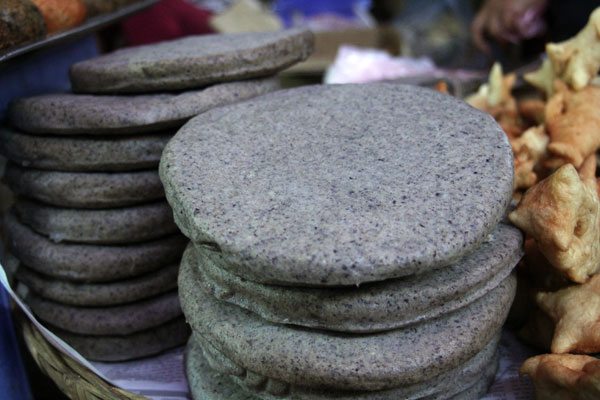 Tam Giac Mach Cake
The cake is made from tam giac mach grains dried and ground into flour. Many people have not ever thought about the use of this grain kind, but the cake from it is actually amazing to try. You will see the cake is shaped in rounds and grilled on the light fire. Its smell will attract anyone around. It is quite cheap to savor one when you are traveling to Ha Giang; it just costs about VND10,000. The cake is the most scrumptious as it is still hot, remember.
---