It's supposed that a Halong Bay tour should be part of your journey to discover Vietnam as there are many things to experience here. Halong Bay – a World Heritage site lies in the north of Vietnam, so its climate is divided into four seasons in theory. Nevertheless, in general, we will easily recognize it just includes hot humid summer and cold dry winter. Eager to take a trip to Vietnam and relish spectacular landscapes at various spots, are you seeking for the best to go to Halong Bay? Let's see here!
Read more: Top 6 Beautiful Islands in Halong Bay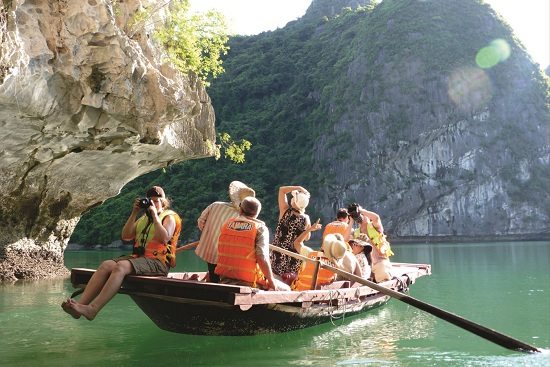 First of all, we will see if winter in Halong Bay is perfect for a vacation. This season lasts from the beginning of November to the end of March, and the weather at that time is often very cold and even gets colder in January and February. As a consequence, it's not actually nice for swimming.
As for summer time, it stretches into six months from May to September. Incredibly, it seems likely that the bay is covered with a new costume and accidentally creates a highlight for the north of the S-shape country; it's getting hot and sunny while the water is clear and warm, which is absolutely great for swimming. The only thing which can delay your trip to Halong is sometimes light rain or typhoon without expectation. The temperature is moderate. More excitingly, here is the best time you can grab good deals along with summer promotion rate.
Moreover, Spring (consisting of March, April and May) and Fall (comprising September and October) are regarded as the best time for travellers to have a Halong Bay tour. Why? The reason is that the weather is definitely cool, which gives you lots of stimulating activities along with wonderful experiences. Especially, during spring, the warm sunshine will cover the whole sky of this land where the legend about landing dragon occurred.
There is no doubt that Halong Bay is an amazing spot to visit, but if you don't do some research on the best time to go to Halong Bay, it may let you down at any cost. For example, upon desiring an escape to warm lands, you should avoid fall and winter as it gets cold and even lousy though there are no extremes like blizzards.
Another interesting thing which you may wish to find during the journey to Vietnam is to join festivals held in many different areas of the north. It's widely known that Vietnam is home to various festivals every spring, also in the time after Tet Holiday. Travelers will attain an occasion to learn more the cultural life, traditions, and customs of Vietnamese.
Finally, when the weather is warm in spring, travellers can also cruise or go kayaking in order to experience the imposing and gentle charm of Halong bay; it's believed people can just get the deepest sense of the land's fascination during this period of time. Also, it's the wonderful time to experience other exciting activities like swimming, visiting fishing farms, exploring caves, etc.
Book now: Signature Halong Cruise price from $231
---