Ringing bell is an important element of Buddhist culture and religion. Usually this type of bell is called as temple bell and dedicated for stupa and temples.  As a Buddhist country there are a lots of ringing bells are situated in Myanmar and I would like to highlight for the most two famous ringing bells. Each of them is not only well-known for their size and weight but also prominent for their age and history. The two famous bells are Mingun bell and Dhammazedi bell. So let's we find that why they are so famous.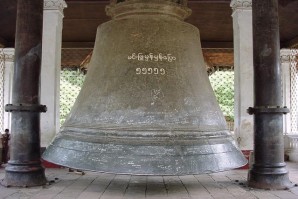 Grand Great Ringing Bells
Mingun Bell:
Mingun bell is the second large and heaviest ringing bell in the world. It is made from bronze and situated at Mingun Unfinished Pagoda in Sagaing region of Myanmar which is located 11 km north from Mandalay on the western bank of Irrawaddy River. The weight of Mingun bell is approximately 90,718 kg or 199,999 pounds and it is written on its surface in white mnemonic words. The bell has no clangor but it is ringing by striking on its outer surface edge.
Casting of Mingun bell was started at 1808 and finished by 1810. King Bodawpaya cast this bell for his big stupa Mingun Pahtodawgyi. As said by people the bell was casted on the opposite side of the river and bringing by two boats. After crossing the river the boats were reached at the stupa by crossing two new canals that was specially digging for this purpose.  The canal was blocked after reaching the bell and the bell was easily lifted by raising the water level as similar to the earth position. By the way Mingun bell is originally suspended first. After 29 years later in 23, March 1839, Mingun bell was cut down its support as a result of a strong earth quack. Then it was suspended again by the Irrawaddy Flotilla Company in March 1896 by using screw jack and lever.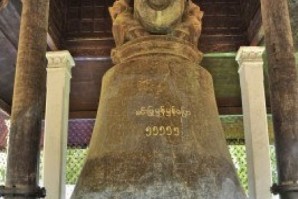 Grand Great Ringing Bells
Great Bell of Dhammazedi
The great bell of dhammazedi is another famous bell in Myanmar history which believed to be the largest bell in the world.  It was casted by the order of king dhammazedi on 5 February 1484 and presented to the Shewdagon pagoda of Dagon (dagon is known as Yangon today).  The scholars saying the bell was made from 294 ton of metal including silver and gold as well as copper and tin.
 
A Venetian gem merchant known as Gaspero Balbi visited ancient Dagon and Shwedagon Pagoda in 1583. In his diary he wrote about the king Dhammazedi Bell. In his description he said that it had full with writing carved letter from top to bottom around its edge that he could not understand the meanings at that time.
Unfortunately, it was theft from shwedagon pagoda by a Portuguese War Lord and mercenary named as Filipe de Brito e Nicote, Nga Zin Kar in Burmese name. Then he was tried to transport it from Yangon to Bago by rafting with two big ships. But de Brito's ship was broken at the middle of monkey Point of Yangon River and the Bell was sunken at the bottom of the river as well as taking de brito's ship with it. Many people and organization tried to retrieve and find out the bell thus far but it is not successfully point out yet. Recently, the historical research department of the ministry of culture and SD Mark International LLP Co of Singapore held a workshop in Yangon for this purpose and researching on it.
TNK Travel Team
---