There is no accurate classification of weather for Phu Quoc Island, but it's supposed that the level of dry and wet, depending on sunny and rainy days will decide the number of seasons in a year in this spot. Indeed, Dry and Wet are two specific seasons we want to mention. Then, for a traveler, the best time to visit Phu Quoc will be what they interest first for their Phu Quoc Island vacation.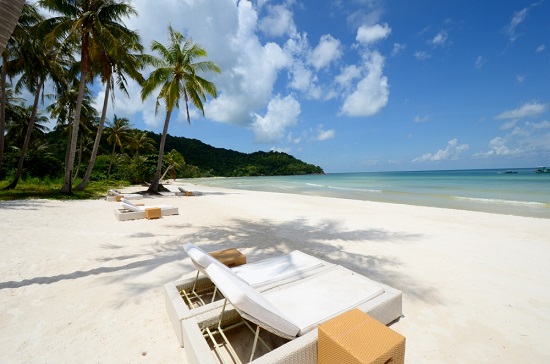 When is the best time to visit Phu Quoc island?
Dry Season (November to March)
Honestly, you can travel to Phu Quoc Island any time you are eager as this island brings you lots of fascinating things to do and experience. Nonetheless, for those wanting to avoid rainy days, it's necessary to take account of the weather and climate of each season, and the best time, in this case, is Dry Season lasting from November to March in the next year. Another amazing thing is that months of this season are also the time of Christmas, New Years, Tet Holiday, and some festivals for spring; it's very convenient for you to spend a many-day journey on activities here and get valuable coupons. The average temperature is about 30 degree Celsius and not rainy, so it's ideal for spending the day sunbathing and swimming. Imagine you relax at a clean and poetic beach while letting your mind and eyes roam in the blue sky. How terrific!
Nevertheless, some services may be a little bit expensive and not available during this period because it coincides with traditional holidays of the nation. For example, there is probably no vacancy in many hotels or resort next to beautiful beaches, or flights are not for people with a tight budget at all.
Wet Season
July, August, and September are the months of the wet season in Phu Quoc Island. This is not considered as the best time to visit Phu Quoc as there are too many disadvantages for a trip. The rain heavily pours, so stagnant waters regularly occur somewhere. Even many roads are flooded or muddy, preventing vehicles from flowing smoothly. It's strongly advised that you should not explore Phu Quoc Island by bike in the wet season as you can be stuck in the rough and tough roads. However, an element supporting a trip to the island in wet months is extremely imposing waterfalls; their charm emerges from the nightmare in rainy days. Additionally, bright rainbows are possibly caught after the long rain.
Although the wet season is the period when the weather doesn't help many tourists to Phu Quoc Island like the dry season, think about one awesome thing that the island will not be crowded, booking for vacancies at hotels or resorts are quite cheap, and you seem to find only yourself on a beautiful island. However, notice to make careful preparations before starting the journey, such as umbrellas, rain jackets, mosquito repellent, and others.
Transition Season
April, May, June and October are supposed to be the best time to visit Phu Quoc in sunny days on a tight budget. At that time, the costs of different travel services, ranging from making a reservation to enjoying seafood at restaurants are considered to be lower. Especially, October is the time when you will see it to rain at least once a day. You'd better take a look at some weather forecasts prior to your trip.
Book now: Phu Quoc Charm Island – 3 Days 2 Nights price from $133
Please feel free to contact us! Chat with us if you have any questions!
---