Vientiane is a long way from the buzz of cities like Bangkok or Hanoi, and is quite likely to be one of the smallest capital cities you'll ever visit. Two days is usually enough for most travellers passing through to see the highlights — here's how we'd suggest spending them.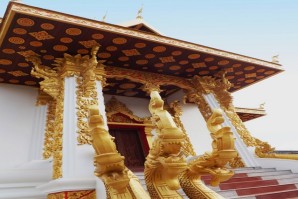 Start your two days in Vientiane with a Lao coffee. Try it iced, local style, and brace yourself for an intense dose of caffeine and sugar. Lao coffee made European style, with a side of pastry at one of Vientiane's many French cafes, is another kickstart-the-morning option.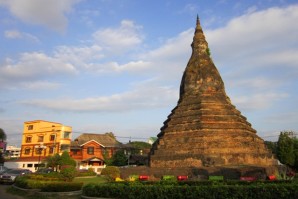 After breakfast, rent a bicycle and have a pedal around town. Pass by That Dam, a 19th century stupa believed to be inhabited by a protective seven-headed naga water serpent that wards off invaders. Next, head off to check out a few of Vientiane's wats.
Swing by Patuxai and wander up to the top to enjoy a view of the city. Roll along toThat Luang temple, possibly the most recognisable symbol of the city; wind up your tour with a visit to COPE to learn more about the history of Laos and the aftermath of the war.
Refresh yourself in the afternoon heat with a dip in one of Vientiane's swimming pools. If you need to work off a few pounds after over indulging in BeerLao during your trip, head to Sengdara Fitness Centre, where you can get a work-out, a swim, a sauna and a massage included in a day pass.
Head back to the waterfront in the late afternoon, in time to watch the sun set over the Mekong. As dusk comes, Vientiane's modest night market lights up; peruse the offerings of clothes, bags and artwork before heading to dinner.
Vientiane restaurants offer a variety of cuisines at a range of prices, so whether you're craving home comforts or cheap street food, it's all available in the quaint downtown area. If you're in the mood for a drink after dinner, there are an ever-increasing number of bars in the city centre — we like Bor Pen Yang on Fa Ngum.
On day two, rehydrate with some fresh coconut water and enjoy a bowl of noodle soup for breakfast. Next awaits the highlight for any person with a mild appreciation for surreal religious art: a visit to Buddha Park, about 45 minutes outside of the city. Bring a camera and enjoy Laos' most psychedelic experience.
Back in Vientiane, have a wander around the Morning Market, an excellent place to buy gifts for friends and family, particularly woodwork and textiles. Ease into the late afternoon with a massage for an hour or two, and perhaps a spa treatment –Oasis Spa on Francois Ngin is a good choice.
Begin the end of your visit to Vientiane by catching the sunset at a waterfront bar with an ice-cold BeerLao. If you haven't had a chance to try laap – meat chopped with chillies, onion and fresh herbs –– now is the time. It's available at most restaurants, though we'd make a beeline for Lao Kitchen on Hengboun Road. Ducklaap is a favourite among visitors.
---