Chicken satay is one of the popular street foods in Myanmar. Just marinated chicken and roast them on a barbeque with additional spices, mostly served with fresh lemon sauce.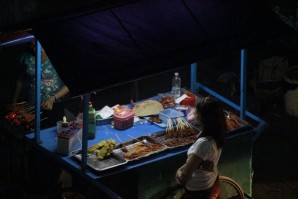 Satay origin seem come from Java, Indonesia and was originally developed from Indian Kebab. Most Myanmar dishes are very similar to Indian cuisine, but oilier and less gravy, in term of fragrance – compact spices scent.  Almost every part of Yangon – the former capital of Myanmar, you can find the small Satay vender with a short walk. Taste would be differ based on the geographic location as some part of Myanmar's people love sweet taste and some prefer light taste.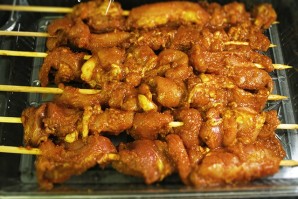 Recipe is quite simple for Burmese style Satay. Marinated Sauce is prepared with lemongrass, ginger, garlic, turmeric powder, pepper, red chili powder, black thick soy sauce, fish sauce and brown sugar. Chicken should marinated for an hour at least to get the good color and taste. Then sew on wooden skewer in your favorite shape. Vegetable oil mixed with butter will be used when roasted. Some decent Satay venders use Fresh Lemon as sauce and some use ready made chili sauce. You can ask for lemon as the sour juice can enhance the satay taste more.
With Chicken Satay, most Burmese people love to eat grilled Lady Fingers or Tofu. They colored the white tofu with Turmeric powder to be yellowish and intend to reduce soya scent. Sometime you could ask them to grill the vegetable you like if the shop is not far from the market. Grilled potato is one of my favorite.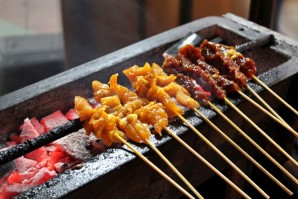 Individual Satay stick price from 100 kyats which is equivalent with more or less 15 cent of US Dollar. With One Dollar or Two, you would get a few sticks like four or five in different size and price. Even a big stick will cost you around only 1.20 US Dollar maximum. Sweet, Spicy, Salty & Sour Chicken Satay with cold Myanmar Beer will fulfill your night out. I do suggest to try Chicken Satay in Yangon's downtown or Sanchaung Street Area. You won't be disappointed for this try out.
TNK Travel Team
---