If you want to see the live slideshow of unique actions or way of life of the Burmese people, take Yangon's Circle train. You will observe the lively and colorful rural Burmese way in just three hour of this slow circle train journey.
The Train circle is estimate three hour ride round with 39 stations, joining different part of Yangon. Yangon Central is the best start to jump on the train as this is the start point of the every journey. Some stations, the train stop less than a minutes, but Pazundaung Station, it stop more than 15 minutes at least. The whole journey is excellent look into a change from urban city to rural place, see the differences between Yangon' downtown and outskirt area.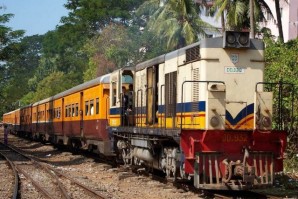 The one way ticket can buy at Yangon's Central Railway Station with ONE US Dollar, sometime pay a little more cent depend on exchange rate. This is foreigner price, for local people there are two class – one with 100 kyats in local currency and another upper class is 200 kyats which is equivalent to USD 20 cent. The fare cost is cover one round, but it is possible to jump off at any station you want.
Some tour operators are arranging the trip till Insein Station or Danyingon station, then visit the colorful local Market – mainly specialized in vegetable trading before they drive to Htauk Kyant World War II Cemetery. Then drive back to Yangon by Car.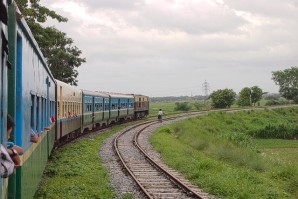 You will get the best scenery view and it's very interesting to see people getting on the train or getting off at stations. When you see the energetic landscape, green paddy farm with the amusing sky backdrop, you wouldn't complain about the train's speed or you're uncomfortable. Every station has unique routine to see, some stations are busy markets while some are peaceful tranquil stations. There will be three to four times to meet with another facing train coming from different direction, passing beside your train, don't forget to take photos.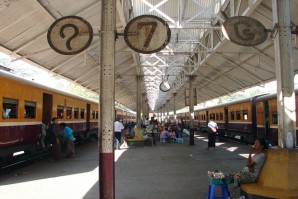 As a good tip, you should bring a drink water bottle and some snack with you as you can't buy the food or water because there is no enough time to buy from the train at most stations stopped by. Fresh green mango is selling a pack with 200 kyats almost all stations.  You might need to put them in water first to wrap some dust before you have it. I bet it's a good try.
There is two options for Yangon circle train – one with air-conditioned and another one with fans, sometime no fans. If you just want to go from one place to another, you know where to go, air-conditioned train would be an option for you. But when you are looking to see the people or scenery, non-air-condition train is the one for you.
When you are in Yangon, take the circle ride because the train in itself is an adventure!
TNK Travel Team
---