Lying at the intersection of rivers, on the border with Cambodia, Chau Doc (Châu Đốc) is labeled as one of the top destinations in An Giang Province, the Mekong Delta. Then, no wonder that Chau Doc appeals to countless visitors every year. An excursion to that destination will offer more than what you are expecting, regarding culture, history, religion, and local lifestyles. A few outstanding places should be set in that excursion are the temple of the local tutelary goddess (Bà Chúa Xứ Temple), Sam Mountain, Tây An Temple, Mubarak Mosque, floating villages, Hang Pagoda, Châu Đốc Market, and Châu Giang Brocade-Making Village.
Temple of the local tutelary goddess (Bà Chúa Xứ Temple) 
The temple is one of the largest places of pilgrimage in the Mekong Delta. The temple receives millions of visits every year, especially during the festival in the 4th lunar month. Regarding the establishment of the temple, nobody knows when it was erected, but after many refurbishments, now its architecture looks majestic and draws the attention of many visitors. 
The solemn space of the temple with its peaceful surrounding is ideal for healing souls; hence it has become a pretty famous religious spot among Vietnamese people. Besides that, what makes the temple curious is a series of mysterious stories revolving around the origins of the statue of the local tutelary goddess. As a tradition kept for a long time, Vietnamese people from different parts of the country frequently make a pilgrimage to the temple, especially during the festival in the 4th lunar month and after Tết Holiday. They come to revere the local tutelary goddess and pray for luck, wealth, and well-being.  
Sam Mountain 
When you arrive at Châu Đốc City, An Giang Province, you can get an opportunity to admire different historic structures, such as Thoại Ngọc Hầu Tomb and Temple of Confucius. However, what you will see before setting foot in those places is Sam Mountain. Nestled in the center of the city and 284 m above sea level, the mountain has been exploited for tourism, but it still remains intact and solemn as itself in the past. 
It's awesome to contemplate an unspoiled landscape put into a concentration of temples and historic structures, pagodas in different architecture styles, and cultures at the bottom of Sam mountain. This diversity forms a distinctive religious feature of the mountain in Châu Đốc. Because the image of the mountain is what you catch first for an excursion to Châu Đốc, most travelers and tourists really love taking photos of it as a memory when they start landing there. 
Mubarak Mosque
Departing from Châu Đốc Ferry, you will cruise to Châu Giang, aka Champa Village – one of the renowned places to visit for a Mekong Delta. Standing out in the middle of the village is Mubarak Mosque – a sacred Islamic spot. Erected in the 18th century, Mubarak Mosque has an exquisite architecture style in which there are oval towers with crescent moons and stars at their bottom. Inside the mosque is the ceremony chamber with no statue. This mosque is also where big festivals take place, such as the celebration of Mohammed's birthday, the pilgrimage to Mecca Holy Land, and Ramadan Festival. 
Tây An Temple
Tây An Temple is labeled as one of the incredible places to visit in Châu Đốc. The temple was designated as a national architectural and artistic relic site in 1980. When it comes to its position, the temple leans its back towards Sam Mountains, and there are three old towers with their onion-shaped roofs in front of it. Inside the central chamber are rows of wooden pillars, and at two sides of the temple is a belfry and a drum tower. 
Tây An Temple keeps more than 150 statues of the Buddha, Bodhisattva, and Arhats, representing Vietnamese architecture in the 19 century. Those statues make the place more sacred when you visit inside. Additionally, it's also the resting place of Monk Đoàn Minh Huyên, a famous person largely contributing to the region's development. 
Châu Đốc Floating Village 
Without an excursion to Châu Đốc Floating Village, it won't be a complete journey to Châu Đốc City. In the 90s, Châu Đốc Floating Village was the place where basa fish was farmed, but now it's famous for striped catfish. Basa and striped catfish are symbolic of Châu Đốc City; their statues are erected at the corner of Ninh Kiều Pier. Travelers are surely keen on cruising to the floating village in order to learn how to raise fish there. 
The most fascinating activity when you drop by one of the floating houses is feeding their fish raised under the house. It's actually a memorable experience when you observe hundreds of fish jump to devour their food. Sometimes there will be a souvenir shop inside some house where you can find and buy beautiful things associated with the local life. Besides that, it's great to enjoy the most delicious food cooked from fish bred at floating houses after the excursion.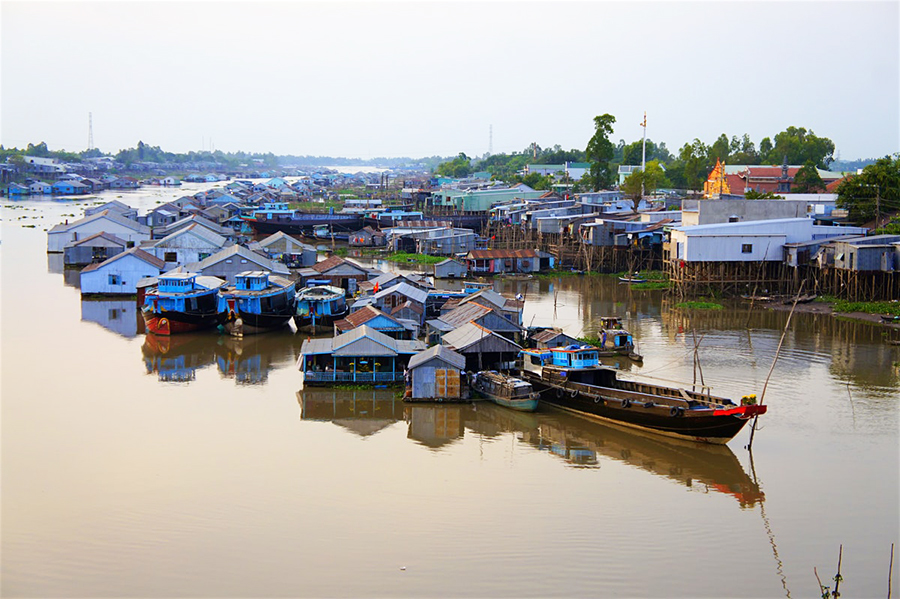 Hang Pagoda 
Hang Pagoda is considered a common place among people often going on a pilgrimage to the Mekong Delta on special occasions. With its unique architecture and mysterious stories revolving around it, the pagoda always draws a lot of visitors from other parts of the country. Going through over 100 years, Hang Pagoda now has become one of the remarkable places for visitors. 
Surrounded by green trees and with birdsong and cool breezes all the time, the pagoda is deservingly called an ethereal wonderland on earth. Stepping through compartments of the pagoda, you can witness beautiful images and feel tranquility inside. That's why the pagoda is supposed to have an ability to heal souls. Furthermore, it's known that the place every early morning is an ideal time for hunting for clouds. There are two ways to reach the pagoda; one is taking a motorbike, and the other is climbing up 300 stairs.
Châu Đốc Market 
Although Châu Đốc Market is pretty famous and common in Châu Đốc City, many travelers frequently forget its accurate address. The market is situated at Bạch Đằng Street, in the center of Châu Đốc City, An Giang Province. The most amazing thing there is that locals are always friendly and willing to take you to the market if you ask them directions. It's stated that Châu Đốc Market is a part to illuminate your itinerary to this city as there are many exciting things to experience there. 
People sell a lot of things in this place, such as fruits, vegetables, food, clothes, and accessories, but what you will be stunned upon arrival at there is the smell of fermented fish. Yes, they provide a variety of fermented fish and fish sauce, which are taken to be the local specialties, and a plus point is that the prices of all the things there are reasonable. With this kind of tantalizing ingredient, plenty of mouth-watering dishes were created, e.g. fermented fish hotpot, fermented fish noodle soups, and fish noodle soups. Also, don't forget to taste palmyra palm drink and palmyra palm cakes since this fruit is symbolic of An Giang Province.    
Châu Giang Brocade-making Village 
Your journey to explore Châu Đốc, An Giang Province won't be perfect if you leave Châu Giang Brocade-making Village out of your list. Located at Châu Phong Commune, Tân Châu District, the village – aka Châu Phong Brocade-making Village is reached by boat. This traditional village is where most Champa women are excellent at weaving brocades because they are trained right at the early age. It's no exaggeration to say that they are skillful artisans as the items they create are exquisite and delicate. You can find brocaded bags, scarves, clothes, and hats while on an excursion there. The ingredients to make those products are mainly from nature, consisting of silk threads, fruits, latex, and barks. The patterns on brocades are extremely eye-catching, so the items are great enough to become a souvenir gift for yourself, your family and your friends as well. 
It's clear that a visit to Châu Giang Brocade-making Village will open your mind for sure as you can learn more about the way Champa people preserve their traditional cultures, exotic architecture of their houses, and their peaceful life as well. They don't apply advanced techniques to make more products for sales; instead, what they want to do is to keep their identity throughout generations. 
While Vietnam is full of untouched natural landscapes, glorious chapters in history, breathtaking architectural structures, curious cultures and religions, and other intriguing things to explore, Châu Đốc City – An Giang Province – the Mekong Delta will give you unforgettable memories. Châu Đốc is not as miraculous as mountainous areas in the North, but it's never boring to experience. The culture and lifestyle of Champa people are enough to provide you with valuable knowledge about a new land you have never figured out before. Or you know more about a new cuisine such as fermented fish which has never appeared in your country. Pagodas or temples where people follow a specific religion are also what you find difficult to resist discovering.  
---