Hà Tiên is a town at the borderland between Vietnam and Cambodia, and located to the northwest of Kiên Giang Province. The town is famous for Mũi Nai Beach, Mạc Cửu Tomb, Phù Dung Pagoda, Đá Dựng Mountain, Stone Cave and stories about the pioneer Mạc Cửu, who first went to Hà Tiên in order to live and develop the land under Nguyễn Dynasty. With those attractions and many ravishing natural sights, and being a serene place to unwind, Hà Tiên is always included in many different Mekong Delta tours since it's certainly an impressive point to explore.
1. Mạc Cửu Tomb
Of travel destinations to uncover in Hà Tiên, the Mekong Delta, Mạc Cửu Tomb is always the first one. The tomb leans its back against Bình San Mountain in the center of Hà Tiên Town. Mạc Cửu is the pioneer of Hà Tiên; he took his relatives and troop to the land, then founded villages and expanded the territory to Cà Mau. That's why Mạc Cửu was the most important settler of the land and locals built the tomb for him. 
When visitors arrive at Mạc Cửu Tomb, they not only admire the exquisite architecture of the structure, revere contributions of Mạc Cửu and the Mạc family to the establishment and development of Hà Tiên, but also get to know about the history of the land. Additionally, the journey to build this land and make it richer and richer is believed to bring visitors and especially young people priceless lessons schools have never taught them before.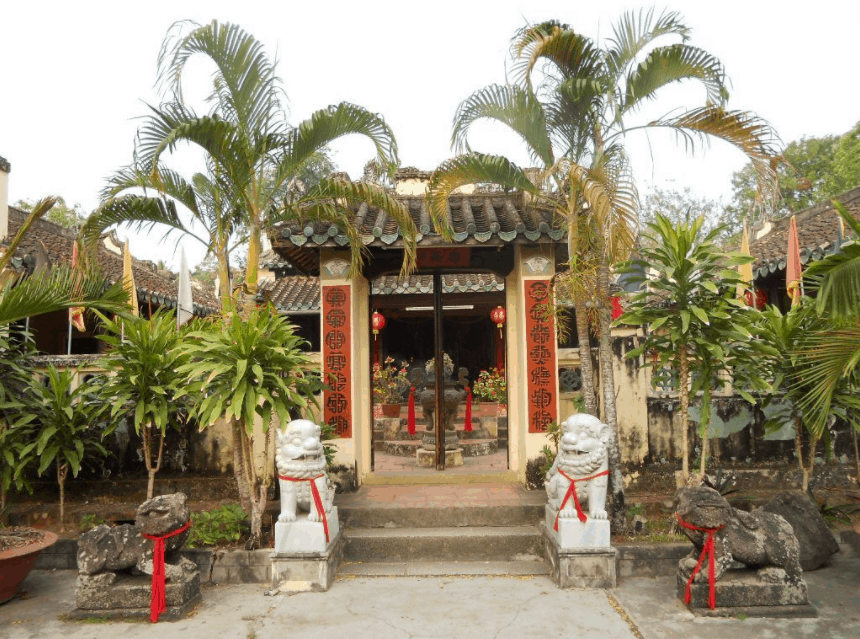 2. Phù Dung Pagoda
Phù Dung is not the biggest and most stunning pagoda, but it's also seen as a hotspot for visitors to Hà Tiên. The pagoda is located at the bottom of Bình San Mountain, and was established by Mr. Mạc Thiên Tứ in the 18th century. There are two parts in Phù Dung Pagoda: the yard for the cement statue of the bodhisattva, and the central chamber for the statue of the Buddha and the statues of his disciples. Although the architecture of Phù Dung Pagoda is not too impressive like others in the Mekong Delta, the statues there are extremely beautiful to contemplate.   
Besides that, in the chamber are images of breathtaking landscapes of Hà Tiên and poems saying about this beauty. For those who love literature and nature, these images and poems are a plus point for an excursion to the pagoda. If you visit it, don't forget to ask your guide about the meaning of the poems as those artworks are absolutely beautiful. It's known that Phù Dung Pagoda is a famous place of pilgrimage in the Mekong Delta.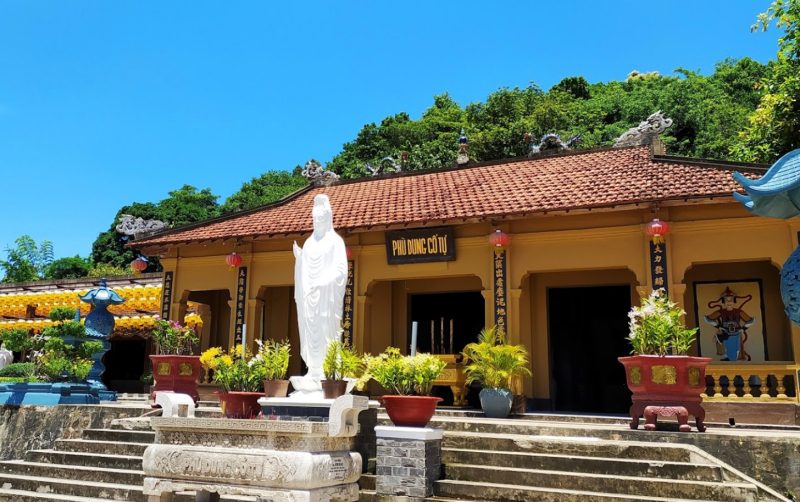 3. Thạch Động Cave – Stone Cave 
The Vietnamese poet Mạc Thiên Tứ wrote a poem describing the magnificent scenery of Stone Cave. Labeled as one of the renowned attractions of Hà Tiên, Stone Cave is a limestone cavern with stalactites in many different unique shapes inside, and around it is a 80 m limestone hill.  Those unusual shapes of the cave definitely draw your attention because you have ever seen anywhere else for sure. 
Tiên Sơn Ancient Pagoda, situated inside Stove Cave is an additional outstanding point of an exploration of the cave. Despite the fact that Tiên Sơn is a quite small pagoda, its architecture indeed overwhelms any visitor. Rocky walls around and colors painted outside illuminate the whole pagoda inside.  Standing on the top of the cave, you can peer down at imposing green paddy fields below and villages at a far distance.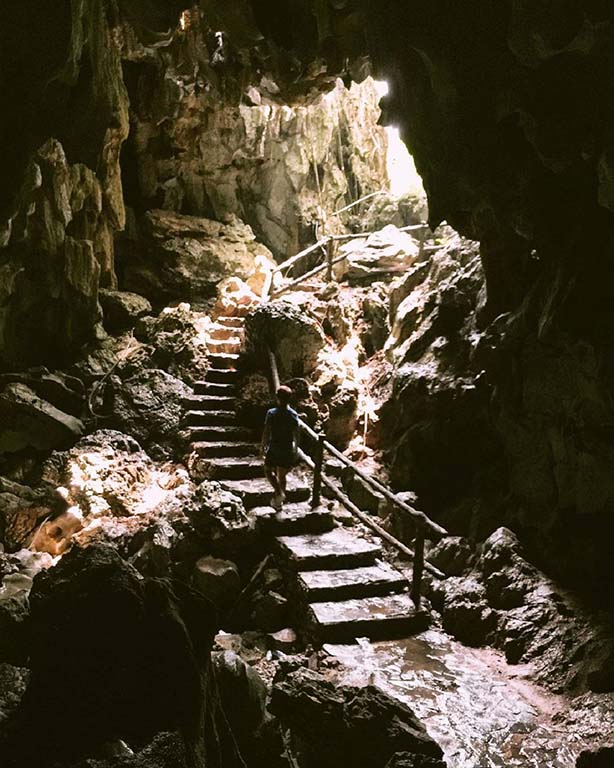 4. Mũi Nai Beach 
It takes about 15 minutes to get to Mũi Nai Beach from the downtown center of Hà Tiên. Mũi Nai is portrayed as a fabulous beach appealing to numerous tourists and travelers. The beach is also an ideal place where you can witness the last sunset in a day in Vietnam. What could be more awesome than sitting back at the beach, feeling the charm of the sunset, hearing sounds of seagulls and small waves?   
Mũi Nai is a light black beach of sand and mud and has imposing seascapes. Therefore, it's great to walk along the beach to relax in the early morning, make some interesting sandy shapes, lie on a lounger to sunbathe, soak up cool breezes from the sea.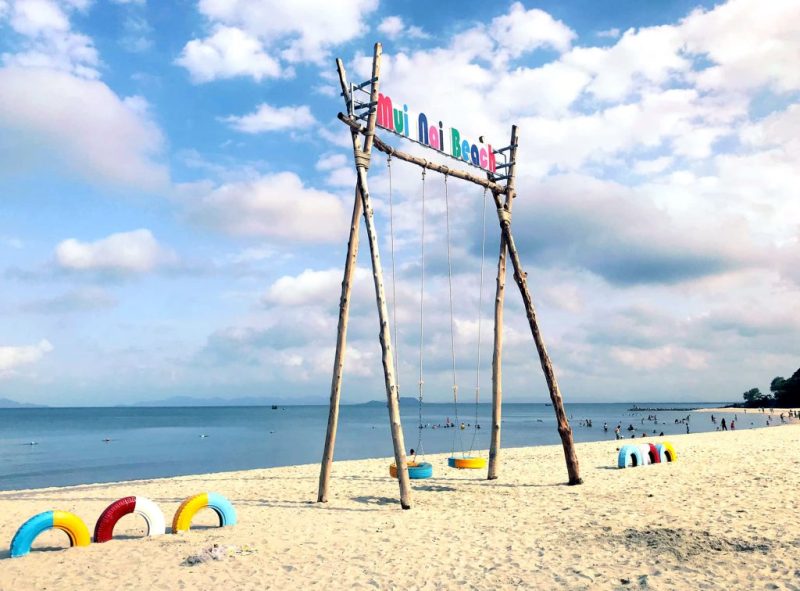 5. Đá Dựng Mountain 
Đá Dựng Mountain, one of the well-known attractions in Hà Tiên, was recognized as a national relic site in 2007. The mountain is 100m high and described as a limestone block seemingly formed by vertical cliffs. Stunningly, inside the mountain are untouched caves, such as Mẹ Sanh Cave, Biệt Động Cave, Lê Cong Gia Cave, Cổng Trời Cave, and many others unnamed yet. Because the mountain is just 4km from the Vietnam – Cambodia border, it used to be an important military base of Vietnamese troops in the wartime. Hence, it's fantastic to pay a visit to Đá Dựng Mountain since you can get some valuable knowledge about the history of Vietnam there. 
6. Phụ Tử Islet 
If you have ever visited Hạ Long Bay – a popular travel destination in Quảng Ninh Province, Vietnam, a UNESCO World Heritage Site, Phụ Tử Islet in Hà Tiên, Kiên Giang Province will never let you down. Indeed, Phụ Tử Islet looks like a mini counterpart of Hạ Long Bay. The islet seduces many visitors by its phenomenal beauty. Depicted as a tiny island of two rocky blocks which are dozens of meters high on a pedestal, Phụ Tử is a place of peace and tranquility and appears like a mighty image emerging from turquoise water.
Another fascinating point you can find out while on a visit to Phụ Tử Islet is its name, which is interpreted as the father and his son living and playing with each other, like you see two blocks get close to each other in the islet. In fact, there is a touching story, intertwined with Phụ Tử Islet, about the father and son bond that will move you to tears. Reach Hà Tiên first, and from the downtown center of Hà Tiên, Phụ Tử Islet is easily accessible by car or motorbike.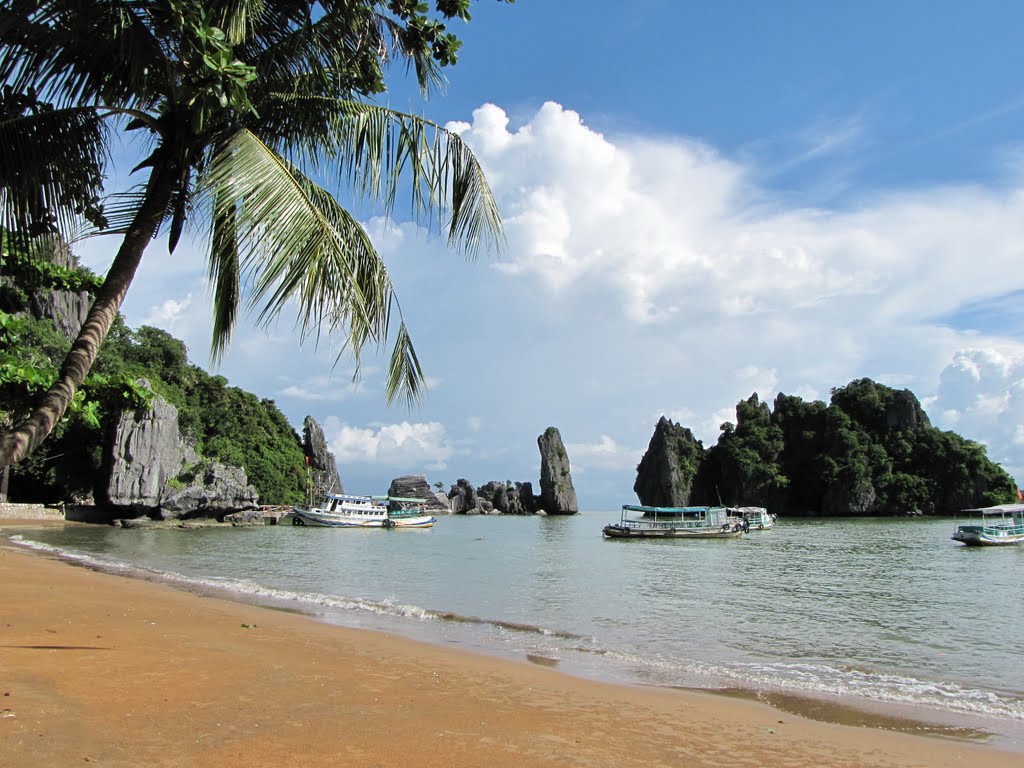 7. Hòn Chồng Islet
Going about 31 km along the coast to the South, you will see Hòn Chồng Islet – an irresistible natural landscape. Covering around 3,000 ha, Hòn Chồng is large and fabulous enough to sometimes turn yourself into only one visitor of this ethereal world. 
This 221m high Islet was formed millions of years ago, and its unspoiled charm lures not only scientists and geologists, but also explorers, travelers and tourists to experience. In the islet, there are rocky pillars seemingly pointing their tips up at the sky. Witnessing the pillars and surroundings, you will think that they are like a troop going ahead. It's stated that time and nature are supposed to be brilliant sculptors to create an extraordinary Hòn Chồng Islet you see nowadays.      
8. Hải Tặc Islet – Pirate Islet
Pirate Islet is about 28 km from the heart of Hà Tiên and 40 km from Phú Quốc Island – a recently developed region of Vietnam. It's possible to say that Pirate Islet is an unusual travel spot because of its name. Arrive first at the heart of Hà Tiên by car, bus or motorbike. Then, take a boat trip to the islet. The best time to enjoy the trip to Pirate Islet is in the dry season as the sea is calm and turquoise
In terms of the islet's name, there is an interesting story about it. In the old days, the islet was the hideout of pirates and the place where they would attack merchant ships and hide their loot. In fact, the islet was an important sea route between Asian countries and the Western ones. Although the name sounds a little scary, the place is actually an ideal for leisure travel. You can dip yourself into the fresh air, cool breezes from the sea, hear tiny waves and free your mind from the bustling life out there. 
9. Hà Tiên Night Market
To go deep into the cuisine of a region, it's supposed that you should proceed towards the local market. In Hà Tiên Town, you will easily find the night market where there is plenty of mouth-watering food, exotic ingredients you have never seen in your country, and eye-catching items. 
On pavements around the right market is full of stalls specializing in dried seafood, tea, tamarind, handicrafts made from stones, shells, glass, and plastic. Do you know that those items are a fusion of Vietnam – Chinese – Khmer cultures? Keep in mind that you will regret it if you don't try out street food there, such as rice noodle soups, Hà Tiên sticky rice, edible snails, grilled seafood, and sour and sweet soups with fish and bamboo shoots.
Hà Tiên is surely a worthy place to explore for a Mekong Delta tour for some reasons. Top 9 must-visit destinations listed above are definitely the main reason. To perceive exactly what the most valuable things are in there, just take a trip and you will find out the answer. 
---