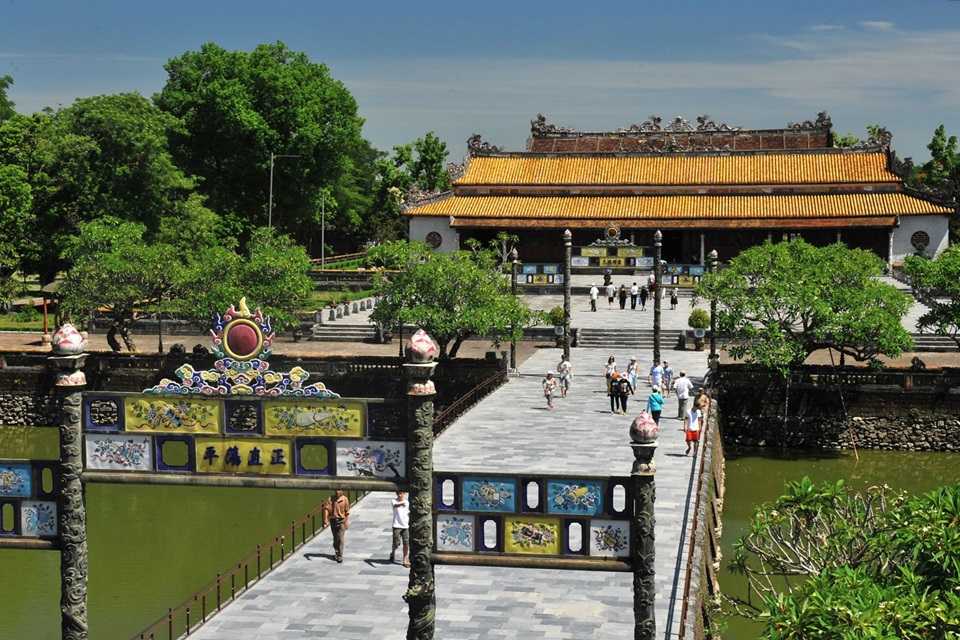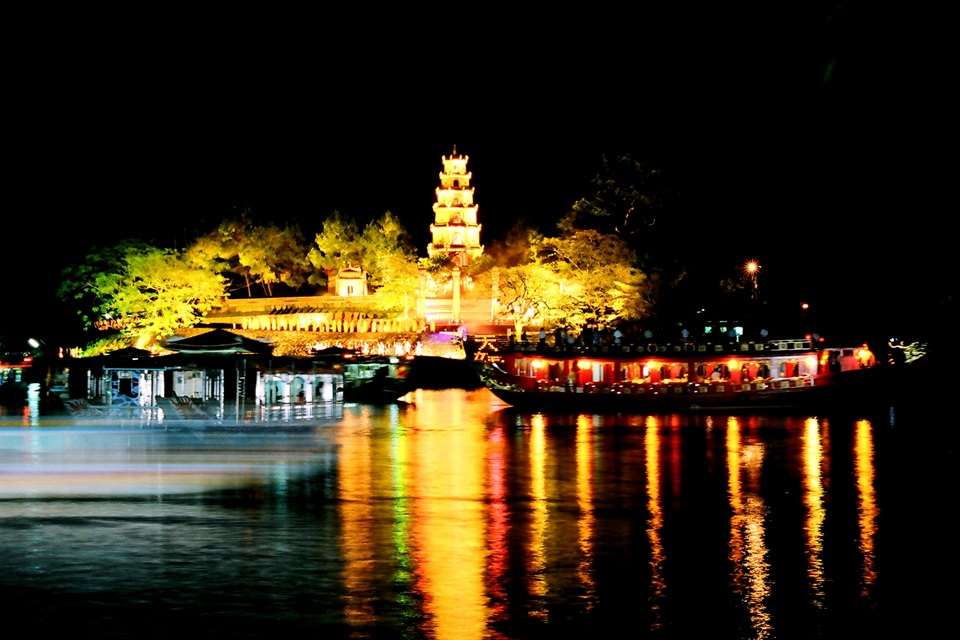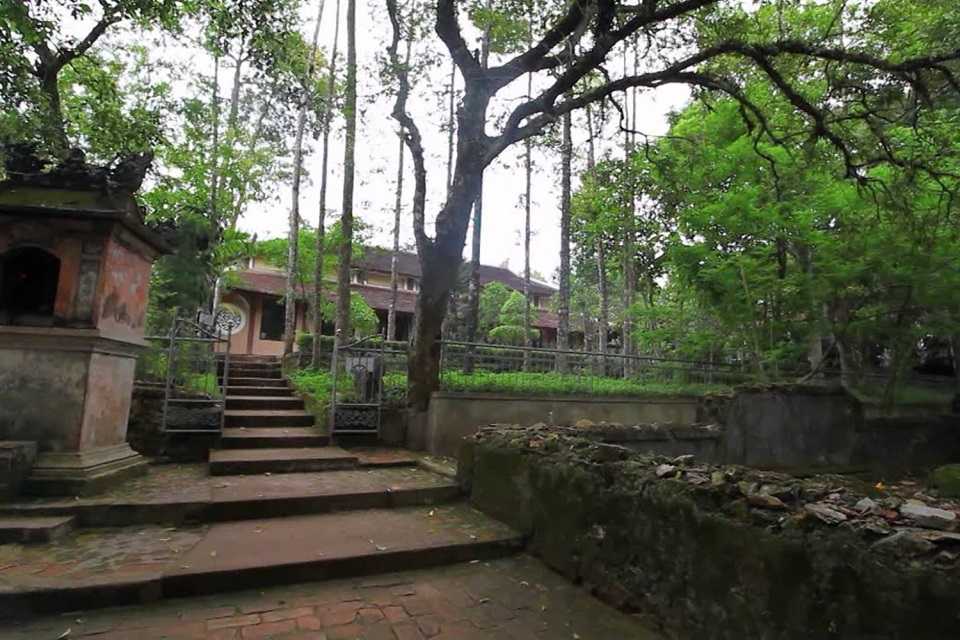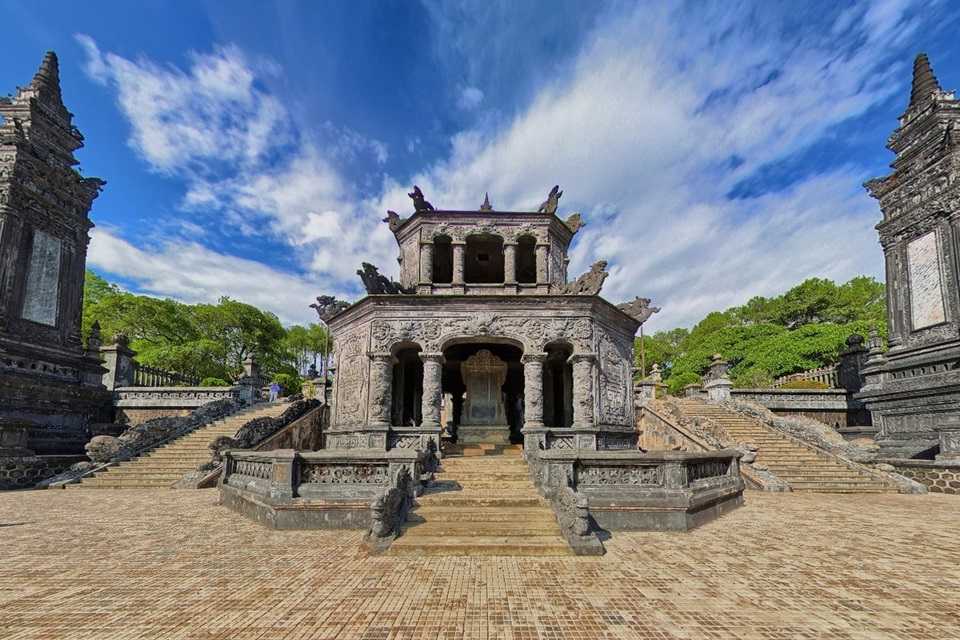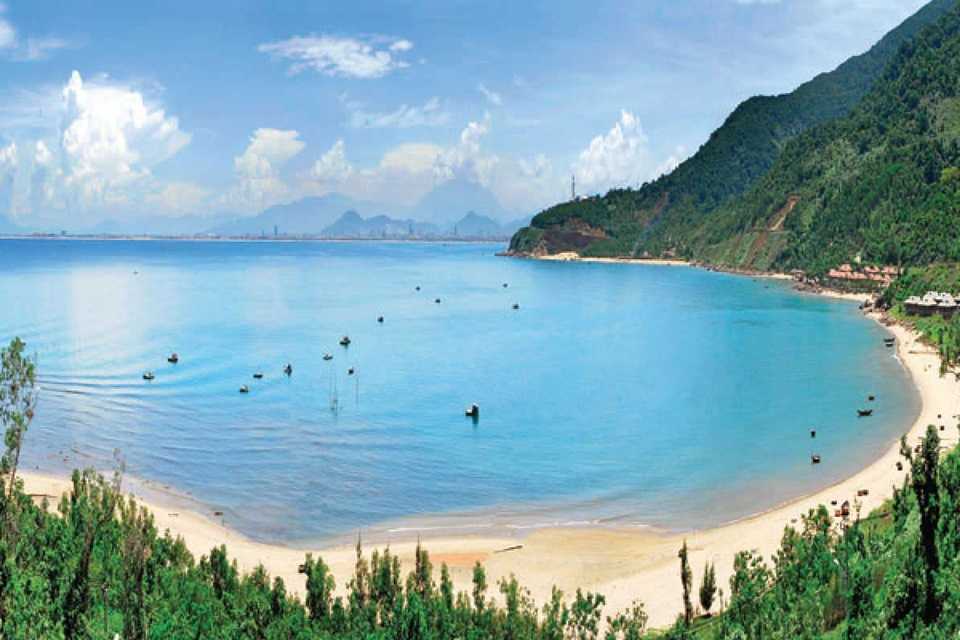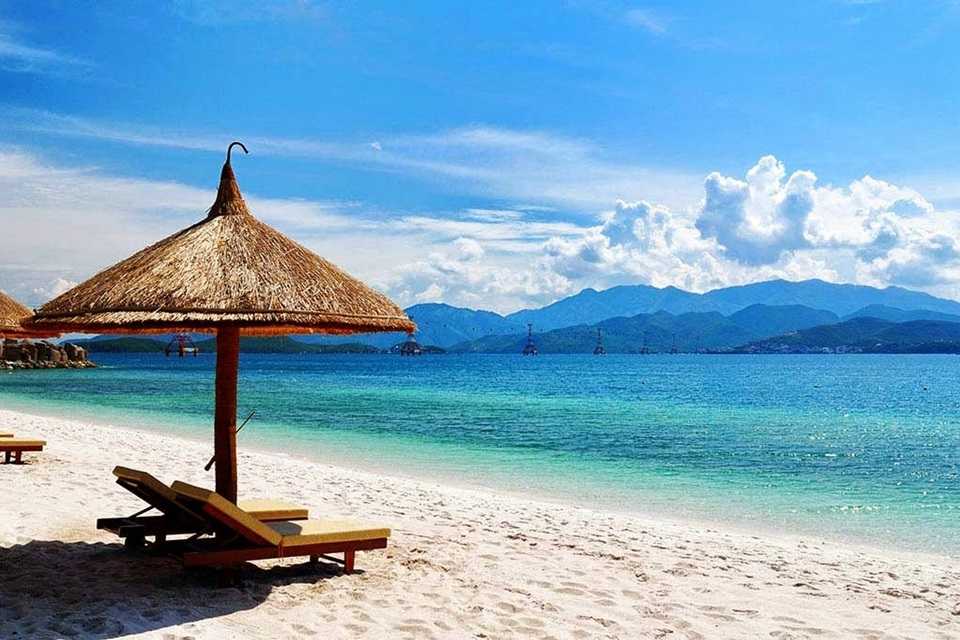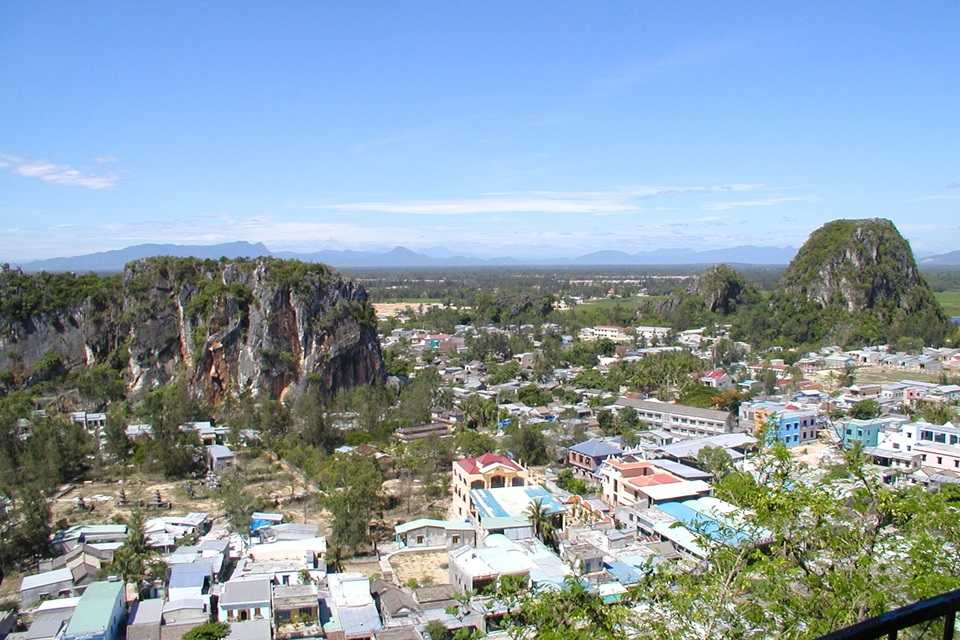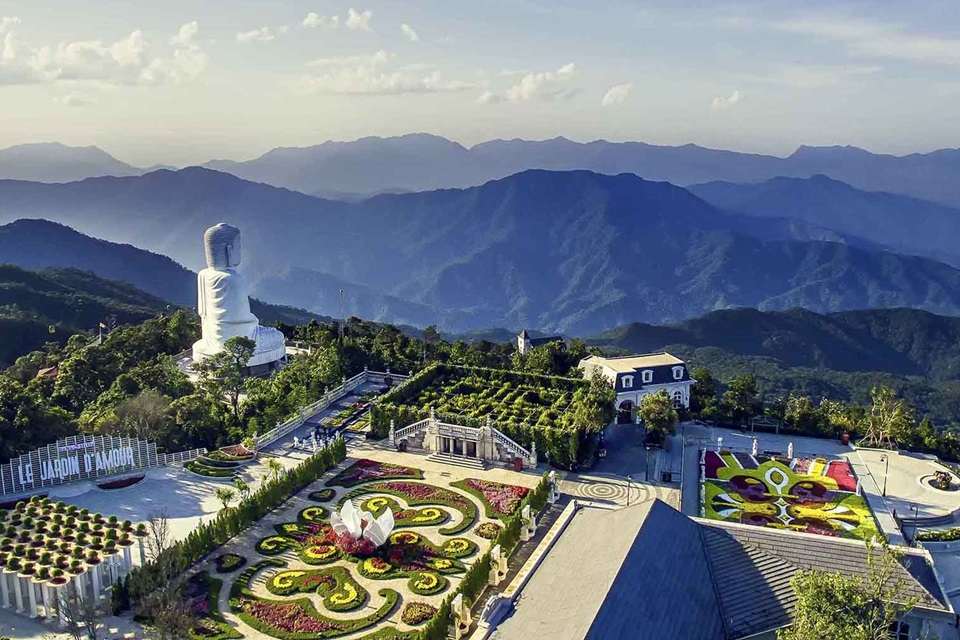 Tour snapshot
Length:
5 days / 4 nights
Depart date:
Every Monday
Overview
This trip is for those who love to study about Vietnam culture and history as well as the Central of Vietnam within 5 days and 4 nights from Danang City to Hue. You get to explore the fascinating destinations of Vietnamese royal heritages and majestic cave – It's your chance to learn more about cultural values and nature beauty of the country. Besides, tourists can view the unique architecture of the Imperial Citadel of Hue during Nguyen's Dynasty and Thien Mu Pagoda, one of the most beautiful landscapes in the city.
Brief itinerary
Day 01:           DA NANG-HUE (L/D):
06:00-07:00: Picked up in Danang through Hai Van Tunnel.
11:00-12:00: Or picked up in Hue City. Have lunch at restaurant and visit the Imperial Citadel.
Dinner at local restaurant and go for a boat trip to enjoy Hue folksong on Perfume River.
Overnight in Hue.
Day 02:           PARADISE CAVE – HUE (B/L/D)
Enjoy breakfast and then visit La Vang church. Have lunch at local restaurant and then visit "Paradise Cave".
Pass by Mooc water spring and view majestic formations in the cave.
Dinner and spend overnight in Hue City.
Day 03:        HUE ­– KHAI DINH MAUSOLEUM – DA NANG – SON TRA  (B/L/D)
Enjoy breakfast and leave for Khai Dinh tombs and Tu Hieu Pagoda.
Have lunch at local restaurant and get transferred to Danang. Visit and drive around Son Tra Peninsula to enjoy the beauty of the whole city.
Stop at Linh Ung Pagoda and swim at My Khe Beach.
Enjoy dinner and cruise on Han River to view Danang by night or get to Sun Wheel (not included).
Overnight in Danang.
Day 04:           BA NA – HOI AN (B/L/D)
Have breakfast and then come to Non Nuoc stone carving village. Enjoy lunch at local restaurant before visiting Ba Na Hills (Not including Ba Na cable Fees).
Afternoon: Arrive at the ancient town of Hoi An and walk around the old sections here.
Discover the "Hoi An ancient night" and enjoy dinner at local restaurant.
Return to Danang and spend overnight in the city.
Day 05:           DA NANG – DEPARTURE  (B):
Eat breakfast. Spend leisure time until gets transferred to Da Nang Airport for departure flight. Trip ends.
Itinerary
DA NANG-HUE
You're picked up in Danang (6:00 - 7:00) through Hai Van tunnel - the natural border between two provinces of Danang and Hue with an average length of 21 km across the mountains. This pass is considered as the most beautiful and most dangerous scenic pass of the country on the path from north to south.
Or we pick you up in Hue city (11:00 - 12:00) - as you know, it was the capital of Vietnam and the home to Nguyen Dynasty in the past. We then have lunch at local restaurant before starting our visits of the Imperial Citadel and "Chua Thien Mu" (the Pagoda of Celestial Lady) in the afternoon.
With the citadel, it's seen as Vietnam's seven UNESCO World Heritage Sites, and has been always a must-see attraction for those who like to grasp a hidden charm of the S-shaped country. The Imperial Citadel of Hue used to be a walled fortress and palace belonging to the old city of Hue.
Besides, the Imperial City of Hue owns a total circumference of 10 kms with the average height of 6.6m and 21m thick with forts that are being arranged. It also has the cannons, ammunitions, and artilleries.
Originally, the fortress was set up only by soil, just to get replaced by bricks after that. Surrounding it is the complex canal system that act not only as a protection but also a waterway with almost 7kms. Next, we shall have dinner at the restaurant before joining a boat trip to listen to Hue folk song on "Song Huong" (Perfume River). You will spend overnight in Hue.
PARADISE CAVE - HUE
Have your breakfast by the time we start to reach Quang Binh Province and then stop at La Vang Church. This is a famous with two names, including La Vang Holy Land or Our Lady of La Vang, and one of the top sites for the tourists to visit through the old battlefields of Vietnam.
In the past, King Canh Thinh ascended in 1792 and then issued a ban that forbade Catholicism. A few believers were said to take refuge at La Vang Mountain, and they all gather under the banyan trees to pray and help each other. In one day, the Blessed Virgin Mary showed up and then supported them in going through the diseases of the sacred forests (lack of food, plight of the poor, the sickness).
Therefore, La Vang church was established under the three banyan trees in 1798 together with the high trust in this holy land.
Next, you will enjoy lunch at local restaurant and then get to "Paradise Cave" that was found by scientists of the British Caving Research Association. It's one of the wonders of the magnificent and magical world that you've ever seen. The cave lies deep in the World Natural Heritage National Park Phong Nha Ke Bang, which was formed about 350 - 400 million years ago.
The cave is measured to be 31 km long, which is longer than Phong Nha Cave - the longest cave in the national park. It passes Mooc water spring, which makes the cave look like the gorgeous landscape painting. This is the reason why Paradise cave is very appealing to visitors. By getting inside and moving around, there are a great number of white crystal stalactites that resemble a lot the glass pillars and several other majestic formations. You will have dinner and spend overnight in the city.
HUE ­– KHAI DINH MAUSOLEUM - DA NANG - SON TRA
Your breakfast is followed by a visit at Khai Dinh Tombs and Tu Hieu Pagoda. At first sight, you will see that the major building here releases an intense Western feel, but the surrounding landscape was placed to reflect the traditional perceptions. It's about the balanced mixture of wood, land, plants, and water. You can easily see its prominent rectangular structure with 127 steps that lean against the mountain.
In the side walls, there are many large sculptures of dragons spreading all over the country. And once climbing upstairs, visitors can view the house of epitaph. The statues of madarines court (consisting of horses, soldiers, and madarines…) are arranged at the courtyard. The worth-to-see place in Khai Dinh Tomb is nothing else than Thien Dinh Palace.
It owns the bronze statues and steles of the emperor with all walls densely garnished with delicate glass and beautiful porcelain designs. The most notable feature of this chamber here is the elaborate painting on the ceiling, depicting nine dragons floating among the fleeting clouds. Within the tomb, there are two different statues resembling the King. It's the one sitting on the throne sculptured in Paris in 1920.
After that, you have lunch at local restaurant and spend leisure time till being transferred to Danang. We shall go across Thuan Phuoc Bridge to reach Son Tra Peninsula that is also known as the Monkey Mountain. Feel free to drive around here and contemplate the charm of the entire city. Son Tra Peninsula owns an area of 4,370 hecta and lies in the Northeast of Danang City. This forms a wall of storms that helps prevent Danang seaport from strong wind and ensures the boats to be safer.
Visitors who arrive in Son Tra Peninsula will be astounded by its great nature and wildlife in the area. It's such a fantastic destination where tourists can climb up the mountains to discover the forest. Just come here and enjoy the sun and breeze of the sea. Also, the fauna and flora here is pretty diverse, especially when there are over 100 species, mostly the langurs.
They have brown legs and are nearly extinct in the world. But when coming here, there are over 300 langurs, so the visitors can have a chance to explore more animals listed in the Red Book in Son Tra forest. Besides, there are a lot of other precious animals you will see, including the golden macaque, python, and macaque with long tail.
Then we reach Ling Ung Pagoda and go swimming at My Khe Beach.
Going at the end of Son Tra Peninsula in Danang, you will see a tall statue of the Goddess of Mercy looking upon the sea with gentle eyes. She's placed here to protect the local fishermen as well as offer them extra strength to combat with the waves and strong wind. She marks the gate to Ling Ung Pagoda, one of the nicest temples in the region.
My Khe is also a must-see attraction for you to come as it's recognised as one of the idea beaches of Danang City. The beach is a 9 km stretch of smooth sand with a width between 50m and 70m. Right behind the beach is the green poplar forest while the Kinh River brings pure water to the sea. The beach also owns diverse plants, corals, and creatures under the sea.
You will enjoy dinner then and join a cruise on Han River where you get to view the magnificent beauty of Danang by night or reach Sun Wheel (not included in the price) to enjoy the beauty of the city at night. Spend overnight in Danang.
BA NA – HOI AN
Enjoy your breakfast at first and then go to visit Non Nuoc Stone Carving Village - the craft village owning a history 300-400 years ago. There are a few stelae placed in the ancient temples have claimed that. There are still a lot of churches at the popular Marble Mountains, and many activities of the ancestors have been held annually on January 6 in the village.
Later. You can have lunch at restaurant before moving to Ba Na Hills (not including Ba Na cable fees). With a spectacular mountain view, this place has undoubtedly become a favorite destination in Vietnam among locals and foreigners. Coming here, you don't just get the great view of the beautiful landscape and amazing atmosphere but also join different kinds of recreation.
If you feel intoxicated in amusement parks or go along with kids, then you should visit Ba Na Hills. It's a great mixture of abundant entertainment types and unique architecture that makes this place become one of the best amusement parks in Vietnam.
Later, we shall visit the ancient town of Hoian in the afternoon, and go for a walk around the most charming and well-preserved sections. You will admire Hoi An's appealing and some historical sites in the place. Feel free to discover Hoi An ancient night on this day and you will be amazed at the waterfront here that is lined with many cafes and restaurants in the colonial style.
After that, have dinner at local restaurant before getting back to Danang to spend overnight in the city.
DA NANG - DEPARTURE
Enjoy your breakfast and then spend leisure time until we transfer you to Danang Airport for your departure flight. Your trip ends.
Price & Bookings
Inclusions: 
New air-con vehicles.
Accommodation: twin sharing basic at above hotels.
Full board meals (Breakfasts at hotel & set menus for lunch and dinner restaurants).
Entrance fees.
English speaking guide.
Water on bus (02 bottles/day/pax).
Tourism assurance.
Exclusions:
International/Domestic airfare
Single supplement
Beverages during meals
Personal expenses
Other services not mentioned clearly above
Meals not indicated in the program
All taxes.
Reviews
There is no review for this tour. Be the first to review this tour !!
Share your thoughts with other customers.