The capital Phnom Penh is not the green city like Siem Reap where Angkor Wat is located. But there are a lot of Public Garden to offer for the citizen's recreation. Day or night, it is busy and can say prefer downtown area of Phnom Penh. All the countries flags can be found and you would want to look for your country.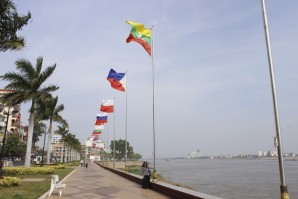 Whenever you want to run with your dog or you are thinking for a romantic walk with your sweetheart, riverside is the best choice. However the size of crowd in normal days, the walkway along the river can fit. Clean & decent space with fresh air will motivate your dizzy mind.
The walk is really pleasing activity especially in the evening. There may be one or two groups at least might play Cambodia traditional sport, called Si or Chinlon. Also you could find some dancer group right in the middle of riverside walkway. If you are interest to dance, 2000 riel or US dollar 50 cent is a fee to join the dance group.
There is the point where the meeting of the Mekong River and Bassac River, and then Tonle Sap River, not so far from Royal Palace, all these three river flow into one direction. Day or night, the Mekong River is the most beautiful sight in town and the easiest way to get direction if you get lost. "Where is the riverside" a simple question, but that will make easier for everyone.
Start from 4 O'clock in the evening, some parents bring their kids to play with the doves or feed them. The kids running among the doves in front of the Palace also an evening stunning sight in town. Grilled chicken egg, steamed corn or green mango are the popular local snack and easy to find at that area.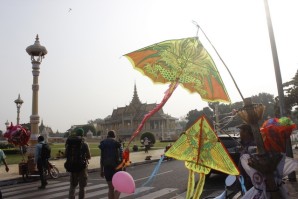 Just right in front of Phnom Penh Royal Palace, there is a small shrine which local believed that if they donate flowers and lighting or a fragrance stick, most of their wishes would be fulfilled. This place around is more busy evening time till late night with worshipers, more crowed on full moon days or any other auspicious day. Some offer to the shrine with young coconut, three fragrance sticks, three candles and a bunch of flowers, all together.
If you are late to go back to your hotel from riverside, just go to in front of FCC – Foreign Correspondent Club at the corner of Sisowatt & St. 178. Some Tuk Tuk will be waiting you. You must bargain the price, but one thing which is good that they will make sure you arrive back to hotel safely however you are drunk.
Nowadays, most luxury brand of food chains can be found at riverside; they are offering services and goods choice for you according to your budget. Or you want to grab some fruits for your supper, the place is waiting you with bunch of fruits, and of course drinks. Phnom Penh Riverside or Palace Public Park is a place where you would remember always!
TNK Travel Team
---