In the floating season, if you take a chance to visit An Giang Province, it's strongly recommended that you shouldn't miss out on amazing things to experience, such as Trà Sư Cajuput Forest, God Lake (Búng Bình Thiên), the River Vàm Nao, floating villages, and Châu Đốc Market.  It's known that An Giang is a place rich in specialties, stunning natural landscapes, authentic lifestyles, culture, and religion in the Mekong Delta. A deep insight into this land means that you collect a large amount of knowledge about life which is totally different from yours.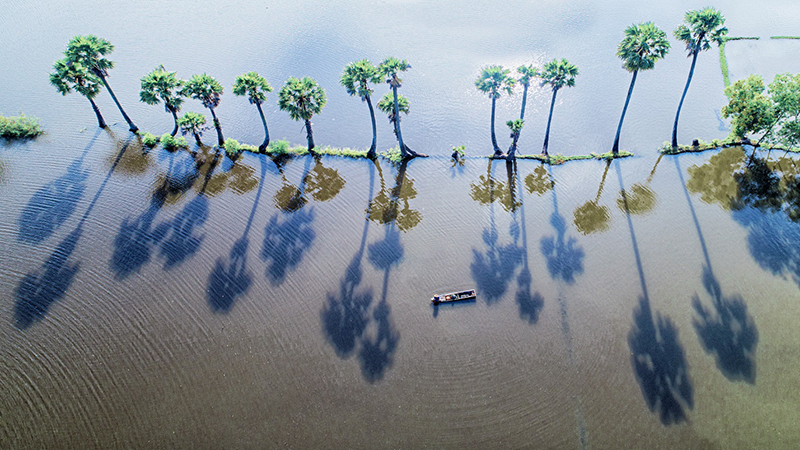 When is the floating season in An Giang? 
In An Giang Province, the floating season typically falls between the 7th lunar month and the 10th lunar month (from August to November). During this time, it rains lightly all day, so the level of water rises a lot. It's also the flooding season when water brings a large number of fish for locals. Accordingly, the locals take advantage of this food resource to make specialties, e.g. fermented fish. 
To witness this prosperity of the Mekong Delta, you should go on a Mekong Delta tour in the floating season. The tour also takes you to floating fish farms where a lot of fish are bred for domestic consumption or export. Furthermore, what to experience during this time is more than you expected, so you should get to know when the floating season is in An Giang in order to have a perfect Vietnam holiday.   
Why should everyone visit An Giang in the floating season?
It's possible to say that An Giang is always great to be visited all year round, but if you wish to see the miraculous scenes and try out the most interesting activities, the floating season is taken be to the best choice. An Giang Province is blessed with numerous rewarding treasures by the Creator. It's rich in fish species, aquatic life and attractive special food. Locals are warm and friendly. 
The floating season in An Giang Province, the Mekong Delta is believed to be very significant to locals as it is a good time to harvest a large amount of fish from rivers. The Creator gives the locals this kind of treasure, and they know how to make it their own feature. They take benefits from nature to create specialties, and they also have beautiful scenes during the floating season. Those things are indeed great enough to appeal to countless visitors. To witness everything awesome in the clearest way, you should go on an An Giang tour in the floating season. 
Best things to do in An Giang in the Floating Market?
Trà Sư Cajuput Forest
Approximately 260 km from Ho Chi Minh City and 70 km from Long Xuyên City, Trà Sư Cajuput Forest is located at Văn Giáo Commune, Tịnh Biên District, An Giang Province. The forest is also taken to be the green symbol of the Mekong Delta in general and An Giang Province in particular. 
Trà Sư Forest is actually a mangrove forest in the Mekong Delta and covers more than 800 ha, most of which are the home of cajuput trees and plenty of fauna species. A plus point of the forest is that you can visit it all year round, so it deserves to be experienced for certain. Going on a sightseeing tour of Trà Sư Forest definitely benefits you as you soak up the fresh air and get closer to the wildlife. 
The special vehicles to move in Trà Sư Cajuput forest are wooden boats and motorboats. It's a fascinating experience since you are taken through the waterways full of duckweed on them into the deep forest. The mangrove ecosystem as well as its inhabitants will blow your mind for sure.  
There is a bird sanctuary inside the forest, and you get an opportunity to watch a variety of birds from your boats. Birdwatching is one of the most exciting activities in a Mekong Delta tour. It's wonderful to watch them nest on trees, hatch their eggs and feed their bird babies. 
Climbing the observation tower, you will get a panoramic view of the cajuput forest, rice paddy fields and Thất Sơn Mountain Range, where there are mysterious stories about the spiritual world. The tower is indeed ideal to take a rest and chill out before you get out of the forest.   
God Lake (Búng Bình Thiên Lake)
God Lake is situated at Nhơn Hội, Khánh Bình, and Quốc Thái Communes, An Phú District, An Giang Province, and around 230 km from Ho Chi Minh City. God Lake is formed from two small lakes and covers 190 ha. It's considered as the biggest freshwater lake in the Mekong Delta, and the most outstanding detail about the lake is that the water is always turquoise and transparent. This is also a large fishery bringing a high yield for locals, especially during the floating season in the Mekong Delta.
Among the most awesome activities you should experience in God Lake is cruising along the bank to pick stork flowers by boat – a kind of flower found everywhere in the floating season. Additionally, you also watch traditional performances and boat racing, and catch fish by bamboo traps.
Another impressive activity of the journey to An Giang Province is getting to know about the culture of Champa people along the riverside. A boat trip along the side allows you to observe their houses and lifestyle and know more about their history and culture.   
Năng Gù Ferry – the River Vàm Nao
The River Vàm Nao is 7km long and connects the River Tiền with the River Hậu. It belongs to Chợ Mới District and Phú Tân District, An Giang Province. It's 210 km from Ho Chi Minh City. 

Vàm Nao plays an important role in controlling the flow between the two big rivers. Besides, it also contributes to the transport in the Mekong Delta. According to some reliable documents, the flow is too heavy and large, so it's home to rare species of fish. 

Vàm Nao in the floating market is great enough for travelers to experience. You can get closer to the authentic life of locals by becoming a farmer. Activities you can do are catching fish by net, taking fish out of the net, picking stork flowers, picking water lily stems, and cutting water caltrop plants. 

You will use those ingredients to prepare a meal and enjoy it with locals. If you have much time to stay overnight at their house, you are also taken to hunt for giant carps by experienced farmers. 

It's sure that the River Vàm Nao is a must-visit place because you will try living the life of a farmer and fishing with the locals. It's a way to get insights into their lifestyle and culture.  
Châu Đốc Market
Châu Đốc Market is famous for fermented fish and fish sauce. As said above, the floating season is a time when the water level rises, bringing a diversity of fish to locals. Thanks to this blessing, they have created fantastic food which cannot be found anywhere else. The colors of those specialties stand out in the market. As soon as you enter the market, the aroma of fermented fish will stun you a lot. Many travelers supposed that it's uncomfortable to smell that kind of fish at first, but after walking for a while and getting familiar with the smell, they seem to be addicted to the food. 
There are also other specialties you should have a try, such as sweet soups, palmyra palm cakes, palmyra calm sugar, and pancakes with salad, and fermented fish hotpot. The market is labeled as a symbol of An Giang Province since it's the main food resource for locals. 
Cô Tô Mountain
Cô Tô Mountain is 600 m high and also called Phụng Hoàng Sơn Mountain. Fringed by rice paddy fields, Cô Tô will be an ideal place to get a great view of marvelous landscapes below. In the floating season, the fields look like a magical picture you find difficult to resist. That's why you should choose this time for your journey exploring An Giang Province. You not only enjoy a lot of activities, e.g. catching fish, visiting fermented fish market, cruising on God Lake, going deep into Trà Sư Cajuput, but also climb the mountain to observe the whole area.
Either going to Cô Tô Mountain by bike or walking along terraces is nice. Youngsters often camped overnight on the top of the mountain to enjoy the sunrise or sunset. If you have enough time, having this experience is fantastic. It's also awesome to hear mysterious stories about Cô Tô by local people. 
Being an international friend, you are probably curious about remote parts of the world, and An Giang Province will be one of the places you shouldn't neglect, especially in the floating season. You can discover distinctive qualities in culture, natural landscapes, and authentic lifestyle of the locals, and then realize that everything about An Giang is what you have ever expected to know more before.  
---