Thailand is considered a center of cultural and natural charms. It possesses many of the fascinations that attract tourists from all over the world. Thailand is also referred as a dreamland due to its numerous magical beauties. People go to Thailand on tours or for honeymoon to enjoy its alluring life. There are many companies around offering a wide range of cheap tour packages of Thailand. The biggest attraction of Thailand, which is also believed to be major cause of tourism, is Wat Phra Kaew. It is a temple having great historical significance. It was built in later eighteenth century as a royal residence in Bangkok. It is famous as holiest temple in Thailand. Many people come here to visit this pilgrimage destination. It has been thought to be an ideal and greatest architectural model in Thailand until now. Wat Phra Kaew architecture is best one in world stunning architectural masterpieces. Many amazing aspects of this temple are being described to let our readers know its importance.
1. Grand Palace
It was built in 1732 as a royal residential building during the period of Rama I. This palace houses a lot of architectural and historical models including the most sacred temple of Buddha. There are many other finest samples of Buddhist artistic work.
2. Stat of Emerald Buddhaue
There is a statue of Emerald Buddha in this temple, which is believed to be a symbol of Thai. People are scared that if this statue will be displaced from Bangkok, it will end up in removal of their history of Chakri reign. This statue is paid much importance and no one is permitted to touch it except the present king who conveys rituals during all the year.
3. Ceremonial Place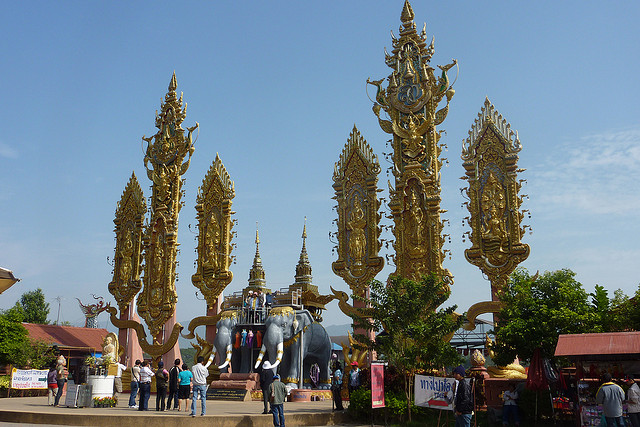 This place is also being used for events and ceremonies nowadays. People arrange many functions in this building. The coronation ceremonies are also held here.
4. Temple of Reclining Buddha
Along with golden Buddha Bangkok, there are many other temples, which serve as touristy place and sacred one too. People get amused by these places. These temples include,
·         Temple of Reclining Buddha
·         Wat Benchamabophi
·         Associated parks
·         Side market
5. Divine Place
It is also considered as a divine place and people come here to pray for remedies of diseases. There are also many elephant statues around the building of this temple. These are a sign of dignity. People make their children to take rounds of these elephants for their safety and rub their heads. You will love to enjoy the wildlife available in the area. You can make snaps and make it a permanent memory.
Above discussion shows, that Wat Phra Kaew is a sacred and holy place to visit. It has other many touristy qualities as well. There are many other places in Bangkok like Wat Ratchanadda. These places have a religious significance for Buddhists. Other temples of Buddhist nation like Wat Saket are also in this city. If you intend to visit this sacred location in Bangkok, you can avail different packages from TNK Travel at finest price.
---