It will be a good choice to enjoy a gentle stroll in green parks while you are staying in the heart of downtown Hanoi, Vietnam. However, you are wondering which parks should be put in your list, right? Here may be an answer!
Hoa Binh Park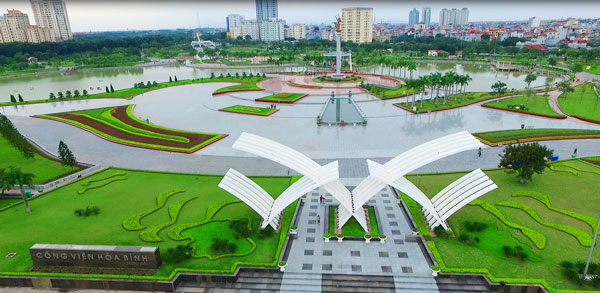 Lying at Pham Van Dong Street, Hoa Binh Park is supposed to be an appealing place for many young people. The park is quite large and features modern architectural patterns of elegance to make it more outstanding. Additionally, there are large grassy banks perfect for picnics or outdoor activities.
Thong Nhat Park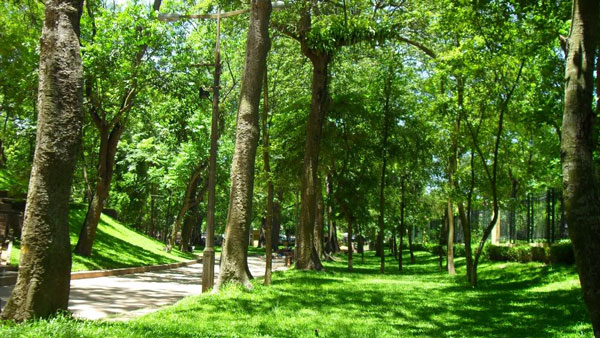 Thong Nhat is emerging as one of the biggest parks in Hanoi, embracing Bay Mau Lake in the center; with the cool green space, it has become a common gathering spot of many students for their study and music activities. More interestingly, eye-catching structures around the park will provide an awesome backdrop for your visit here.
Thu Le Park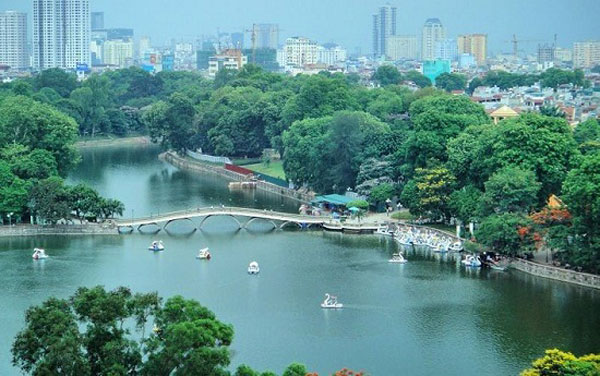 Built on May 19th 1975 and then open to the public two years later, Thu Le Park now has been turned into Thu Le Zoo. In its development, the park is designed to combine Green Park with zoo and amusement areas. With the area of 29 hectares and upon being surrounded by green grasses, trees, flowers, and plants, it is indeed a perfect spot for a leisurely walk. Not only that, the zoo is home to over 600 animals (more than 100 species), some of which are listed in Vietnam Red Book, so it enables children to learn about nature.
Cau Giay Park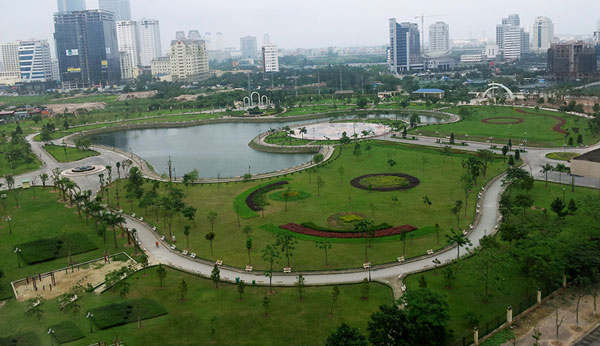 Cau Giay is positioned at Thanh Thai Street, Cau Giay District; that is the reason why it is called Cau Giay. The park is voted the most attractive green public park for the young because it not only features beautiful artificial landscapes, but also is encompassed by famous universities of the city. The amusement zone attached to this place makes it more outstanding and appealing with no doubt; children can find it enjoyable while playing outdoor games, and adults will take chance to chill out and relax.
Nghia Do Park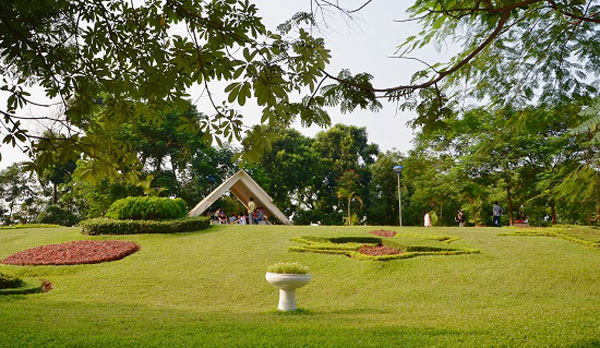 Upon lying at Nguyen Van Huyen Street, Cau Giay District, Nghia Do Park is a combination of vast playground, artificial turf, exercise zone, and playground equipment for the ages from two to twelve. Your can freely go for stroll in the park, and your children can gain funny moments at the playground. The late afternoon is believed to be the best time to know about the citizens' lifestyle at the public park.
Yen So Park
Yen So Park in the proximity of Cau Giay Freeway and with the area of more than 300 hectares will utterly bring you a wonderful place for a walk. Of course, just offering a pleasant walk never becomes the highlight of a public park. Hence, Yen So draws lots of visitors due to the decorations inside it, one of which is a range of exquisite statues. To those who prefer experiencing more activities, bicycle rental service is actually what they are seeking for. Moreover, you will be amazed at the new design here in which the architects added boat house, art house gallery, outdoor theater, cultural village, and maze garden to the initial one.
Indira Gandhi Park
Nestled at the side of Hoan Kiem Lake, Indira Gandhi Park is referred to as an open space for all visitors no matter if they are international or local. In the French Domination, the park used to be a common venue where events and outdoor concerts were held by the colonial officers. In 1984, this venue turned into the public park was named after the minister of India, Indira Gandhi, who was the Vietnam's fervent supporter. Nowadays, it is the place of various exciting activities in the early morning and the late afternoon: doing "tai chi", dancing, playing badminton, and simply relaxing.
---