To prepare a Da Lat tour, travelers must definitely seize all information as well useful knowledge about places to visit in Da Lat. The lack of this preparing will make them miss some deserving travel spots and bring back great regret, so the detailed followings are surely helpful.
Langbiang mountain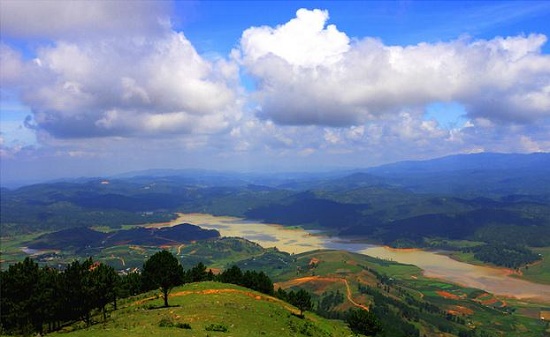 In the far distance, overlooking some small houses, you can easily catch the image of Langbiang mountain (also called Lam Vien mountain). This is a special mountain lying on Langbiang Plateau, belonging to Lac Duong District, Lam Dong Province, and is 12 km far from the Da Lat center.  Outstanding activities which are recommended to tourists coming to visit Da Lat comprise exploring the diverse natural flora, relishing unique features in the ethnic minorities' culture, or camping. Furthermore, if wishing to get intense feelings from a Vietnam tour package, and especially the journey to discover Da Lat, you should not lose out on the adventurous activities, such as paragliding, mountain climbing, conquering the mountain's summit, and trekking. Concerned with the mountain's legend, you will be astonished and excited at a moving story behind it, which is about a boy K'lang and a girl Biang – a couple falling in love with each other but being separated by the long feud between their two tribes.
Valley of Love
One of the deserving places to visit in Da Lat for couples is Valley of Love. Also similar to true love which is proved after overcoming lots of obstacles and challenges, the Valley of Love must also beat severe difficulties in the past to obtain its wonderful name today. The valley is depicted as one of the most breathtaking and miraculous sites in Da Lat, along with other surprising valleys and vast pine forest. The highlight is seen as Da Thien Lake, which contributes to the valley's sophisticated charm and magnificence. Here, you may follow the natural tracks to Vong Canh Hill where the view of the Valley of Love is supposed to be the most wonderful. Not only that, Langbiang mountain's summit becomes more remarkable in the blue sky when you stand on that hill. The tourists will surely be pleased with some amusements, such as horse riding, boat paddling, or jeep safari.
Tuyen Lam lake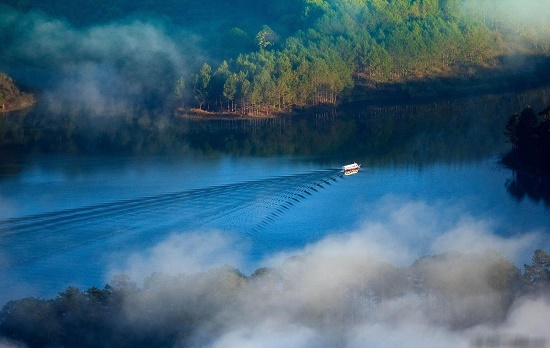 It will not be flattery as people say that Tuyen Lam is the Paradise Lake in Da Lat. Nobody knows who gave this name to the lake and when it appeared, but locals just divided it into two words to explain its meanings; Tuyen implies stream, and Lam means forest. Therefore, Tuyen Lam carries grandiose and stunning scenes in which water and tree are finely harmonious, creating the paradise on the Earth like that. Some what you spend time on consists of camping, sightseeing, trekking, fishing and mountain climbing. Amazingly, with its tranquil charm, Tuyen Lam was designated as Cultural historical heritage on August 30th, 1998.
Datanla falls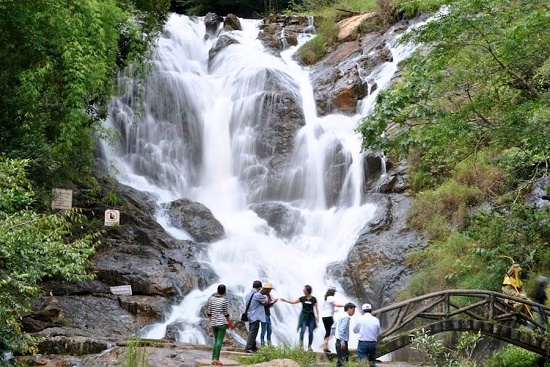 First, mentioning the legend of Datanla, you will completely absorbed by its story. Once upon a time, locals called the waterfall "Da Tam N'nha". In fact, they had not known about the fall before exploring the stream under leaves. It was believed that it was the place where fairies often landed to take a bath. When the waterfall was found out, the native people pronounced "Da Tam N'nha" into "Datania"; as a result, the present name was born. It's well worth spending time on a Datanla adventure as it's one of the spectacular places to visit in Da Lat and also the ideal destination where you may challenge yourself. Join some activities here to seize strong feelings: exploring the forest, climbing the cliff, and walking along the stream.
Truc Lam pagoda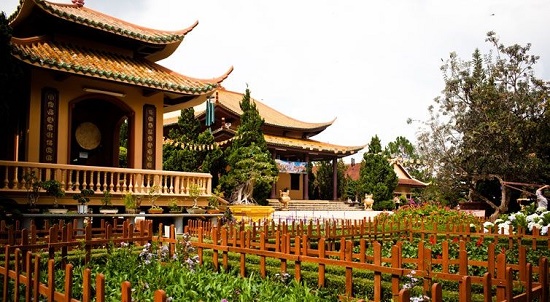 Constructed in 1993-1994 by Thich Thanh Tu supper Buddhist monk, Truc Lam pagoda was in the advantageous location and designed in an oriental style of architecture. Due to its charming and tranquil landscapes, it's an ideal spot not for just meditation, but visit. Visiting Truc Lam pagoda, tourists will find peace in their souls and take away worries from their mind.
Read more: How to plan your first trip to Vietnam
---