Vinh Sang Eco-tourism Area is one of the must-visit destinations in Vinh Long, the Mekong Delta. You not only have wonderful moments in the water region of Vietnam, but also know more about the history, culture, and people in there. Just read the so-called guide to Vinh Sang before you decide whether or not  to have an excursion there.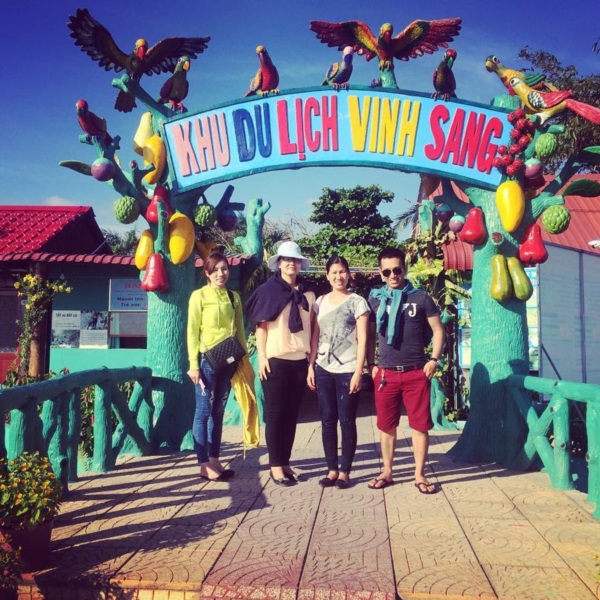 How to get to Vinh Sang Eco-tourism Area From Ho Chi Minh City?
Address: An Thuan Hamlet, An Binh Commune, Long Ho District, Vinh Long Province.
To reach Vinh Sang Eco-tourism Area, you need to get into the An Binh ferry first. After disembarkation, you go about 3 kilometers to the destination.
How to hit the An Binh ferry
Route 1: travel along National Route 1A to My Tho City, cross the My Thuan bridge to Vinh Long and then the An Binh ferry. If you choose this route, it's quite fast to reach the destination, there will not be beautiful sights en route.
Route 2: Rach Mieu Bridge – Ben Tre Province – Ham Luong Bridge – Lach Market – Dinh Khao Ferry – Vinh Long Province – An Binh Ferry. If your choose this route, it enables you to witness breathtaking landscapes en route. Don't take it when in holidays since the traffic may be heavy.
Entrance fee
VND 50,000/adult
VND 35,000/child
This price includes entrance fee, taking photos of the eco-tourism area, and watching chicken races.
Prices for activities in the Vinh Sang eco-tourism area
Crocodile fishing: VND 5,000/ticket/person – fishing once
Ostrich riding: VND 25,000/ticket/person – riding a circle in the round yard
Water zorbing: VND 30,000/ticket/person – playing for 10 minutes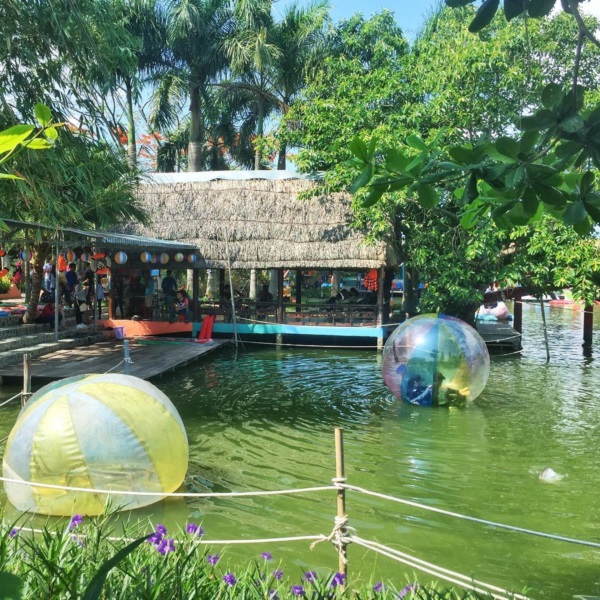 Sliding on grass: VND 30,000/kart/twice – 2 pax in each kart
Rotating swing ride: VND30,000/ticket
Feeding fish on milk: VND 5,000/bottle of milk
Draining the pond for fish: VND200,000/pax
Eating & drinking: VND35,000/serving
Karaoke: VND70,000/hour/room (maximum of 20 guests), VND100,000/hour/room (maximum of 30-40 guests)
Bumper kart ride: VND20,000/ticket/guest – play for 5 minutes
Play house for children: VND20,000/ticket
Swan Pedal Boat: VND30,000/ticket/2 people
Water slide: VND15,000/ticket/person
Vietnamese folk music show: VND800,000/3 hours
Basket boat: VND30,000/ticket/2pax
Arrow-shooting: VND10,000/3 arrows
Dart-playing: VND10,000/3 darts
The tour to rambutan gardens: VND170,000/adult, VND120,000/child
Camping: VND30,000/person, a maximum of 8 people
Wooden sampan rowing: VND30,000/ticket/2 people/sampan
Basket boat race for ducks: VND450,000/show, including 2 basket boats and 1 duck
Catching ducks in a pond: VND290,000/duck
Entrance fee to an orchard: VND35,000/adult or VND55,000/adult, depending on types of fruit
Entrance fee to the An Binh eco-tourism area: VND45,000/2adults, including fruits, Vietnamese folk music, and tea
Can throwing game: VND10,000/3 balls
Cai Be Floating market tour: VND650,000/boat – a maximum of 9 pax, VND750,000 – a maximum of 19 pax, VND40,000 – over 20 pax
How to stay overnight at Vinh Sang Eco-tourism Area
If you wish to have an overnight experience at the Vinh Sang eco-tourism area, you can book one of the hotel types as below:
Room for 2 guests: VND280,000/night
Room for 3 guests: VND350,000/night
Room for 4 guests: VND420,000/night
Breakfast isn't included in the room price, and the add-on is a karaoke room used within 1 hour. The room has TV, fridge, air-conditioning, and drinking water.
Fascinating activities and games to experience at Vinh Sang E co-tourism Area
Fishing for crocodiles
Fishing for crocodiles is an interesting activity and for those who love adventurous experiences. The players will fish by rod for those dangerous animals in the pond.
Ostrich riding
This game is exciting enough to attract lots of visitors. Surely, your visit to Vinh Sang Eco-tourism Area will not be complete if you miss out an ostrich ride.
Draining ponds for fish
It's quite dirty when you have a go at draining ponds for fish, but it deserves your money. With this activity, you take a chance to become a farmer in the Mekong Delta and do what they are doing daily.
Sliding on grass
Sliding on grass is just for people who are not scared of speed and love adventures.
Water zorbing
For this game, two people are inside a ball and then the ball is pushed down on water. Both will try to make the ball go as far as possible. The time for the game is about 10 minutes. Oxygen will run out after that time.
A tour to the orchard
You can enjoy many types of fruit in the orchard if you take this tour. Perhaps, here is the most must-try activity nobody wants to miss.
A tour to Cai Be Floating Market
The best time to go on this tour is daylight. If you are on the tour at night or in holidays, the boat fare goes up by VND 100,000/boat
What to eat at Vinh Sang Eco-tourism Area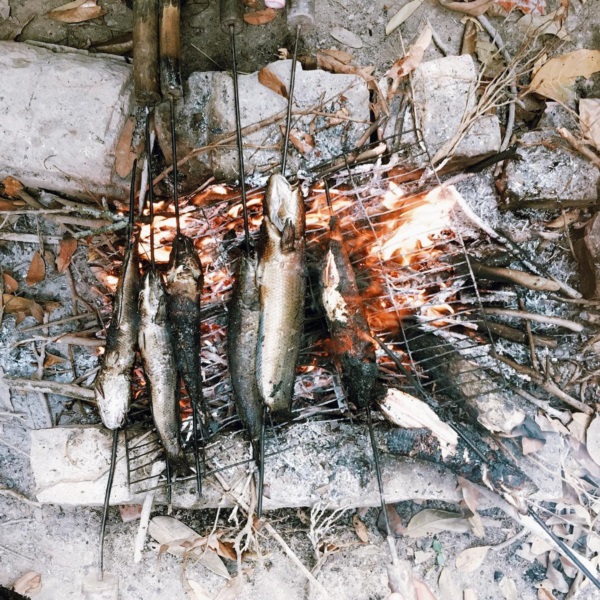 At the Vinh Sang eco-tourism area, there are many restaurants offering specialties of the Mekong Delta, such as snakehead smoked in straw, fermented fish hotpot, roasted duck, duck hotpot with fermented bean curd, and paddy crab hotpot.
---