Take a day trip from Siem Reap Town to Kulen Hill is great escape for a day out in Cambodia. You may heard many spiritual stories about the hill and legendary of Khmer Kingdom. It's time to travel to discover the real wonder.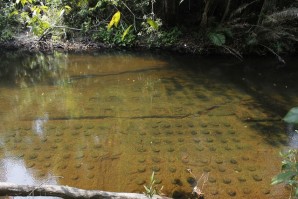 Kulen Mountain is located north east direction from main Angkor complex area of Angkor National Park. Two hour driving time for 50km to reach the hill top of four hundred eighty seven meters height. Most part of the road have some small wave, but the red dust along the way is terrible. Recommend to take taxi with air-conditioned.
Kulen Mountain is famous for Khmer outing place for every reasons on weekend or holidays. Especially crowed around waterfall area.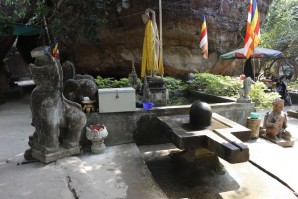 Before the Kulen waterfall, there is a road at right side heading to the some scared mountain, at top there is a reclining Buddha. The hill is used as Ancient Capital at the time of AD 802.
There will be need to exercise the gentle climb by concrete stairs. Stairs are not so high and easy to step. The weather is not hot there even the noon of summer season because of the green hill range. Along the stairs, you could amaze with some animal caught by the hunter, some made them dry or get oil in order to use as medicine or other way.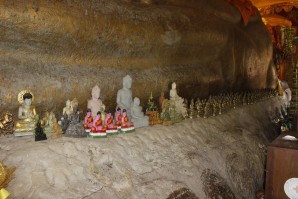 At the top of the hill, there are over fifty Angkorian small temples which made with bricks and volcanic stones. Must be admit this is the real Photogenic place with full of wonders. This place you could see both Buddhism and Hinduism sculptures.
There will be some small temples can be seen and most of them are in bad condition. The submit reclining Buddha length is 8 meters long and the statue is carved from one sandstone block, sixteen century architecture reflection can be comprehended.
There is a small Buddha's footprint also seen there, people believe that will help to fulfill of their desire by praying and donating. Some worshiper throw some money notes to the surface of Buddha's footprint.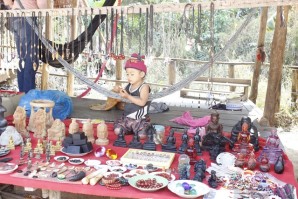 A stroll of souvenir shops can be seen at the base, you could find some forest products and amazing things. There is something upset me is lots of children were approaching the car and asking to buy their shoes keeper service. Recommend not to take one as there might be more asking or issues afterward.
On the way back from Pagoda to waterfall area, there is a creek which will make you surprise totally. If you are lucky enough and healthy to trek, you might see the birth place of Siem Reap River.
Some lingam shape are created inside the river. Some places you would see Shiva images if your eyes wide opened. Don't worry to get lost as you can hire a local guide with a dollar or two from the shop nearby.
Drive first to Mountain Pagoda, then gentle trek to see the Lingus and River, then soak yourself at Kulen waterfall and enjoy picnic lunch while listening the aqua bubble music. In one trip, you could learn the history and can touch with the Mother Nature. Of course can enjoy fun!
TNK Travel Team
---