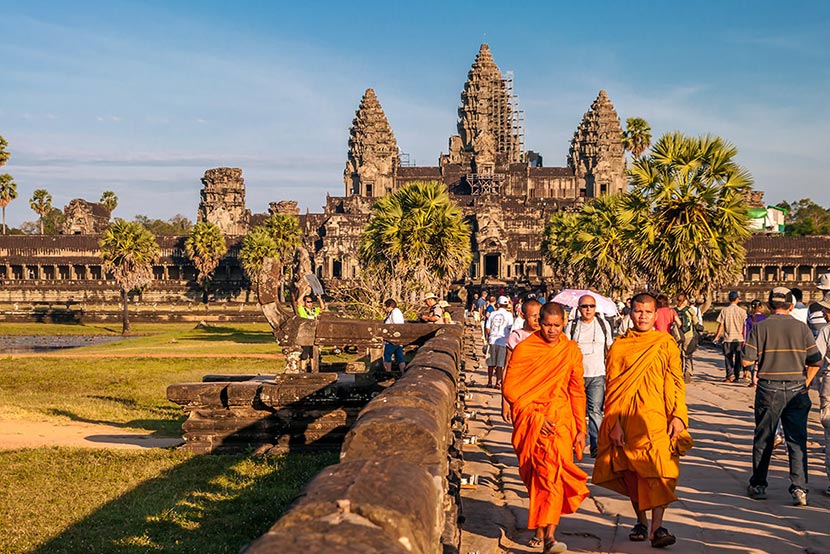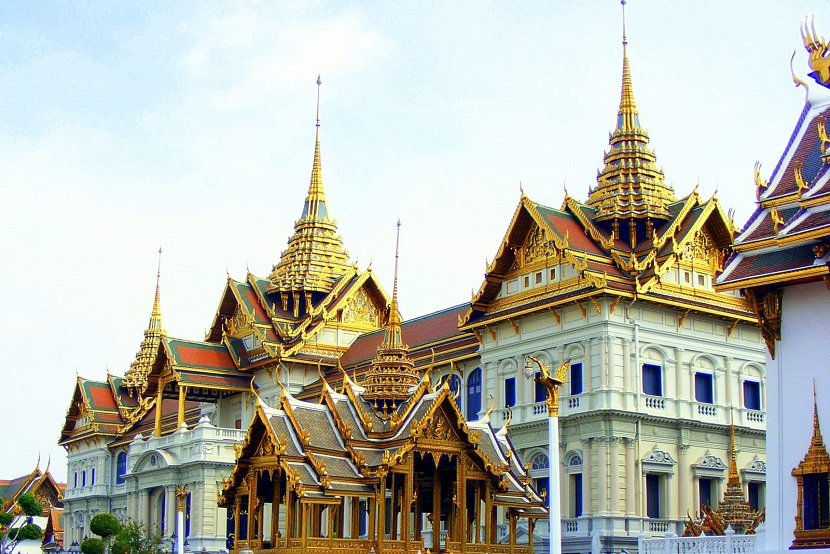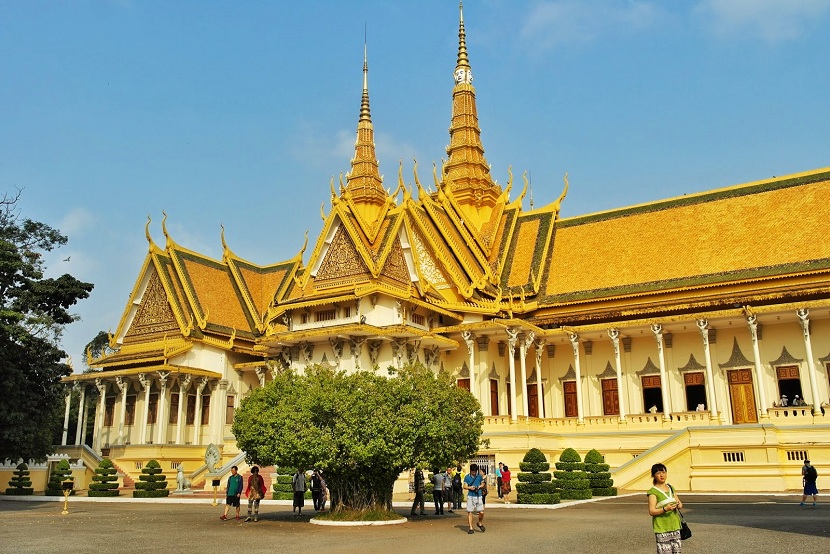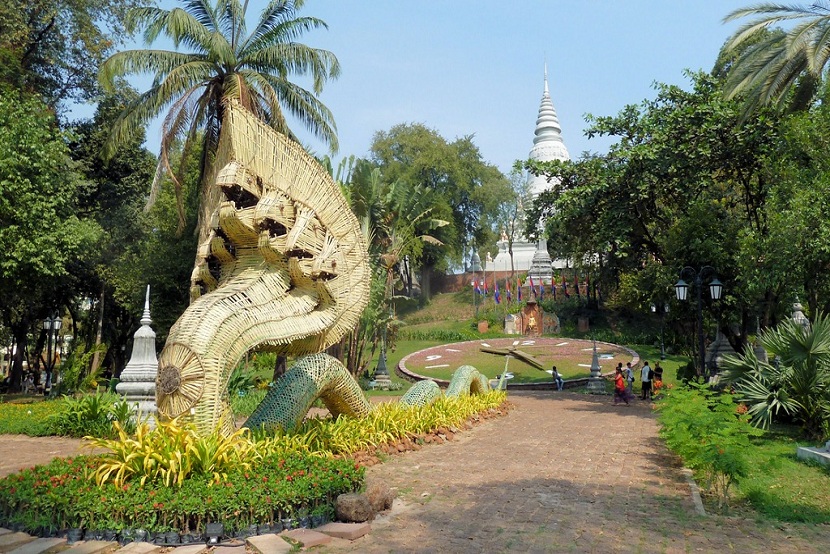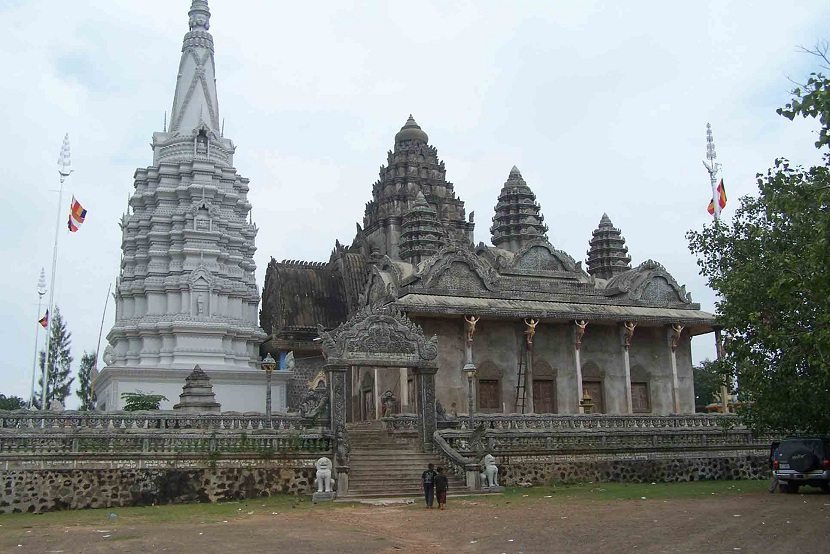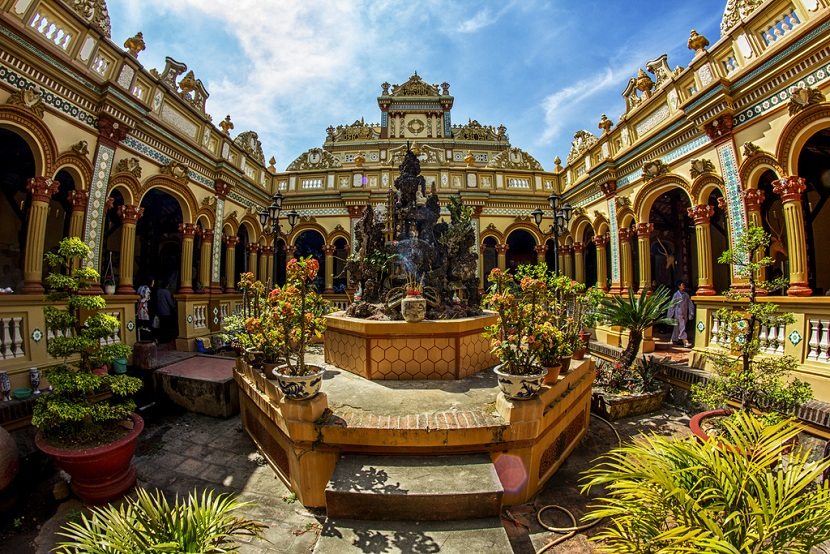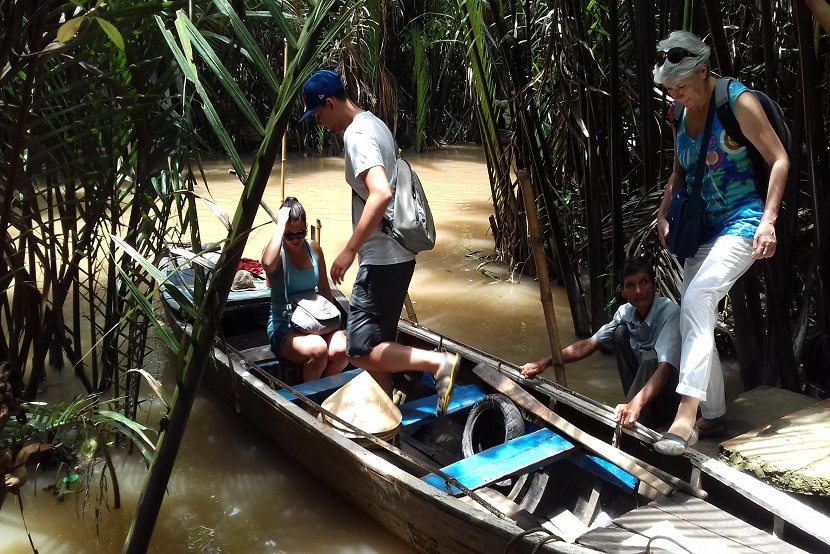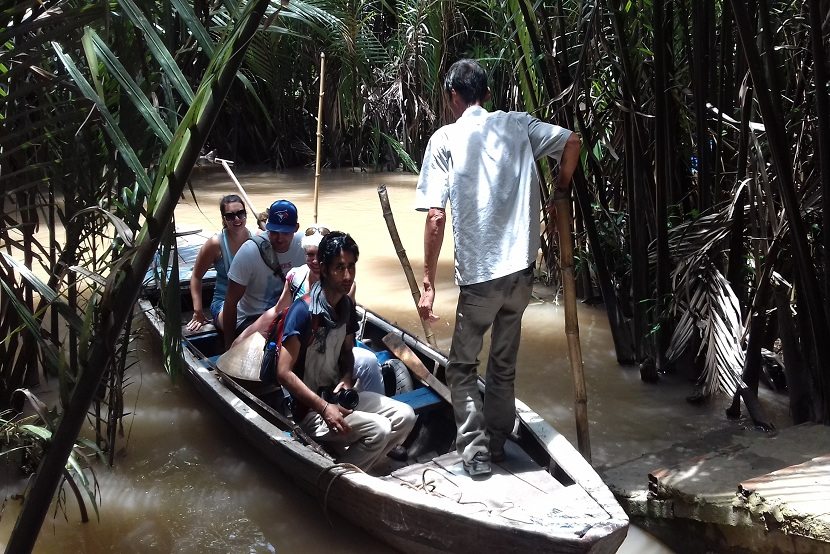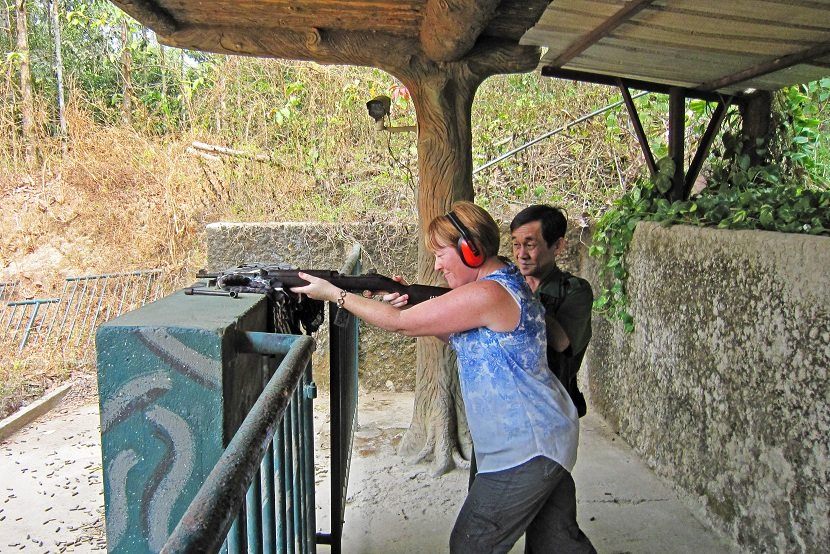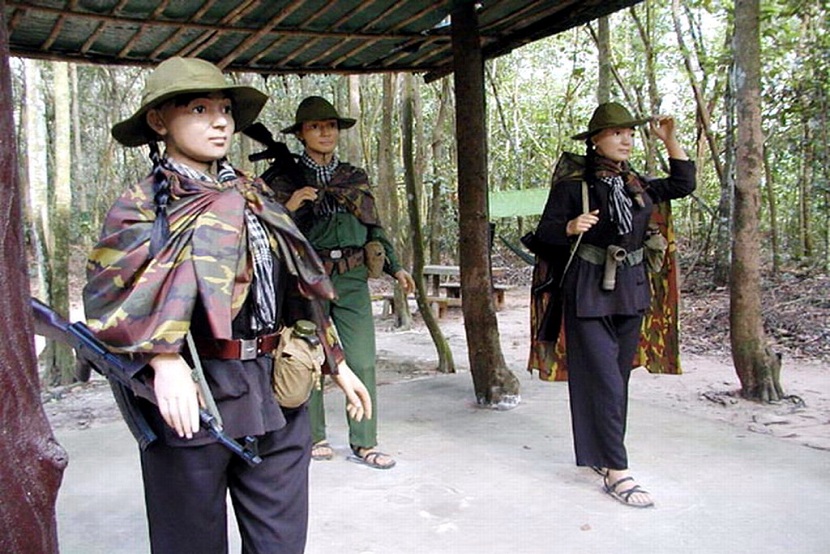 Tour snapshot
Length:
6 days / 5 nights
Overview
For those who desire a peek into the Southeast Asia culture, then this Ho Chi Minh City to Phnom Penh – Siem Reap and Bangkok tour should not be missed! It is where you can dive into the remnant of the war in Saigon, visit many mysterious temples of Siem Reap, try some delicacies at a night market in Bangkok, etc. There is plenty to experience in these booming cities.
Itinerary
Ho Chi Minh arrival - Cu Chi tunnel half day
After arriving at Tan Son Nhat Airport by flight, you are picked up and then transferred to your hotel. Note that any early check in will not be guaranteed since it depends on the room availability.
At 1:00 pm, the bus will depart at TNK office, 220 De Tham Street, District 1, and your trip to Cu Chi Tunnels takes around one and a half hours. Before kicking off your journey to explore the remnant from Vietnam war, our enthusiastic staff will introduce more of the site and its history to you. This is usually followed by a specific documentary film that focuses on the tunnels and the way Vietnamese people handled to survive in such harsh living conditions.
Upon your arrival, you can view a part of the tunnels systems, including the hospitals, weapon factory, kitchens, hospitals and get to crawl through the tunnels for the first time. There are three different levels of the tunnels from 3 meters to 10 meters deep, in which the spaces will be tiny. It means being big enough for one Vietnamese only.
Meanwhile, travelers have the opportunity to taste unique dishes that were eaten throughout the war. One of them is the tasty manioc, the staple for all guerillas to use for survival in the tunnels. Often, a small bite of this plant is the entire day's provisions while the rat meat is prepared for rare feasts.
Greater than that, you and others could choose to fire one AK47 or MK16 right at a shooting range near the tunnels. These guns tend to be fixed down range, which is quite safe and fun to do.
After that, our bus will pick you up and arrive back at the TNK office at 6:30PM. Spend your leisure time around the place, or visit some stores if you like. We shall spend overnight in Ho Chi Minh City before leaving for the Mekong Delta in the next morning.
Ho Chi Minh City – Mekong Delta – Water Puppet show and dinner cruise (B/L/D)
You will have breakfast at the hotel and wait until 8:00AM when you are picked up at 220 De Tham Street to leave for the Mekong Delta. Along your journey, feel free to view beautiful scenes outside the windows when the bus moves along the National Highway with the green rice paddies.
When arriving at My Tho City, pay a visit to Vinh Trang pagoda that was once a little leaf hermitage built in the early 19th century by Chief Bui Cong Dat. After undergoing several times of reconstructing, the religious building now features the gorgeous art of adding bottle and porcelain fragments to its structures. All of these elements create the best illustrations of the Buddha legendary.
Next, take a refreshing boat ride along the river where you can enjoy the rural landscapes in the distance, such as stilt houses, fishing villages, and fruit plantations along the bank. Keep moving to the Tortoise islet and have lunch in the orchard garden.
Afterwards, we shall proceed to An Khanh - a less touristy site. Cruise on a sampan especially right under the shadow of the water coconut trees along the canal. Go around the fruit gardens, and then listen to "don ca tai tu" - Southern Vietnamese folk music. It's often performed by locals while you're served with both seasonal fruit and a sip of honey tea.
Continuing the trip, we're going to visit a small local business epitomizing the rural lifestyle. It's also where visitors can try the tasty coconut candies, or simply pass through the fruit plantation and village for fun.
Afterwards, we leave the place and meet our bus for getting back to Ho Chi Minh City. Relax yourself on the bus until 5:30 PM, when you finally arrive in Saigon. At 6:30 PM, relish an interesting water puppet show and enjoy great dinner on Saigon river cruise. Then we go back to the hotel. Take a good night rest in Ho Chi Minh City.
Ho Chi Minh City tour half day – bus to Phnom Penh (B/L)
Like other days, once finishing up your breakfast at the hotel, you'll check out, and wait to be picked up at 8:00AM. We shall go for a morning trip to the Independence Palace (also known as the Reunification Palace) that was once the Palace of the Indochina Governor General. And it's now the landmark of Saigon when attracting more visitors in the world to visit. It was designed by the renowned Vietnamese architect Ngo Viet Thu.
Besides, this building was the home to the South Vietnamese president named Nguyen Van Thieu until his departure in 1975. It's truly an amazing example of 1960s architecture style when being surrounded with an airy, fresh, and open atmosphere.
And our French colonial exploration will continue at more outstanding structures, including Notre Dame Cathedral, Central Post Office, and then a remarkable reminder of the brutal war - the War Remnants Museum. The museum was initially opened to the public in 1975 displaying all real exhibits related to the long Vietnam war and the Indochina war.
We have lunch at one local restaurant, and wait until 1:30PM when the bus will pick you up and leave for Phnom Penh. This is a fixed departure tourist bus, so no escort guide accompanies you at all. Then around 7:30 PM - 8:00 PM, after arriving at Phnom Penh by bus station, the driver will transfer you to your hotel for check in. Spend your leisure time here and walk around the city for fun if you like.
Phnom Penh sightseeing – bus to Siem Reap (B/L)
In the morning, you will enjoy breakfast at the hotel, and then start your visit to the Royal Palace and Silver Pagoda. The Palace is famous for its golden Khmer gables and being a great example of Khmer architecture with a touch of French influence.
During the visit, you will spot that influence right in the formal gardens and some other European buildings on the grounds. Currently, the Palace is home to the Majesty Preah Bat Samdech Preah Sihamoni, the king of Cambodia. Besides, the building is set at the gathering of three great rivers, including the Mekong, Bassac and Tonle Sap rivers.
And within the magnificent Royal Palace complex is the stunning Silver Pagoda, which is known as the temple of the Emerald Buddha. It is covered with five tons of the glittering silver, which is such a fantastic sight to witness! Also, go for a sneak peek at a few of 5000 tiles near the entry and they are covered like that to protect the silver.
Our next destination is Tuol Sleng Prison Museum alongside the famous 'Killing Fields' of Choeung Ek. These are the must-visit for those who seek further knowledge about the Khmer Rouge's cruel dictatorship. Nowadays, it is seen as a museum where tourists are queuing to face up to the horrors of the Cambodian massacre.
Afterwards, spend your leisure time with a visit on Street 240, Russian Market. It's where all visitors would come at least once during the tour to Phnom Penh. If you love to get some souvenirs and discounted pieces of clothes, then this is the good place to go. Aside from that, you'll encounter a wide range of handicrafts and antiquities, such as wood carvings, miniature Buddhas, silks, musical instruments and so on.
Then you have lunch, and wait until 2:25 PM when we take a bus to Siem Reap (a fixed departure tourist bus without any escort guide). Remember to have dinner on your own account. At around 20:25 pm, we shall arrive in Siem Reap, meet the driver, and then move to your hotel. After your check-in, just go out and stroll around with friends and families before spending overnight in Siem Reap.
Siem Reap - Angkor Thom – Angkor Wat (B/L)
To welcome a refreshing morning, you will be provided with a breakfast at the hotel. Next, we're going to head for Angkor Thom & Small Circuit, Ta Prohm, T Gallery, Angkor Wat. As you know, the Small Circuit takes in many of the major and minor temples in the region, so it comes with plenty things to see and do.
There are also many little shops and vendors along the Small Circuit, which is good for anyone who likes to get cheap food and snacks.
During the visit to Angkor temples, Angkor Wat is the biggest religious building in the world thanks to its spectacular level mountain style that is finished by five central towers. And you're free to roam all over the building complex to contemplate its intricate carvings or details. Meanwhile, Angkor Thom is another moated temple city built by the King Jayavarman VII in the 13th century with an area of 3 km square.
Come to witness Ta Prohm - an undisputed capital of the kingdom of the trees. It's often entered by getting in the monument from the west and then left from the east entry. Throughout your temples visit, we stop by T Gallery, the largest luxury department store in Cambodia offering visitors the finest hospitality and leisure moments.
Continuing the tour, you will have lunch and enjoy the beautiful sunset at Pre Rup, the state temple of King Rajendravarman II. Then you will be dropped off at the hotel and start your own exploration at Siem Reap night market. Have dinner on your own account. We shall spend overnight in Siem Reap and wait for the next day to come.
Siem Reap – departure (B)
You will be offered breakfast at the hotel before checking out. At 7:30 am, we shall leave Siem Reap to reach Bangkok by an intercountry bus. It's a fixed departure tourist bus without any escort guide. On this day, you can enjoy lunch and dinner on your own account. At 4:45PM, our trip ends after our arrival in Bangkok.
Price & Bookings
Tour price includes:
Ground transportation for airport pick up and drop off
A/c vehicle for sightseeing as per program
English speaking guide on tour
Bus ticket Saigon – Phnom Penh, Phnom Penh – Siem Reap, Siem Reap – Bangkok (with no escort guide)
Meal as indicated as per program (B= breakfast, L = Lunch, D = dinner)
Mineral water on tour (1 bottled/day)
Accommodation as indicated (check in 14.00pm – check out 12.00pm)
Tour price excludes:
Travel insurance (Strongly recommended to buy in your country before travelling to Vietnam)
International air fare to/from Ho Chi Minh City
Tip for guide and driver as client discretion
Personal expenses
Reviews
There is no review for this tour. Be the first to review this tour !!
Share your thoughts with other customers.