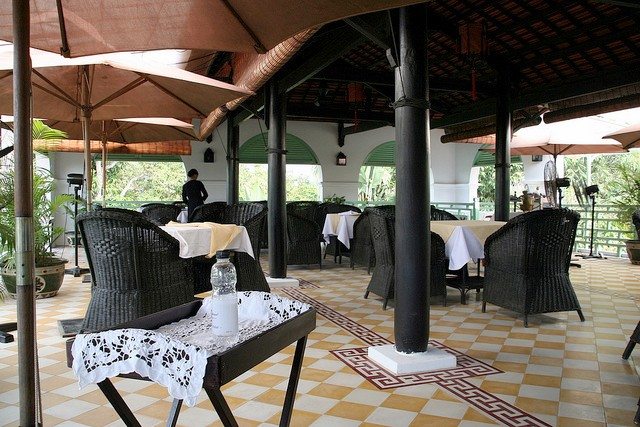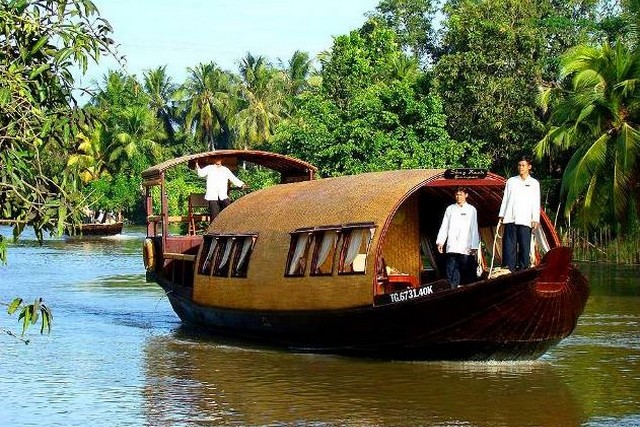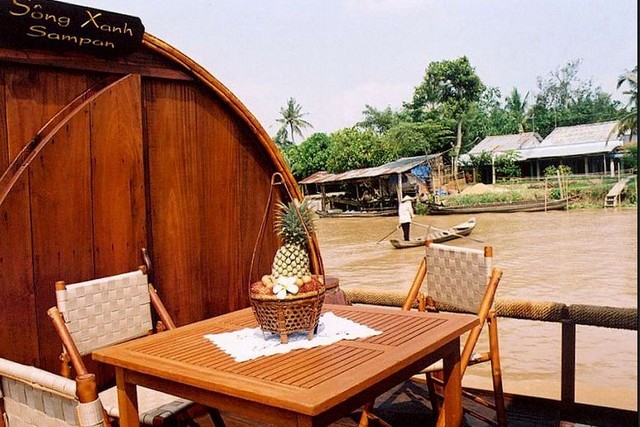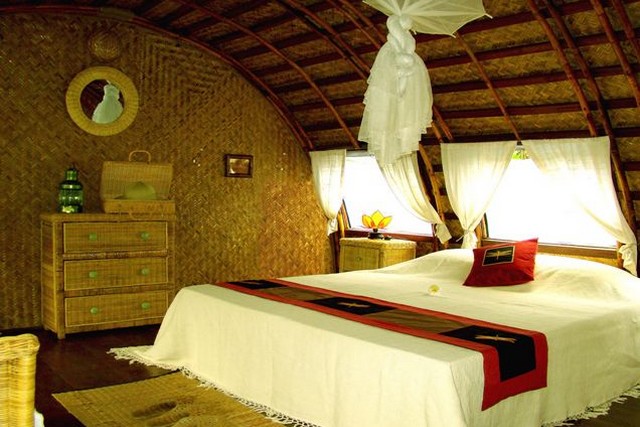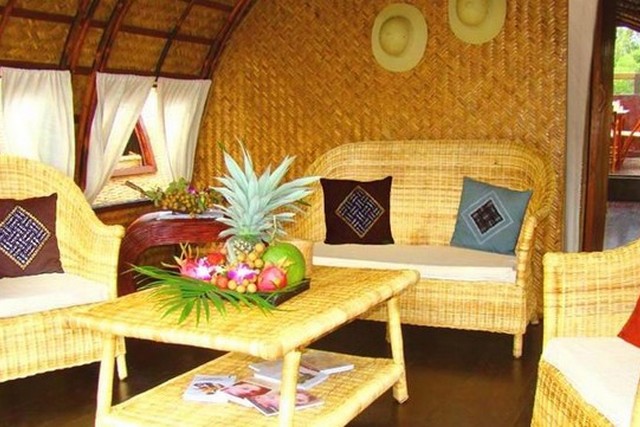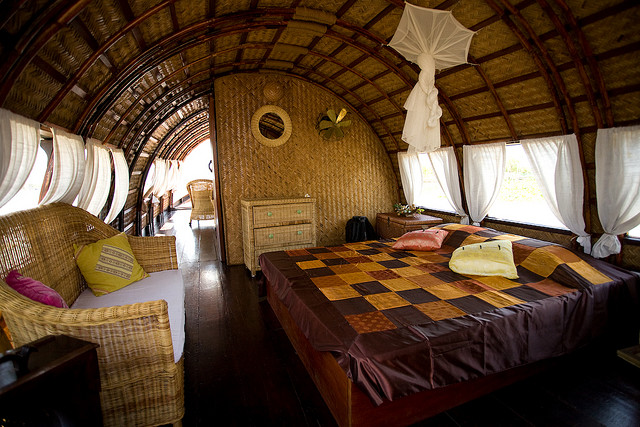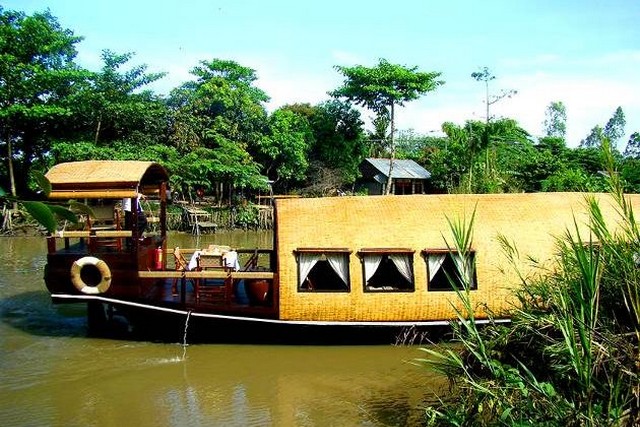 Overview
This tour is great for any individuals, couples as well as small groups who want to briefly explore the Mekong Delta's Maze of Canal Network. Enjoy the scenes and senses of the bustling Cai Rang and Cai Be floating markets. This tour is also give the experience about the unique culture and the typical local dishes as well as various local tropical fruits.
Overview
We have launched on last Oct 07 the first of a flotilla of 4 very unique, authentic and charming Sampans named "Song Xanh Cruise", designed for traveller looking for "private" cruise experiences in the Mekong Delta. On board, two spacious spaces of 15sqm each are equipped with beautiful bamboo and rattan furniture, creating a very charming atmosphere. A very attentive service is provided by a team of 4 crew members"
Having our head quarters based in Phu An/Cai Lay (next to Cai Be, Tien Giang Province), we operate cruises and related tours services in the Mekong Delta using our own built sampans, all stylishly designed and inspired by ancient authentic traditional Indochinese river boats.
Since June 2006, we also operate our own-built restaurant named "Le Longanier", a beautiful Indochinese two storeys villa with authentic architecture and style.
Today, with a flottilla of 10 boats and employing more than 50 staffs (boats + restaurant), Mekong Horizon Co., Ltd. is recognised among the Vietnam based Travel Agents community as one of the leading private Cruise-Operator in the delta.
Each sampan will carry a charming rowing boat ("Xuong"), nicely designed for deeper cruises along small canals and arroyos during the itinerary.
Bicycles can also be taken on board (fixed on a rack a the back) for exciting "out of the track" countryside rides. Designed for individuals looking for authentic "Private Cruise" experience, with overnight on board.
– Equipped with a bathroom with lavabo and shower, the sampans can also be used for daily private cruise programs for FIT's or Groups.
Cabin
– Salon amenities: 1 rattan sofa and 2 rattan armchairs with cotton pillows, 1 rattan low table, books, 1 rattan standing lamp, water jacynth floor carpet.
– Bathroom amenities: tooth brushes and tooth paste, cotton buds, shower cap, shampoo, soap, bath and hands cotton towels.
– Bed room amenities: cotton kimonos, rattan slippers, fans, double bed with silk bed covers and pillows , 2 rattan bed drawers/bedroom with 2 silk bed lamps lotus style, 1 ratan chest drawer/bedroom, 1 rattan sofa with cotton pillows, water jacynth floor carpets (bed sides and front).
– Sun deck amenities: teak wood square table with 4 or 6 bamboo/hard cotton chairs. 1 small rowing boat attached at the back ("Xuong") with bicycles for deeper canals discovery.
Tour 2 days (Opt.1)
CAI BE - SA DEC - CAN THO
Begin your cruise from Phu An Jetty at 10:00 am. On the sampan, while being served with tea and seasonal fruit, you will leisurely get a sense of the local lifestyle as it plays out on shore, which people are in a rush of their daily activities with the background of picturesque landscapes.
Before arrival in Sa Dec, stop at some spots along the river for getting some understanding of the local cottage industry, consisting of a brick factory where everything is made by hand. En route, cross monkey bridges and small villages to visit a Cao Dai temple. After arriving in Sa Dec, go for a stroll towards the outdoor market.
Pay a visit to one of the highlights of the charming town; it is the ancient house of Huynh Thuy Le, who was a real-life character in the renowned novel and film "The Lover" by Marguerite Duras. Savor your lunch on board while cruising down to Can Tho along a narrow canal teeming with natural charm. Get on the local rowboats to see how truly wonderful the countryside surroundings are. The last stopover before sunset is at an ancient house, dating back to the 19th century. You will be welcomed and served with a candlelit dinner in the authentic countryside setting. After your dinner, return to the Song Xanh sampan to continue your cruise towards the Hau River. Stay overnight on board.
CAN THO
Wake up at 6:00 to make a visit to the famous Cai Rang Floating Market which daily opens from 5:00 am. You will leisurely savor your breakfast on board while the Song Xanh sampan directs you towards the market among local barges full of fruits and vegetables from the Delta, perfect for some stunning photos.
Keep your cruise towards Victoria Can Tho for disembarkation at the hotel's private jetty.
*Note: Actual itinerary may vary depending upon river tide, arrival time or other conditions.
Tour 2 days (Opt.2)
CAN THO - SA DEC
Meet at the Victoria Can Tho Resort jetty at 10:00 am. Your crew welcomes you on board your private sampan with cold towels and a refreshing drink. Cruise the waterways of the Mekong Delta, observing villagers going about their daily activities against picturesque landscapes while your attentive crew serves tea and seasonal fruit. Sail past local barges laden with produce from the Delta as you enjoy lunch on board, with the mighty Hau River as a backdrop, one of the two largest arms of the Mekong. Transfer to a small rowboat to better explore the beautiful waterways and peaceful villages. Visit the historic house of "The Lover", a real-life character in the acclaimed novel and film by Marguerite Duras, where dinner is served. Enjoy your night on board the Song Xanh, on the Tien River.
SA DEC – CAI BE
Begin cruising in the early morning hours at about 6:30 am, just as the villages begin to stir and children get ready for school. After a leisurely breakfast on board, our first shore excursion visits a colorful Cao Dai temple and a small brick factory. Arriving at Cai Be, step ashore to visit local cottage industries that utilize products from the Delta like rice and coconuts to make tasty snacks including puffed rice and chewy coconut candy. Our cruise ends at Le Longanier Restaurant. Lunch is served in this exquisite riverside colonial-style villa set in lush tropical gardens and surrounded by fruit plantations, a throwback to the elegant lifestyle enjoyed by a privileged few in Indochinese times.
Price & Bookings
Grade tour
Price per person in US$
Single
supplement
2 pax
3 - 4 pax
5 - 6 pax
Oct 2018 - May 2019
$445
$390
$310
Jun 19 - Sep 19
$410
$359
$298
(Seasonal prices apply and will be confirmed when booking! All rates are quoted in US$)
SERVICES INCLUDE
Private 2-day cruise overnighting aboard Song Xanh Sampan
1 breakfast and 1 lunch served on board
1 candlelit dinner including a bottle of wine for 2 persons at an ancient house
Sightseeing fees included in the above itinerary
English-speaking tour guide
"xuong" rowboat rides
Crew assistance
SERVICES EXCLUDE
Road transportation (before and after cruise)
Individual travel insurance
Personal expenses
Beverages not specified in the above program
Tips for crew and tour guide
Any expenses not clearly indicated in the above program
Reviews
There is no review for this tour. Be the first to review this tour !!
Share your thoughts with other customers.