"Bago" formerly known as Pegu is one of the well-known cities in Myanmar. As the legendary tale, two Mon princesses from Thaton Kingdom founded this area and make a city. It is situated at the least in the southern part of Myanmar. Bago is a wonderful city with many spectacular view of its ancient temples and pagoda. There are many tourist spots are available in bago division. Some of them are:
Shwethar lyaung Pagoda:  The great attraction of Shwethar lyaung Pagoda is a 55 meters long and 16 meters high Buddha image. It is the second largest Buddha image in the world. It's probably built in the time of Mon king Migadepa at 994 B.C. The best souvenir stroll in Bago is offering at this pagoda compound.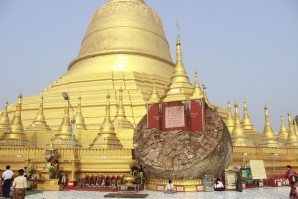 Ngwethar lyaung Buddha Image: Not far from Shwethar Lyaung, Ngwe thar lyaung reclining Buddha image is situation with wide open spacious environment. A photogenic spot for nature lover and who know the importance of peaceful atmosphere.
Shwe mawdaw Pagoda: Well known as a golden god temple in Myanmar. The height of Shew mawdaw is 375 feets. It is one of the tallest pagoda in Bago area. When the time of 1917, July fifth, the pagoda umbrella was fallen down because of earthquake.
Kyaik Pun Pagoda: A imagious Pagoda with four gigantic Buddha image. They are sitted in a back to back position and their face are open in four direction. Each of them are approximately 90 ft long.
Kanbawzathadi Palace and museum: It is a wonderful palace built for King Bayinnaung in the time of 1556. The whole palace compartment consisted with 76 apartments and halls.
Maha Kalyani Sima: Maha kalyani sima is a great attractive zone. It is one of the religious development of king dhammazedi founded in 1476. The appearence of this sima is as like as the kalyani sima of srilanka.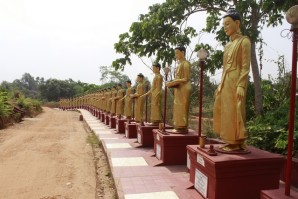 Shwegugale Pagoda: A tample for young monks. The pagoda is look like a rounded path and build with white marble stone.
Mahazedi Pagoda:  Mahazedi is one of the most beautiful stupa in bago. The meanings of Mahazedi is great. It has a wonderful photogenic view. Mahazedi is built by king bayinnaung in the time of 1560.
After all, Bago is a hidden treasure for the tourist who love archaeological site. Besides this it has a great attraction for its wonderful weather and natural green beauty. Another option to visit Bago is cycling around the rice field and ancient ruins. There is a famous food in Bago called Nga-Chin which is made by fish pickle with steamed rice, sour taste. A ton of wonder waiting for you in bago, so don't miss it from your Myanmar tour.
TNK Travel Team
---