Hoi An, a city in Quang Nam Province, is designated a UNESCO world heritage site due to its ancient and sophisticated beauty. Between the 15th-19th centuries, the city was well known as a great trading harbor of South-East Asia, so it was rich in history and culture. It's worth trying the Hoi An tour to get a deep sense of this ancient town's charm as well as people.
Go for a bicycle ride to discover the ancient town
All what travellers need to do is to hire a bicycle at the very cheap price for the Hoi An exploration, from farms to beaches. Don't be worry about where there are bikes for rent because it is easy to find out or if booking Hoi An tours, you will be leaded by an enthusiastic and knowledgeable guide. Riding through local paths, the travellers will be excited by rice, herb, vegetable, and shrimp farms; all of those things create the peaceful yet charming beauty of the countryside in Hoi An. Other interesting activities for a bicycle ride are to cross a bamboo bridge (a typical type of Vietnam countryside's bridges), visit the veteran family, and taste local specialties.
Enjoy street food
Street food has been considered as an outstanding feature of Vietnam cuisine for many recent years. If being a foodaholic, travellers will promptly keep an eye on many different kinds of street food when staying in Hoi An. Not experiencing anything luxurious and just sitting at the sidewalk or street corners to taste specialties is the most impressive point here. Start from sweet soup (aka chè) with different genres, such as red bean soup, green bean soup, sticky taro soup, black bean soup, lotus seed soup, Thung soup, corn soup, and so forth. Besides, the ancient town is also famous for tasty Cao Lau noodle soup, grilled meat skewer, fried shrimp cakes, fried banana, fried bread, chicken rice, etc.
Experience the picturesque beauty of lanterns-decorated streets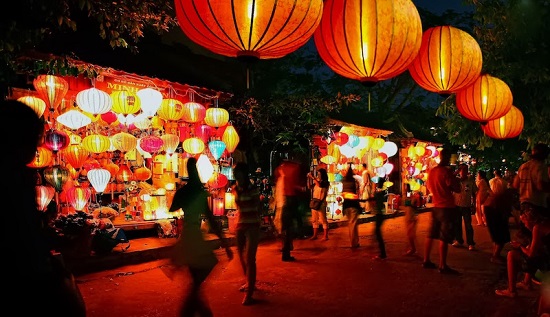 There are lots of romantic scenes and impressive things in Hoi An, which always attract numerous tourists every year, and the most prominent and awestruck one is supposed to be sparkling lanterns illuminating every corner of this ancient town by night. The town forbids traffic from 6:00PM daily, so every traveller can enjoy the peaceful atmosphere while going for a walk along picturesque streets decorated with the lanterns in a variety of colors. Especially, on the 14th day of each lunar month, full moon lantern festival will enhance the magical beauty for the town, from The Japanese Covered Bridge, Thu Bon river to streets along two sides of the river. If coming to this festival, travellers will be amazed and excited by a picture looking like the fanciful scenery formed from colorful lit paper flowers on Thu Bon river and various lanterns hanging up everywhere while there is no electric light switched on.
Pay a visit to Cham island
This destination is referred to as a group of 8 tiny islands and has been designated as the World Biosphere Reserve by UNESCO. Although it's too dangerous to explore the seas in the wet season, the dry season is the ideal time for experiencing the phenomenal coral reef, supposed to be the micro-diver's paradise. Besides, thanks to its crystal-clear and poetic beaches, Cham Island may satisfy the travellers' sport activities like swimming, kayaking, boat racing, water skiing, and others.
Read more: Cham Island Explorer Full Day price from $40
Stop at Thanh Ha pottery village and Tra Que herb village
Thanh Ha Pottery Village is next to the Thu Bon river and 3 km away from the ancient town's west. This spot is also like a precious historical legacy of Hoi An and plays an influential role in the town's development due to its prosperity. Taking a boat and crossing the river to reach the village, travellers will have a chance to know about the traditional pottery career of locals and freely buy pottery items they love.
About Tra Que Herb Village, it is with great regret that travellers miss this destination. Despite being a small peaceful village on the Hoi An's edge, it helps enhance the taste of Hoi An specialties by its amazing scented vegetable locals produce. In other words, the food may be more excellent and memorable as the herbs are added to it. One of the enjoyable things to do in Hoi An and specifically in Tra Que is to join the cooking class to make pancakes and spring rolls with meat and scented vegetables.
Read more: Hands – On Cooking Class At Tra Que Vegetable Village Half Day Trip price from $28
Explore My Son Sanctuary
My Son Sanctuary is situated in a small valley in Quang Nam province and surrounded by splendid mountains. This spot is the remains of the outstanding culture along the coast of Vietnam between the 4th – 13th centuries, with a series of ancient monuments and epitaphs. Nowadays, it has been recognized to become a World Cultural Heritage by UNESCO, which has fascinated lots of tourists in the world.
---