Hanoi, the capital of Vietnam is inevitably an outstanding destination travellers should add to their list of top places to explore in a Vietnam tour. It is seen as a charming and city with traditional history and culture in abundance, formed from the following top 10 attractions. Get started from Hoan Kiem Lake.
Hoan Kiem Lake
Hoan Kiem Lake is not only physically referred to as the Hanoi's center, but it is also a historical symbol here. The Vietnamese legend has it that the lake's name was formed from Le Loi King's sword returning after the battle against the troop of invaders. It's better for foreign tourists to spend time on a trip to this travel sport in order to learn more its special stories. Furthermore, here is also a nice chance to enjoy the cool atmosphere around the lake, see the life of Hanoi people and catch the image of tortoise surfacing.
Hanoi Old Quarter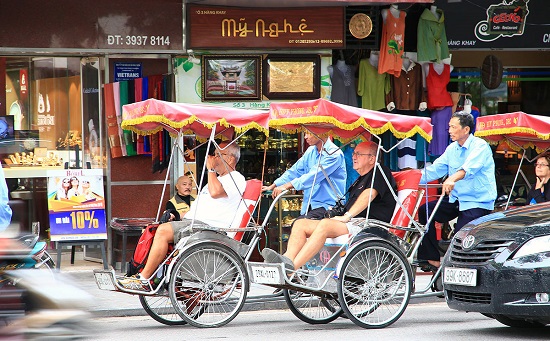 Hanoi old quarter in Vietnam
Hanoi Old Quarter literally sounds its name; it is the oldest constantly developed place of Vietnam, has the over 2000 year-old history, and carries the capital's immortal soul.  The top must-do thing when setting foot at the Hanoi Old Quarter is to travel around this area by cyclo in order to gradually explore all interesting things, ranging from ancient houses, ancient commercial streets to markets with specialties and souvenirs.
Book now: Ha Noi Free & Easy – 3 days from price $78
Ho Chi Minh Mausoleum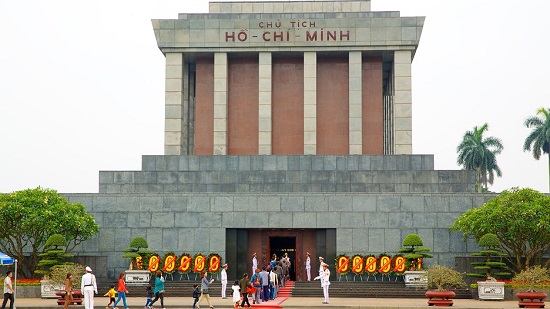 Ho Chi Minh Mausoleum in Hanoi
Here is a great monument in Hanoi and situated in the heart of Ba Dinh Square, where the President Ho Chi Minh announced Declaration of Independence and founded the Vietnam Democratic Republic. The embalmed remains of the president have been kept in this memorial, so it becomes a sacred construction of Vietnam. A surprise for those who have never heard about Ho Chi Minh Mausoleum is that it was built without the president's will. Although he asked his body to be cremated after his death, the Vietnamese government didn't obey. Instead, they embalmed his body and constructed this monument in order to remind the future generations of the nation's venerable leader.
Temple of Literature
Temple of Literature is one of the 10 attractions travelers must see in Hanoi
Chosen as one of the Hanoi's stunning historical attractions, Temple of Literature will not definitely lie out of your travel-destination list. It is a traditional Vietnamese university founded in 1070 and also a temple of Confucius.  Inside the site, there are many different historical buildings pointing out the unique style of Vietnamese architecture. Especially, pavilions will strongly impress anyone who wishes to explore the traditional Vietnamese education and culture.
One Pillar Pagoda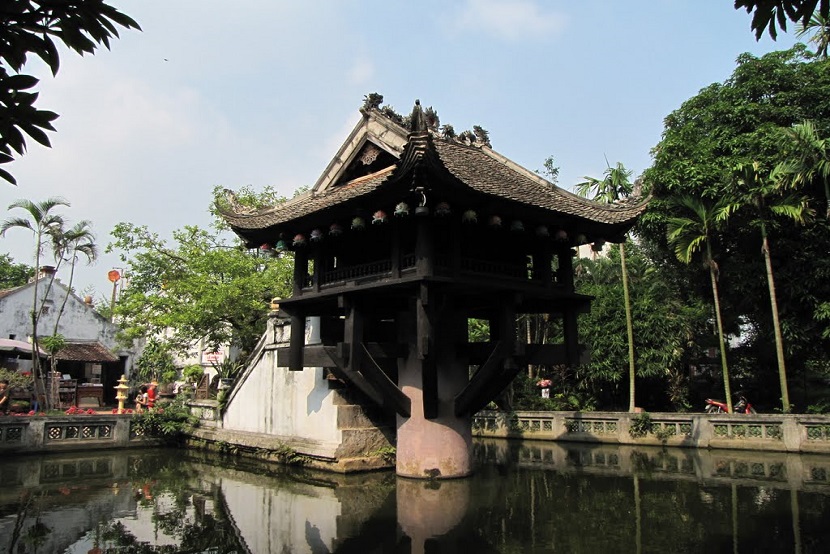 One pillar pagoda in Hanoi
One Pillar Pagoda is a unique architecture of Vietnam. As the literal meaning in its name, the pagoda just has only one pillar to lift its whole construction. Carefully looking at this Buddhist temple, travellers will astonishingly realize that it's look like a lotus popping up from the lake. There is an impressive legend behind this form of architecture. Let's start Hanoi city tour to explore it! It's very awesome!
Tran Quoc Pagoda
In the Ly Nam De dynasty, the first name of Tran Quoc Pagoda was "Khai Quoc" (ruling a country), and this renaming was continued in the Le Thai Tong to become "An Quoc" (a peaceful country). Eventually, it was renamed to "Tran Quoc" in the Le Huy Tong age; this name has been kept until now. Considered as one of the most charming ancient pagodas in Hanoi, the site will be a good choice for travellers.
Ho Chi Minh Museum
Ho Chi Minh Museum is one of the interesting museums tourists should pay a visit to when they have a trip to Hanoi. Undoubtedly, all what inside this landmark will amaze the tourists as it contains the elaborate overview of Ho Chi Minh's life divided into 8 chronological subjects.
Bat Trang Ceramics Village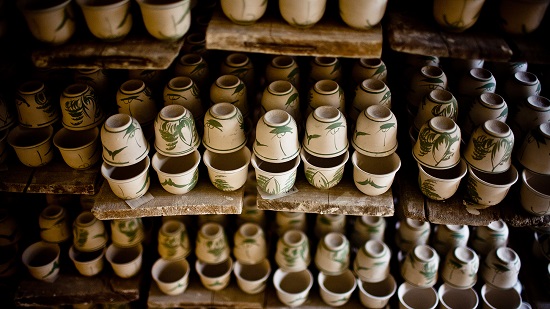 Bat Trang ceramics village in Hanoi
It's absolutely exciting to know that Bat Trang comes to symbolize Vietnam traditional trade village. According to some stored documents, the village is supposed to be founded around 14th or 15th century. As for prominent products, Bat Trang has become famous all over the world because its ceramics has been exported worldwide; some include dishes, bowls, vases, plates, and others.
Book now:  Ha Noi traditional villages (One day tour) price from $41
Van Phuc Silk Village
Van Phuc Silk Village is 10 km away from the Hanoi's center and referred to as a renowned traditional village specializing in weaving silk products from the past time. Especially, products of this area used to be chosen for the Palace's costumes.
Dong Ho Painting Village
One of the special attractions travellers must see in Hanoi is Dong Ho Painting Village; it has been an aesthetic symbol of Vietnamese painting culture. Situated next to Duong River, the village has carried astonishing features of art and been famous for unique paintings.
---