Vietnam's third largest city, the most worth-living city in Vietnam, the land of sun and wind – all these words tell us about Da Nang, a must-visit destination in your Vietnam tour packages. If you are into the natural landscapes, you will not be let down as the city has marvelous wonders to fill your photo albums. The sunshine and the clear blue sky totally flatter the alluring ancient pagodas, French colonial buildings, lively national parks and glorious beaches. But it is the city's attractiveness when the daylight leaves that makes Da Nang worth your visit. Here are 5 things you should experience at least once in your Da Nang day trips.
Han River night cruise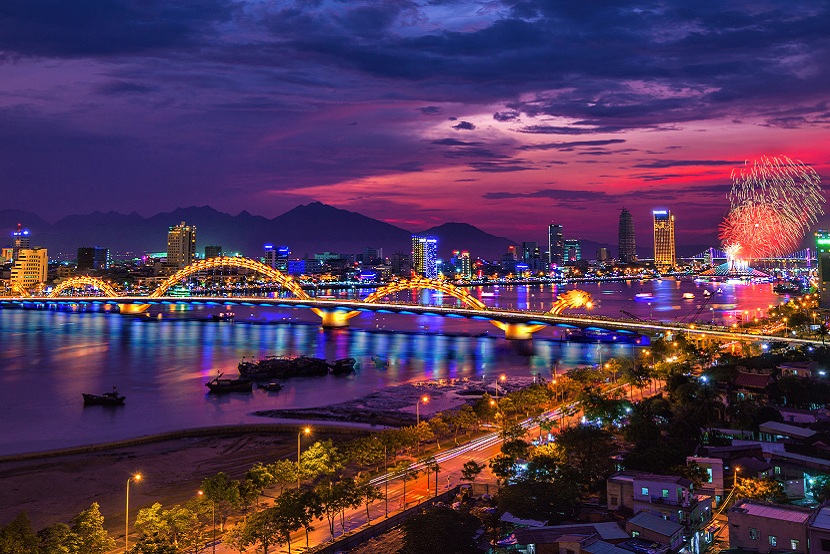 Han River night cruise is one of the best things to do in Da Nang at night
Cruising peacefully on Han River, tourists can adore the magnificence of the city from another view. Though the sky is covered with darkness, the city still shines with colorful lights from skyscrapers, which represent the magical development of the city in the past few years. Da Nang's charm definitely owes to fantastic bridges and such a chance to view these man-made wonders can only be found on a Han River night cruise. From a cruise, you can gaze at some prominent bridges below:
Han River Bridge: the first and only cable-stayed bridge in Vietnam, manifesting itself in unique architectures and the symbolic meaning of the city.
Thuan Phuoc Bridge: the longest suspension bridge in Vietnam.
Dragon Bridge: Da Nang 's symbol and main tourist attractions, called as "the world's biggest steel dragon"
Tran Thi Ly Bridge: boasting the image of a sails facing towards the East Sea with the total length of 731 m.
Han River Cruise is exercising a magnetic field over tourists these days, especially in hot summer days. Many stated that it cannot be said that you were in Da Nang unless you experience the cruise at night. Get the wheel turning in Da Nang and enjoy the cruise to completely drink in the panorama of the city while drinking wine and trying some elegant dishes.
Sun Wheel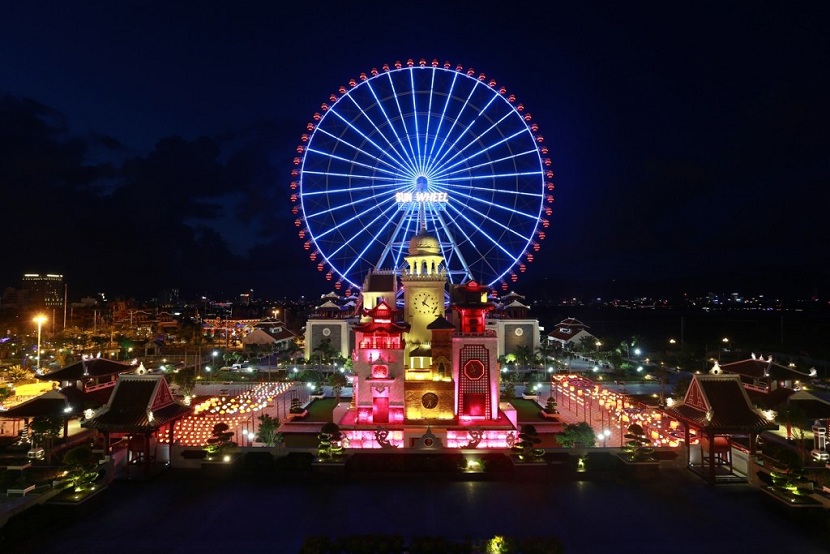 Sun Wheel in Da Nang
There are endless things to do in Da Nang at night, and of course, getting on the Sun Wheel is one of those pleasures.  Located right beside Tran Thi Ly bridge, 115-meter- high Sun Wheel is an ideal destination for those who wish for a striking point to view the whole city. Sun Wheel, Vietnam's biggest wheel and one out of ten highest wheels in the world features 64 cabins with the capacity of 6 people for each cabin. The wheel can accommodate up to 384 people within 15 minutes of spinning.
You can buy a ticket at the entrance from 4pm and the opening time of this attractions is between 5pm and 10 pm daily (the time may be earlier or later, depending on the weather condition). The ticket price is 50,000 VND per adult/child. Children who are under 1 meter high are offered free ticket.
Book now: Central Vietnam Discovery Classic Tour – 6 Days price from $337
Sky36 Club
Sky36 Club in Da Nang
Though newly opened, Sky 36 has turned to an amazing place of interest, attracting all party lovers to enjoy the party time in such an amazing atmosphere that is hard to be found in other places. The club is the highest rooftop, located in Novotel Hotel on Bach Dang street, right in the city center, therefore, Sky36 Club is always listed in not-to-be-missed attractions in Da Nang.
At the height of 166 m, you can peer down at the city's far-reaching sceneries, including glistening beaches, picture-perfect Han River and endless mountain ranges, which all contribute to the city's marvels. Equipped with latest glass elevator systems, the club is guaranteed to bring tourists stunning moments as viewing the city at different height.
 "Charming Da Nang" show
Starring famous Vietnamese dancers, the show is an exquisite traditional performance which makes for the national pride through various themes. Every each and single melody will take audience to the world of beautiful music and customs reflected in the show. Just feel free to get introduced to Vietnamese culture through ao dai, non la, lotus, etc., holding spiritual value of the city and the country as a whole. Tourists are sure to understand the beauty of Vietnamese cultural diversity and feel the peacefulness in soul. It is obviously true that your trip to Da Nang is not only a sightseeing tour but it is, perhaps, a culturally eye open journey. Anyone who longs to discover the hidden charm of the city should not miss this chance to see the amazing "Charming Da Nang". A 70-minute-performance starts at 7.30 pm every day at 02 Cach Mang Thang Tam street, Hoa Cuong Nam ward, Hai Chau district.
Hat tuong – Vietnamese classical opera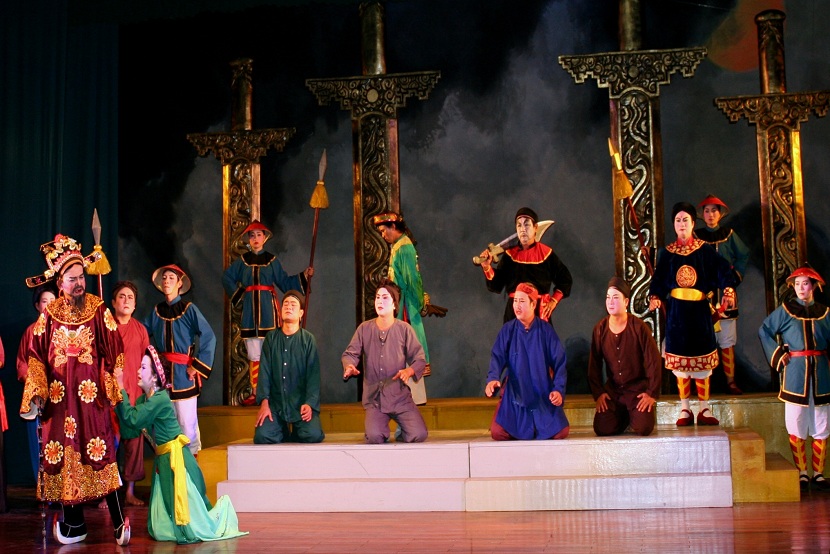 Watch Hat tuong – Vietnamese classical opera
The cultural uniqueness, undoubtedly, is one part of the multi-dimensional beauty of the city. And it must be "hat tuong" that makes Vietnam's culture stand out. This type of art is absolutely a bridge linking the past and the present, local people and tourists, the old and the young who are all culture vultures. "Hat tuong" firstly appeared in the 17th century and became popular during 18th century, nonetheless, due to the dominance of "cai luong", "hat tuong" witnessed some difficulties in its development. Now "hat tuong" still keeps its original traits, promising to give tourists a glimpse of local culture through a well-organized program mixed with lovely costumes, graceful movements and fantastic singing techniques, which are, not just a show, but a true art.  "Hat tuong" is now performed at Nguyen Hien Dinh theater (155 Phan Chau Trinh Street, Hai Chau District) and serves both locals and visitors every Wednesday and Saturday at 7.30 pm.
Book now: The road of the world heritage 6 days price from $330
---