It's exciting to explore Vietnam, the charming S-shape country by a Halong Bay tour as Halong is designated as a World Heritage Site. Let's see the following beautiful islands in Halong Bay to know how wonderful landscapes and seascapes of Vietnam.
Read more: 6 must visit caves in Halong bay
Quan Lan island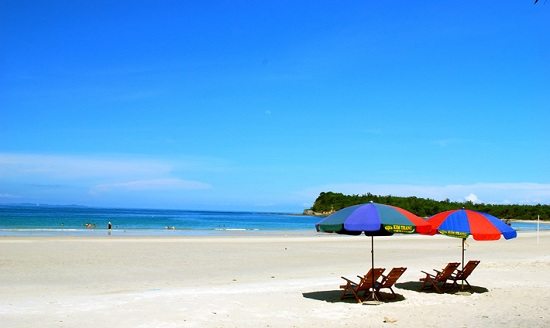 Quan Lan island in Halong Bay
Quan Lan is a beautiful island lying in Bai Tu Long Bay; it is part of the island chain on the outside of the North gulf. Quan Lan has been referred to as the heart of Van Don – the ancient commercial port since the 11th century. Nowadays, still lots of vestiges concerning the port are left and found in the island; that's the reason why you will have a chance to visit archaeological sites and large pagodas though it's situated deep in the sea. Something included in Halong Bay tour is Quan Lan Communal House and Quan Lan Pagoda (where the statue of old Hau is revered). Besides, understanding more the island's history along with savoring sea specialties is what you may desire.
Bo Hon island
This is one of the most charming and largest islands in Halong Bay. Travelers will be dazzled by vertical cliffs of lime-stone mountains seemingly sheltered by the green forest, featured in Bo Hon. It's very interesting as it looks like a phenomenal citadel which we often see in Chinese ancient paintings. Beside imposing grottoes like Virgin Cave (Hang Trinh Nu), Luon Cave, Amazing Cave (Hang Sung Sot), and Drum Cave (Hang Trong), the island is home to a wide diversity of species which are plants and wild animals.
Ngoc Vung island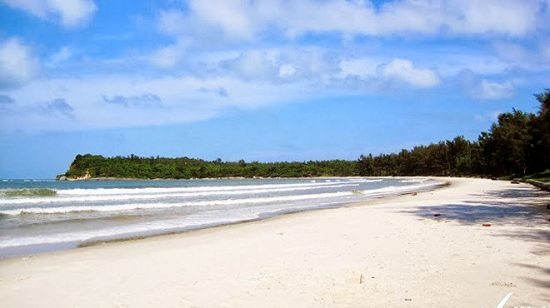 Ngoc Vung island in Halong bay
One special thing is that Ngoc Vung is the island of pearl oysters; there are too many of pearl oysters that it seems likely that the coast is illuminated by the light of pearls at night. Not only that, Ngoc Vung Beach is one of the charming and must-experience beaches on Halong Bay. Taking a chance to visit this land, traveller will get a feeling of entering the specific world of beach, mountain, and pearl farms; therefore, they can dip themselves into the tranquility of nature while savoring the fragrant flavor of sea specialties.
Titop Island
Titop is one of the beautiful islands in Halong bay
Just 8 km away south-east from Bai Chay Harbor, Titop is known as the center of Halong Bay. Its fascination is proved right at the first time when people call its name. Titop is seemingly a foreign name, but now it belongs to an island of Vietnam. Actually, there is a story behind it; in 1962, President Ho Chi Minh along with the Russian astronaut Gherman Titov paid a visit to this island, and Titop was named by the President for commemorating this visit. You should not miss this island in your Halong Bay tour as it not only owns the romantic charm, but there are also many activities to experience here.
Book now: Signature Halong Cruise price from $231
Co To island
Co To island in Halong bay
Situated in Quang Ninh Province, this island is surely one of the must-visit destination in your journey to Vietnam. This province consists of 40 islands, but the most attractive and largest one is Co To. With its fabulous tropical beach, long shore, white sand and blue water, it's considered as an ideal spot to walk, enjoy and also take stunning photos.
Soi Sim island
Soi Sim island in Halong bay
Being a small island 12 km west away from the Halong downtown, Soi Sim will get your absorbed right at the beginning. Coming here, travelers will get a comfortable feeling of associating themselves with the nature through the peaceful ambiance, blue water, and green forest. It's with great regret that you don't take time to keep an eye on it.
Book now: Halong Phoenix Cruise price from $118
---