Festivals in Northwest Vietnam are always highlights in a Vietnam budget tour package of tourists because through those exciting events, they can master part of incredible features in the culture of ethnic minorities in the mountainous provinces of Vietnam. Don't lose out on the occasion to join some, such as Ban Flower Festival, Buckwheat Flower Festival, Phu Yen Buffalo Fighting Festival (Son La), and Xoe Chieng Festival.
Ban Flower Festival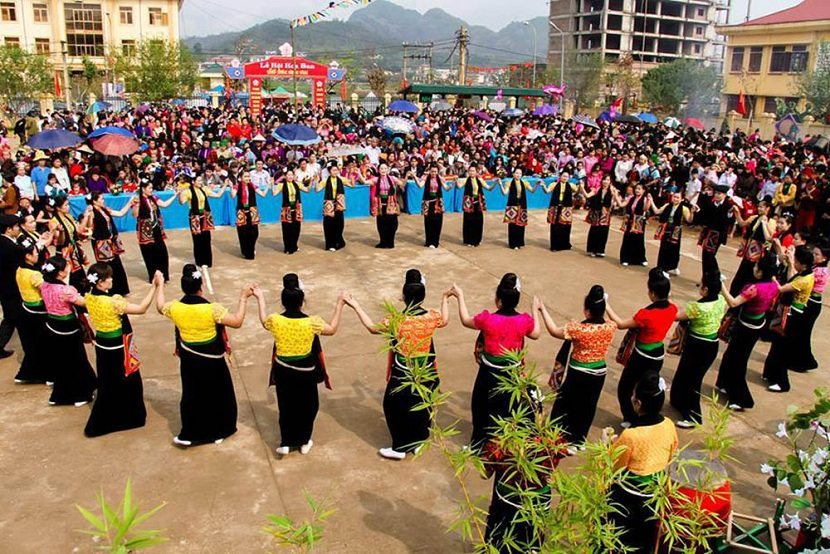 Ban Flower Festival is one of the popular festivals in Northwest Vietnam
Among outstanding festivals in Northwest Vietnam is Ban Flower Festival of Thai ethnic minority, annually held in the second lunar month (Ban means "beautiful and delicious"). This is also when the warmth of "late spring" covers everywhere and Ban flower blossom is out. In other words, after the spring light rains, forests of Dien Bien look like a fairy world with a new white costume. Naturally blessed with this fabulous setting, people of the mountainous area start preparing one of the engaging events of the year.
Apart from enjoying the charming beauty of flower forests, visitors also know more about the culture of ethnic minorities in Vietnam as the festival is a great occasion when Thai boys and girls can meet, chat, and even date all day. As for the real meaning behind the event, Thai people would like to show their gratitude to their ancestors by worship and wish good harvests for their land.
Book now: The North East Loops 6Days price from $438
Buckwheat Flower Festival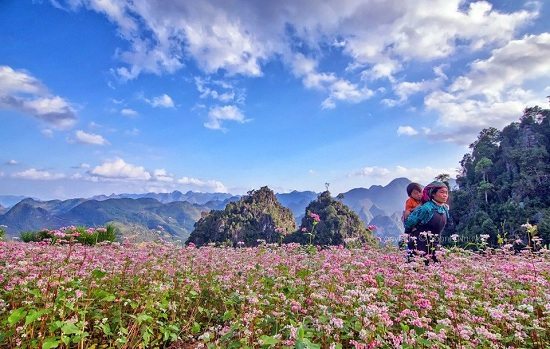 Tam Giac Mac Flower, Ha Giang, Vietnam
The excellence of your Vietnam budget tour package will be enhanced if you join Buckwheat Flower Festival – one of the fantastic festivals in Northwest Vietnam. The festival is organized in Dong Van, Meo Vac, Quan Ba, and Yen Minh Districts. Although people of the mountainous region just went through two seasons of the festival, it is utterly brilliant without expectation. Not only do visitors find the overwhelming charm of the buckwheat blossom, but also experience absorbing activities, such as camping, playing games, farming, and folk singing on buckwheat fields. Taking phenomenal photos with the background of buckwheat fields is definitely indispensible, but the backdrop will excite you so much; it is about tasting wheat cakes and wine as Ha Giang specialties.
Phu Yen Buffalo Fighting Festival (Son La)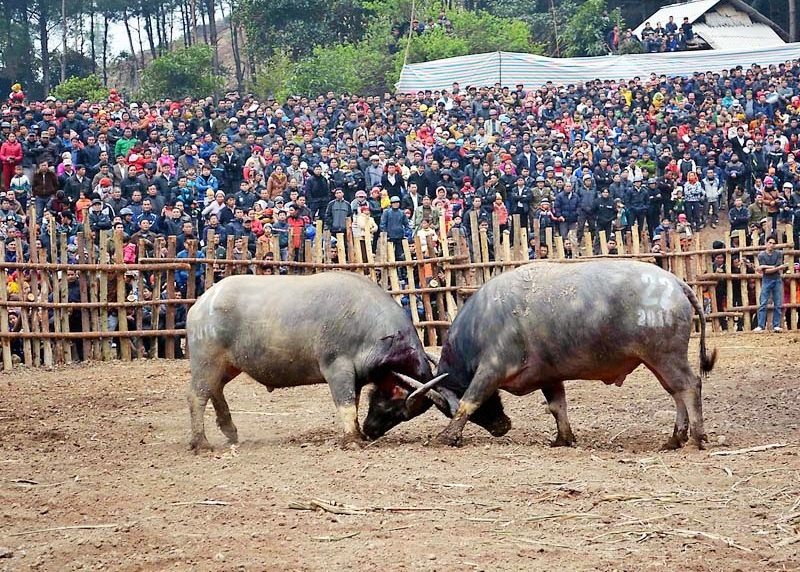 Phu Yen Buffalo Fighting Festival (Son La)
This is also one of the annual festivals in Northwest Vietnam, attracting the attention of lots of people from different provinces through the mountainous area; it is held in Phu Yen District, Son La Province. Normally in the competition, there will normally be twenty-eight buffalo led from different provinces, such as Vinh Phuc, Tuyen Quang, Yen Bai, Hai Phong, etc. Those areas are renowned for training buffalo for fighting. Then, the first round is divided into 14 matches of 14 pairs of buffalo with the aim of picking out the best ones for the final. After lots of dramatic fights within two days, three trainers of the buffalo that win the completion will be awarded. While the festival is organized with the purpose of encouraging the locals in the development of raising cattle, it also helps keep tangible and intangible cultural values of the ethnic minorities.
Xoe Chieng Festival
Upon experiencing a trip to explore festivals in Northwest Vietnam as well as understanding more the culture of ethnic communities in the mountains, you'd better come here in spring and join Xoe Chieng Festival. It annually takes place in the 11th of the first lunar month and is one of the spring festivals of Thai ethnic people. All people, including locals and tourists will make a big circle around a fire and perform traditional dances. Not only that, they also send the best wishes to each other in the new year.
Book now: The North West Loops 7 Days price from $598
---