The currency of Vietnam is known as dong or VND , and US dollar are also accepted throughout Ho Chi Minh city at restaurants, hotels and shops, but this is becoming less and less the case. Besides, although some places in the city accept credit card, Ho Chi Minh city is definitely a cash city and you would be better off cash in your hand.
If you are looking for where to exchange currency in Ho Chi Minh city that offers the highest exchange rate and a perfect Ho Chi Minh full day tour, please do not ignore this post.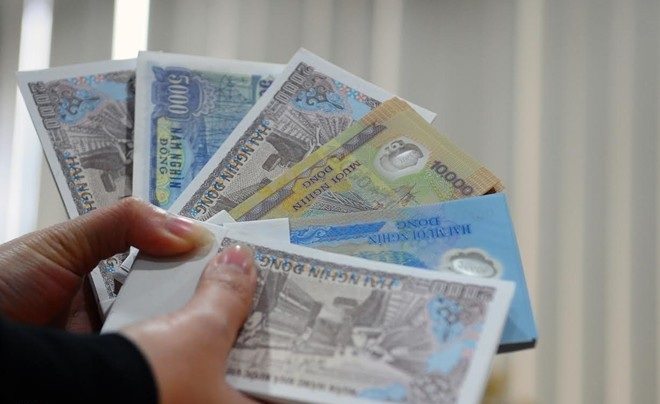 Where to exchange currency in Ho Chi Minh city
Currency exchange booths at the Tan Son Nhat airport 
The currency exchange booths at the Tan Son Nhat airport are easy to find because there are several around the exit (after you pick up the luggage) but easy things are not always right things. They have different rates and usually lower than those in city center so you should move around and select the best rate among them for maximum 20 – 25 dollars just for taxi, the rest should be done in city center where you will find better rates such as banks, gold and jewelry shops, hotels, etc.
Banks in Ho Chi Minh city
The airport has lots of currency exchange booths but they likely won't have the best rates. The other option is to bring cash into the country and get it exchanged into VND at Vietnamese banks. There are the large banks for local, Vietnamese banks in Ho Chi Minh city, such as Vietcombank, BIVD, Techcombank and others, or some foreign banks including HSBC, Citibank and ANZ. The current rate is 22,295 VND to 1 USD (update in November 8th 2016).
Book now: Saigon Food Cook and The City price from $50
Gold and jewelry shops
If you are really adventurous, gold and jewelry shops can also be places to exchange your cash with the best rates. Sometimes the gold shops will give you a much better deal, but it may seem a little more black market. The gold shops around Ben Thanh Market offer the highest rates. It sounds weird but don't let it bother you too much. All you have to do is coming to the shop, making a guarantee by asking them how much Dong will you get for 100 dollars.
Book now: Ho Chi Minh City & Cu Chi Tunnel (full day trip) price from $45
---