Are you seeking for resorts to experience a dreamy Vietnam beach vacation in Mui Ne, Phan Thiet? Some suggestions here will by no means let you down.
Sea Links Beach Villas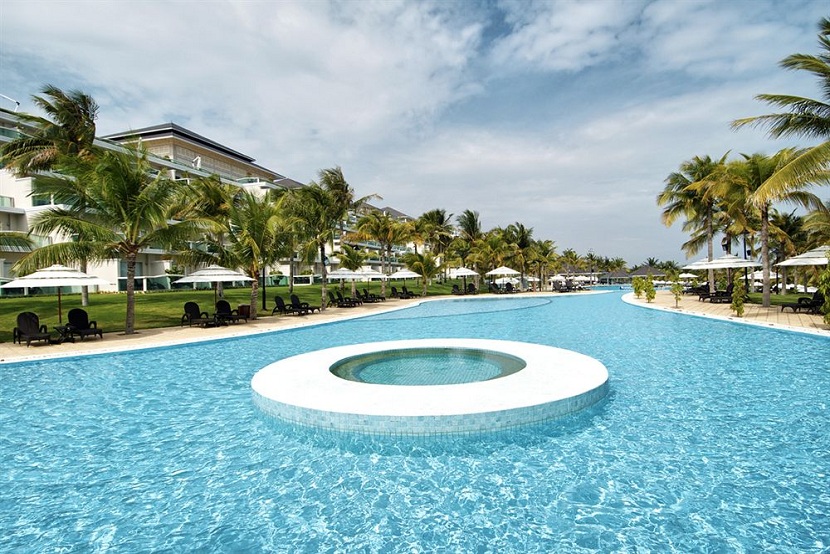 Sea Links Beach Villas is one of most beautiful resorts in Mui Ne, Phan Thiet
Blessed with the favorable location in Mui Ne, Phan Thiet, Sea Links Beach Villas meet the executive standard of a 5-star resort with good fittings, furniture, bedroom property, and sea view. It is difficult to resist a comfortable modern design with luxurious amenities (air conditioner, Jacuzzi bath, and wooden flooring). Especially, with the spacious garden, each of the villas is absolutely ideal for a 5-6 member family, a group of friend, or golfers. In-house guests are allowed to use pools and gyms for free at Sea Link Beach Hotel nearby. It takes about 30 minutes to drive to supermarkets or local shops.
Anantara Resort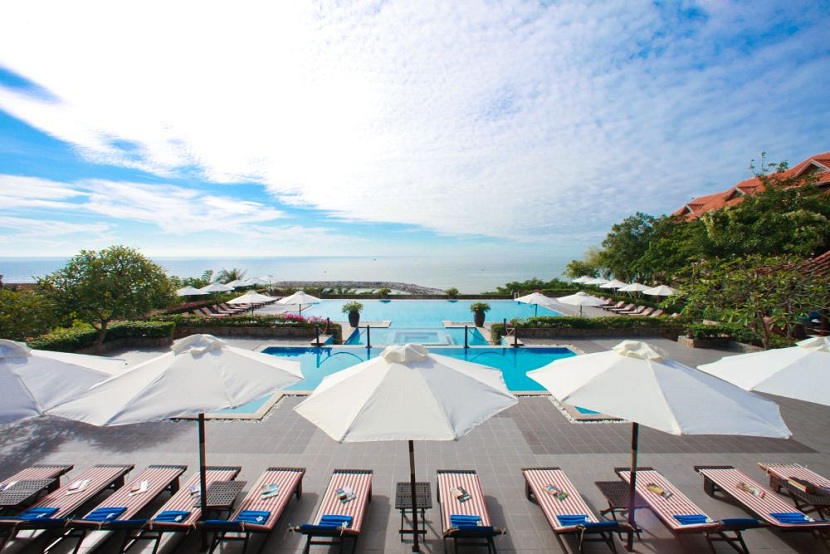 Anantara Resort in Phan Thiet
Considered as one of the 5-star resorts meeting the international standard in Vietnam, Anantara Mui Ne, Phan Thiet will bring guests unique and unforgettable experiences when taking a Vietnam beach vacation in Mui Ne. Offering up to 89 rooms and modern villas with stone-attached bathrooms, specialized pools, BBQ areas, and high quality amenities, Anantara is definitely a perfect accommodation for your vacation. A backdrop for the resort is that an enthralling long beach is emerging as a peaceful hideaway to escape the hustle and bustle of the city. In addition to the poetic scenery, fringed by green of coconut trees, and illuminated by yellow of sand and blue of sea water, the resort looks like a fabulous miniature from the ethereal wonderland.
Princess d'Annam Resort & Spa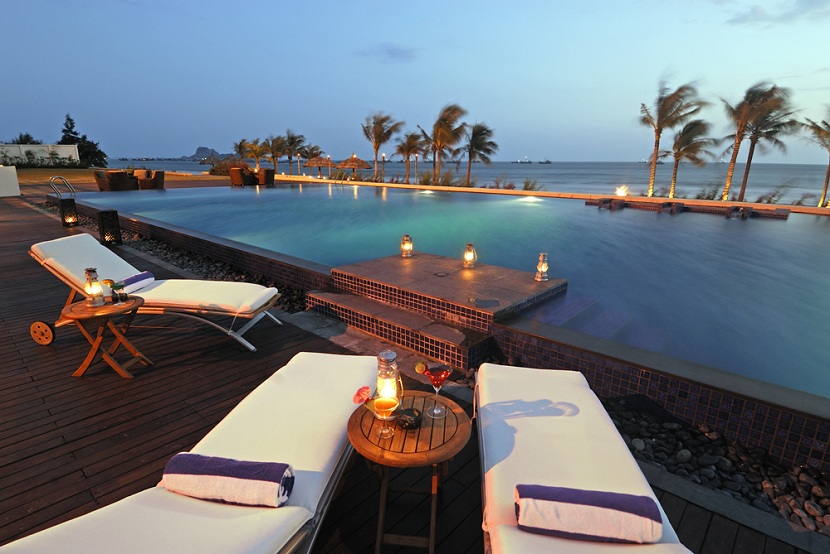 Princess d'Annam Resort & Spa in Phan Thiet
Not only is Princess d'Annam Resort & Spa endowed with the magnetic landscapes and fresh air, but it also overlooks the sea, making up a favorable position for it. Having a stretch of over 16 hectares along Ke Ga Bay, the resort offers 36 Suites, 18 Princess Villas with pools, and 3 two-storey Empress Villas. Each of the villas is designed and decorated in the Vietnamese style by Vincent Koh and includes modern amenities. Moreover, the high quality services and the tranquil atmosphere make it one of the top weekend getaways in Phan Thiet. Don't miss out on Ocean Dunes, which is voted as among the most beautiful golf courses.
Book now: Ho Chi Minh Mui Ne beach 3 days price from $115
The Cliff Resort & Residences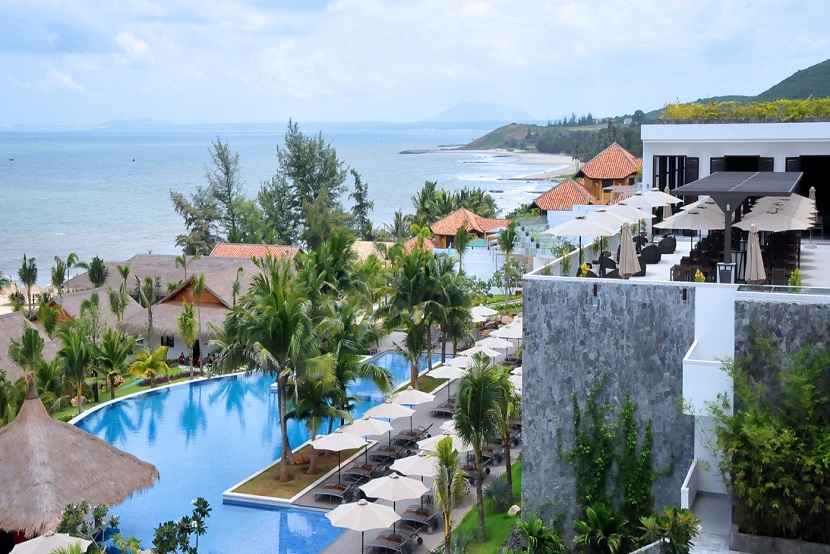 The Cliff Resort & Residences in Phan Thiet
Although the opening as well as operating of The Cliff Resort & Residences has been since 2012, it quickly wins the hearts of a large number of guests. With rooms, pen houses, and villas next to a long stretch of white sand, the resort is emerging as an ideal place meeting the need of all of the guests. If we take the service quality into consideration, the room's price is quite low. Another thing which probably delights anyone at the first time of setting foot here is that all rooms feature sea view.
Victoria Phan Thiet Beach Resort & Spa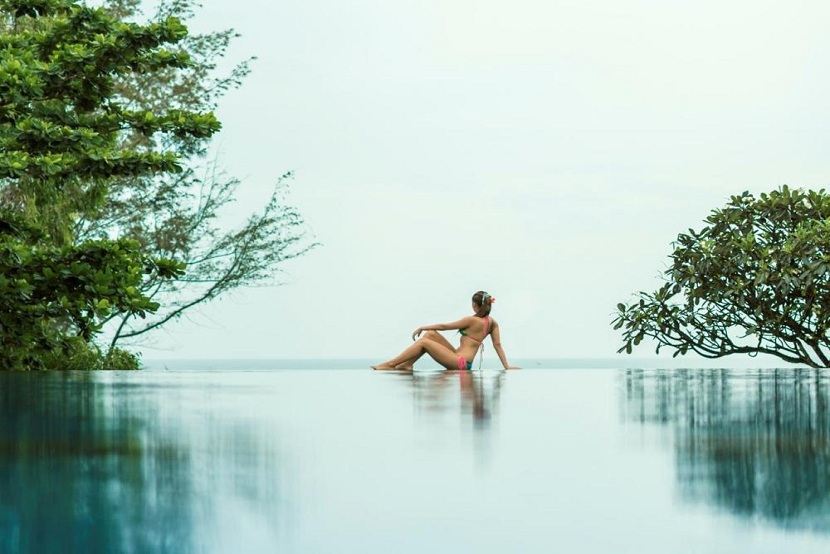 Victoria Phan Thiet Beach Resort & Spa
Mui Ne – Phan Thiet is supposed to be the concentration of resorts and hotels, it is certain that there will be a wide selection for those who decide this city as their ideal weekend getaway. Emerging as a luxurious pearl among the land of resort, Victoria Phan Thiet Beach Resort & Spa will let you perceive traditional factors as there are houses designed with idyllic leaf roofs and gardens full of colorful flowers and coconut trees. Especially, key materials for building the resort comprise laterite and coral, creating unique images for it.
---