Being fond of the untouched beauty of nature, you should not lose out on the chance to experience a trip to Ha Giang, Vietnam. In fact, besides immersing yourself into the magnificence of the scenery, you can also learn about the lifestyle and culture of ethnic communities in Vietnam in this highland. Let's plan your journey at once!
Quan Ba Twin Mountain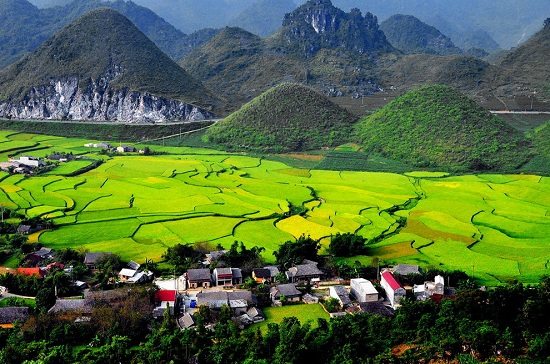 Quan Ba Twin Mountain, Ha Giang, Vietnam
Situated along Highway 4C, Quan Ba Twin Mountain is around 40km away from Ha Giang town, Quan Ba District, Ha Giang Province. Why is this destination called Twin Mountain? It is because the mountain is viewed as two cherries with the unique shape. Taking a chance to visit here, you will not only be excited with the unique art of nature, but also know about an interesting legend: Fairy Mountain. The legend is about a fairy in heaven, who was called Cherry Fairy, tried to fly to the earth after hearing the sound of an instrument type called "dan moi" from a H'Mong man. Take it as it comes! Eventually, the fairly fell in love with the man and got married to him. However, after a short time on the earth, God (Ngoc Hoang) forced her to come back to heaven. She didn't have any other way to beg God, so leave her breasts to her son and flew back. The story sounds touching, right? Then, be prompt to explore the scenic charm and interesting legend associated with it!
Tam Giac Mach Flower (Buckwheat Flower)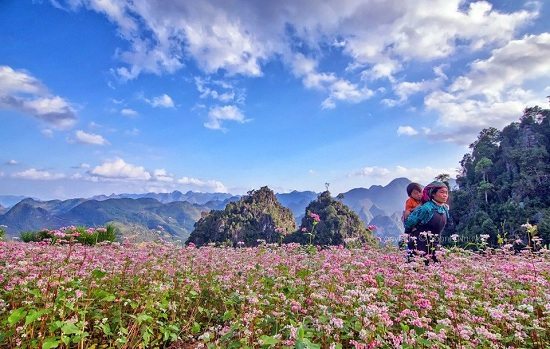 Tam Giac Mac Flower, Ha Giang, Vietnam
A sightseeing tour to fields of buckwheat flower is actually a deserving experience when you make a visit to Ha Giang. Why is this one of the things to do in Ha Giang? It is because the buckwheat flower is supposed to be one of the symbols of the Vietnam's northern mountainous area, but the most wonderful place to see this kind of flower is exactly Ha Giang. The buckwheat flower season is from the end of October to the beginning of November each year. Therefore, it is coincident that after the yellow terraced rice harvest is the pink and white of the buckwheat covering everywhere, which makes the Ha Giang's magnificence change miraculously.
Dong Van Karst Plateau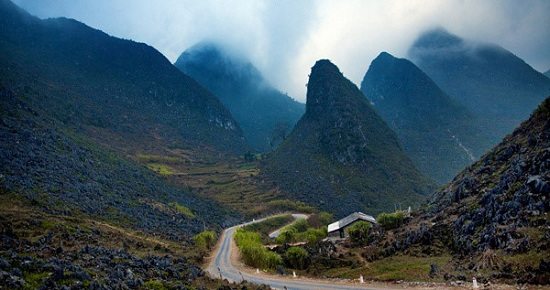 Visiting Dong Van Karst Plateau is one of things to do in Ha Giang
Positioned at the height of 1,000-1,600m above the sea level with the area of 2,356 square kilometers and spreading throughout four districts: Yen Minh, Quan Ba, Dong Van, and Meo Vac, Dong Van Karst Plateau is known as one of the unique limestone regions in Vietnam, carrying the clear imprints of the evolution of the earth's crust. There are 80% limestone formations at Dong Van Plateau, which are created from different evolution stages of nature and environmental conditions through millions of years. Due to changes in the climate and geo-diversity, "rock gardens" are formed and also what most tourists desire to admire.
Vuong Family's Mansion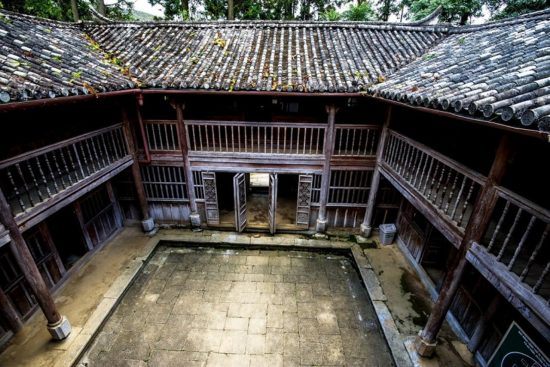 King of the H'mong's Palace, Northern East Discovery
Besides contemplating phenomenal limestone landscapes of the nature in Ha Giang, tourists also take a chance to visit the other impressive destination like Vuong Family's Mansion. Located in Xa Phin, belonging to Dong Van, Ha Giang, the Vuong family's house is a beautiful and special architectural structure at 1,600m above the sea level.  Constructed by skillful and expert craftsmen from China and the best H'Mong workers at the contemporary time, it is seen as the harmonious combination of Chinese and H'Mong styles. Perhaps, the most prominent thing is that all parts of the mansion were sophisticatedly carved into phoenixes, dragons, bats, etc.
Book now: The North East Loops 6Days price from $438
Market Sessions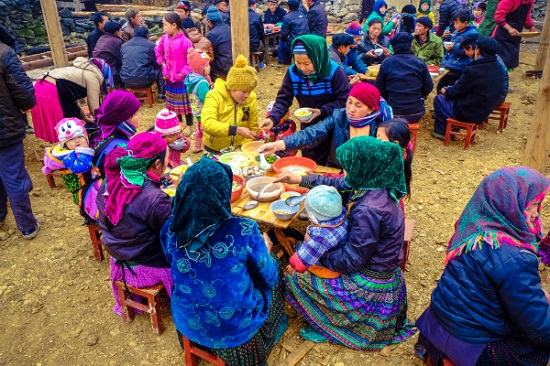 Market Sessions – the unique market in Northern Vietnam
Meo Vac District in Ha Giang is one of the Vietnam's northern mountainous areas you can experience market sessions of ethnic communities like Dao, Nung, Mong, and Giay. Especially, many of them trade their farming or home-made products which they and their family create at this market. Therefore, there are items and food you can't find anywhere else. It will be meaningful to get something as souvenirs for yourself or your family and friends when you explore this market in session.
Hoang Su Phi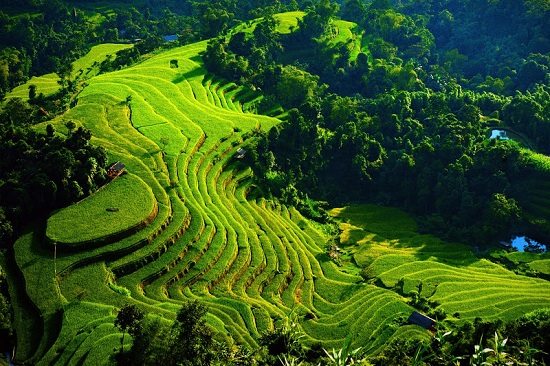 Hoang Su Phi terraced field, Ha Giang, Vietnam
Hoang Su Phi should be included in the list of things to do in Ha Giang. This spot is still unspoiled to many tourists, so coming here, they have an occasion to contemplate majestic landscapes which will get them dazzled and enjoy the moderate atmosphere. Not only is there the splendid natural scenery, but it is also where traditional villages are found, such as Phin Ho, Nam Hong, Giang Thuong and Lang Giang.
---