Falling in love with Sapa through stories from a variety of information sources (maybe from your newspaper, internet, and even your friends who are expert travelers), you are excited with your coming plan to explore this highland town. Now it's time to know about the best time to travel to Sapa for your Vietnam adventure tour.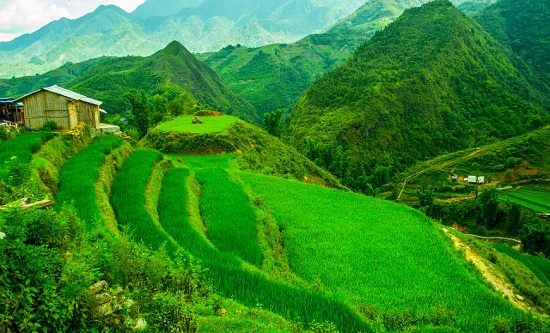 When is The Best Time to Travel to Sapa?
When to Pay a Visit to Sapa
Summer (April – May)
In summer, the weather is fairly warm, and it is possible to say that Sapa is the greatest location to experience, compared with other areas in Vietnam during this time. For a visit to this spot in the summer, you will obtain an opportunity to plunge yourself into breathtaking landscapes full of green fields and beautiful flowers. It is strongly suggested that you should travel to the highland after Tet holiday – Lunar New Year – in order to please your eyes with the cherry blossom. How fantastic! The summer is actually the best time to travel to Sapa.
Winter (December to February)
The winter is the time of very cold weather, and especially it gets cooler at night, but you shouldn't lose out the occasion to make a visit Sapa in this season. To be honest, despite the fact that the weather is seemingly severe, it is the best time to watch the stunning view of the sunrise emerging from the valley in every morning. The climate in Vietnam has changed a little bit in some recent years, so snow has started falling in Sapa each time the winter comes back. Due to that, the highland town is seemingly put with a new and picturesque costume which appeals to the increasing number of people at this time.
Fall (September – November)
The weather is absolutely comfortable when the fall is approaching. At this time of the year, it is clear and has much sunshine, contributes to the smooth journey to Sapa. Especially, what people prefer getting to Sapa in this season is that it is actually the ideal time for taking photos and trekking as Sapa is full of fanciful and phenomenal rice terraces. Therefore, it also adds to the list of the best time to travel to Sapa.
Rainy Season (June – September)
Of course, there are periods of time when you will find it less attractive to reach Sapa due to their drawbacks. For instance, the rainy season from June to September is the time of rainy weather, which makes the road surface wet, slippery, and hazardous; that's why you should avoid it.
Some Deserving Experiences in Sapa
Climb Fansipan Peak
With a Vietnam adventure tour, climbing Fansipan Peak should not be missed as it brings you a perfect view of fabulous landscapes of Sapa from above. And it is also a chance to challenge your feet.
Sapa Love Market
The love market is a unique cultural feature of ethnic communities in Sapa, so experiencing activities here will open your mind and help you learn new and interesting things about the highland. Choosing the best time to travel to Sapa allows you to discover this market.
Experience Homestay with Ethnic People
Don't ignore homestay with ethnic people since not only are they hospitable, but this experiencing is also a way to get a deep sense of their lifestyle which is materially idyllic yet rich in culture and spirit.
Book now: Sapa trekking home stay & Topas Eco Lodge 4 days price from $339
---