Being a Saigonese, I assert that you can travel to Saigon (which is now Ho Chi Minh City) anytime you desire. Should you miss this destination of Vietnam due to some weather reason, this is not totally proper as usual and also a true pity. Whenever you plan to explore Vietnam, don't get worried about the climate or weather of Ho Chi Minh. Instead, be quick to make preparations for the journey to gain the true understanding of the life and culture of Vietnamese in this city. Here, there is no threat of natural disasters, and the temperature is also fairly moderate for traveling. However, if you are forced to choose the best time to go to Ho Chi Minh City, Dry Season should be pointed out first.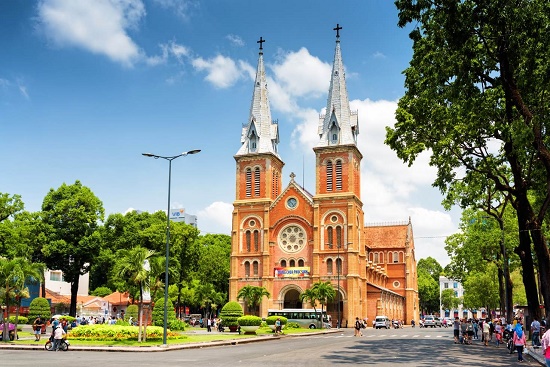 The best time to go to Ho Chi Minh City
Book now: Ho Chi Minh city and short break sunset tour on Saigon river price from $43
Dry Season
The climate of Ho Chi Minh City is split into 2 clear seasons: Dry Season and Rainy Season. Ever wonder why the dry season is picked out as the best time to go to Ho Chi Minh City? This is due to its advantages for a day trip in Ho Chi Minh city or a Ho Chi Minh city full day tour. First, the dry season (from December to April) is the period of year when it is the hottest weather whereby there is no stagnant pond on roads, helping you contemplate everything without worrying about the dirt.
The average temperature fluctuates between 28 °C and 32 °C. Nevertheless, the peak can be up to 39 °C in the noon at the end of April while 16 °C is the lowest temperature in the early mornings of the end of December. Additionally, humidity is very moderate and has a tendency to go down from January to April. As a result, it's great to pay a visit to the city during the dry season as you must not struggle to deal with everything sticky from rainy days.
When it comes to activities in Ho Chi Minh City, the dry season is regarded as the ideal time to experience the life of Vietnam as it coincides with big holidays like Christmas and New Year. It's fantastic to know how Vietnamese people celebrate those holidays). If arriving at the city right at the time of preparing Christmas and New Year holidays, you will fortunately admire extremely outstanding, colorful, and splendid scenes along streets decorated with similar symbols of the winter like snowmen, pine trees, colorful lights, presents, Santa Clause, and others. Besides, Lunar New Year (about the end of January in the Western calendar) will be an occasion for you to enjoy the traditional Tet holiday of Vietnam
The other months of the year
May to September is known as the rainy season in Vietnam. In Ho Chi Minh City, the weather is quite humid and of course rainy during this period. For this weather reason, there are not too many tourists flying to Vietnam for travel; this leads various cheap bookings launched at hotels, restaurants, and travel agencies. This is exactly a fatty opportunity for you to hunt Vietnam package tours on a tight budget. In general, depending on your favorite, you can pick out your best time to go to Ho Chi Minh City.
Book now: Ho Chi Minh city tours (half day) price from $12
Please feel free to contact us! Chat with us if you have any questions!
---