Planning to travel to the capital of Vietnam, you are doing some research on the best time to go to Hanoi in order that you can find the one suitable for your expectation and journey to explore Vietnam, right? Each of the four specific seasons will have advantages for a day trip in Hanoi or Hanoi day tour you should know. Then, some knowledge below may help.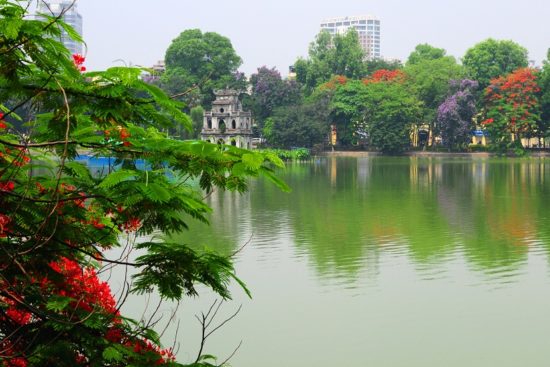 When is the best time to go to Hanoi?
Spring
Hanoi people and many international tourists having experience of travelling to Vietnam will definitely advise you to start the trip to the Hanoi capital in spring (February to April). Why? It is because the weather is wonderful within this period. The average temperature just fluctuates between 15 and 20 degree Celsius, which is perfect for plants and flowers to grow up. That's why the spring is the best time to go to Hanoi as tourists can take a chance to contemplate the ravishing scenic landscape of the flower blossom as well as the nature's vitality. Besides, the spring coincides with many traditional Vietnamese festivals and especially Tet Holiday, which is referred to as the biggest holiday of Vietnamese. It will really be an awesome occasion to learn more about the Vietnamese culture.
Book now: Ha Noi Full Day City Tour by Cyclo price from $47
Summer
In Vietnam, summer is the holiday season for pupils and students. But ever wonder if it is perfect for your Vietnam tour and especially day trip in Hanoi as you are a foreigner? Lasting from May to August, the summer is considered to be very hot as the average temperature is 32 degree Celsius and has increases in recent years; sometimes the temperature is up to 40 degree Celsius. The typical element of the summer in Hanoi is heavy rain with high humidity, making everything sticky and dirty. As a result, it's not totally the best time to go to Hanoi. Nevertheless, if still wanting to challenge yourself to this kind of temperature, you are advised to carry raincoats and big bottles of water with you to smooth the journey.
Fall
It's possibly said that fall in Hanoi is the most poetic and charming season in a year, which inspires travelers to experience Hanoi day tours. Months of the fall include September (the middle of September), October, and November (the end of November). With the excellent weather, warm sunlight, the average temperature of 25 degree Celsius, dry atmosphere, and cool breeze, it seems likely that it is the ideal time to go for a walk in Hanoi and get a sense of the life's beauty. In addition to highlights of the fall journey to the capital, specialties are an indispensable feature; one recommendation is to taste Com (Vietnamese green sticky rice or Vietnamese young green rice).
Winter
Certainly, this is the coldest season of the year; it begins from December and lasts until the end of February. The average temperature is about 17 degree Celsius, and sometimes its drops down to just 10. Despite the fact that the weather is chilly, it's the best time to enjoy hot and yummy street food which is common in Hanoi. It is surly worth paying a visit to the capital of Vietnam in those bitter days.
Book now: Hanoi City Tour price from $36
Please feel free to contact us! Chat with us if you have any questions!
---