Long favored by remarkable landscapes, appetizing foods and friendly people, Vietnam has everything to make your stay unforgettable. However, like many other travelers, before planning for a trip, you probably encounter countless concerns relating to finding directions, exchanging money, translating etc. But if you are digital-savvy travelers, travel will be totally worry-free thanks to great help from "smart assistants". Use your smartphone and install the 9 best free apps for traveling below to enjoy your Vietnam tours and holidays perfectly.
Skyscanner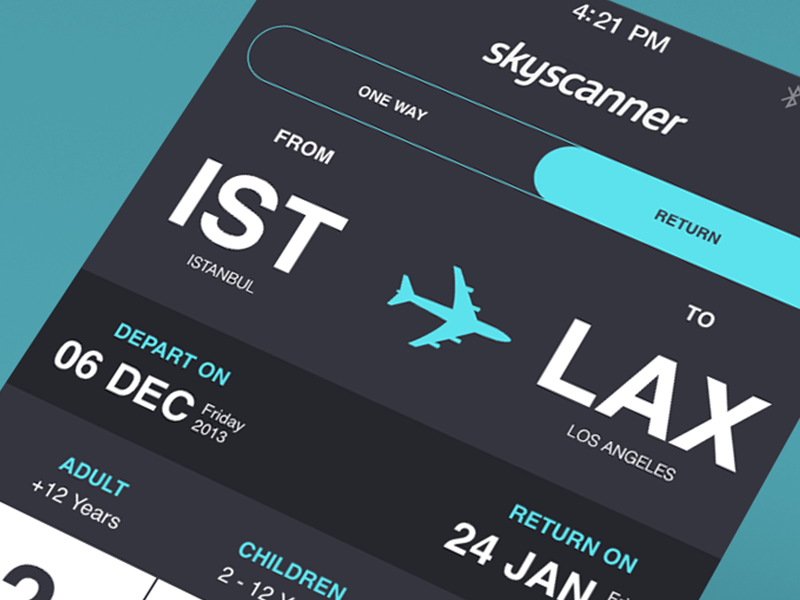 Skyscanner app for smartphone
This app is used for searching information about flight schedules of various airlines all over the world. Before preparing for a trip to any places, we all know that it is significantly important to get vital information about the flight time and ticket price. If you can check for clues from different airlines, you can budget time and cost while getting the most appropriate option for your flight.
Free for IOS, Android and Windows Phone.
Cu Chi Tunnel Waterway Trip (half day) / Cu Chi Tunnel Half Day (Small Group) / Special Package Muslim Saigon – 4 days
Agoda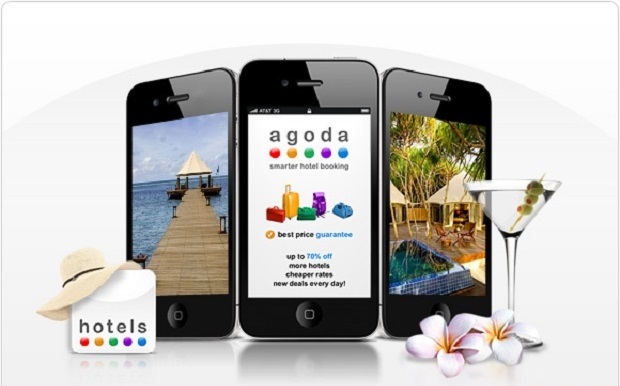 Agoda app for smartphone
If you desire to take a beach vacation in Vietnam, pristine beaches are true paradises but your biggest problem may be the hotel price. You should spend time checking for the hotel room rate in order to get the exact room you expected at an admissible rate. All details relating to hotel room numbers, inside and outside views, location and transportation are designed exactly as on Agoda's official website. Nonetheless, those who have experience in online booking often recommend that you should make payment on your PC for best results.
Free for IOS, Android and Windows Phone.
Google Maps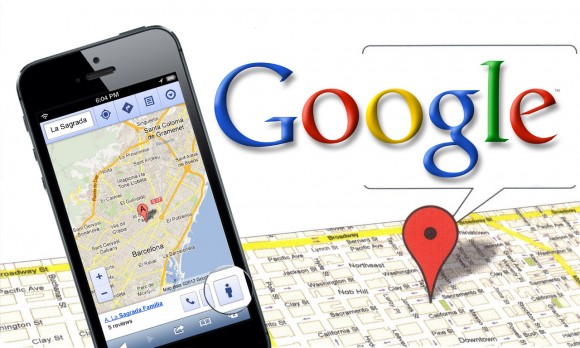 Google maps app
You are a huge fan of Google, aren't you? You will never feel strange to Google Maps – a mapping service developed by this technology company. Though there are countless apps released each and every single day, this product from Google still proves its value and efficiency with superb features which are hard to found on any similar apps. Apart from an ordinary zoom function, travelers can easily access information about the bus schedules which are really needed in the country where bus is still the main and most cost – friendly public transport like in Vietnam.
Free for all three mobile operating systems.
XE Currency Exchange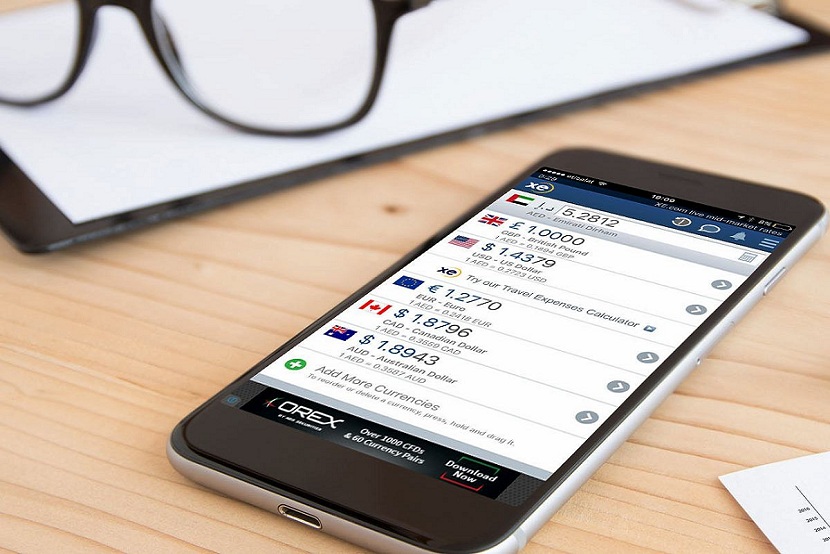 XE Currency Exchange is one of the best free smartphone apps for traveling in Vietnam
XE Currency Exchange offers detailed foreign exchange rates with accurate and reliable currency data updated every minute. You can look for live exchange rates of over 180 currencies including VND and view your historical charts right on your smartphone. With more than 20 million downloads, XE Currency Exchange is a truly useful and trustworthy tool for travelers. Install this app now and experience all of its up-to-date features.
Free for all three mobile operating systems.
Wi-Fi finder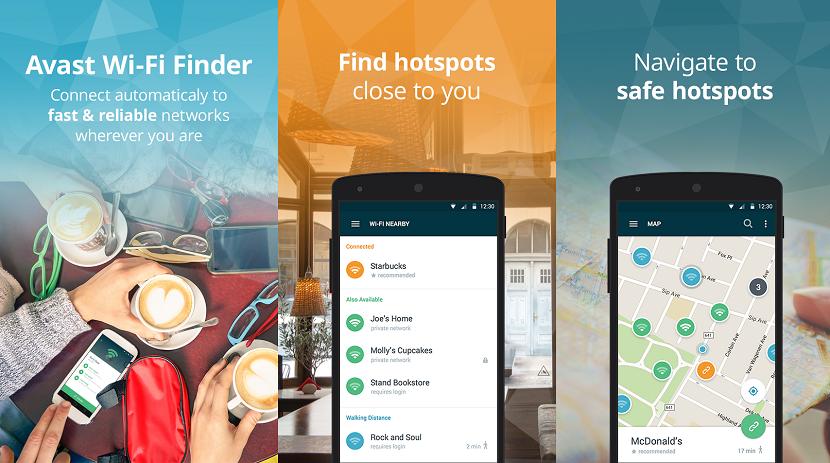 Wi-Fi finder app for smartphone
What can you do when most of your apps turn completely useless just because there is no internet connection? You have nothing to fear if having Wi-Fi finder installed on your smartphone. Now you can seek free or paid public wi-fi around you. The most striking feature of this app is that it is able to filter results by different categories including restaurants, hotels, cafes and work both online and offline so that you can feel free to enjoy your holidays in Vietnam.
Free for IOS and Androids.
TripAdvisor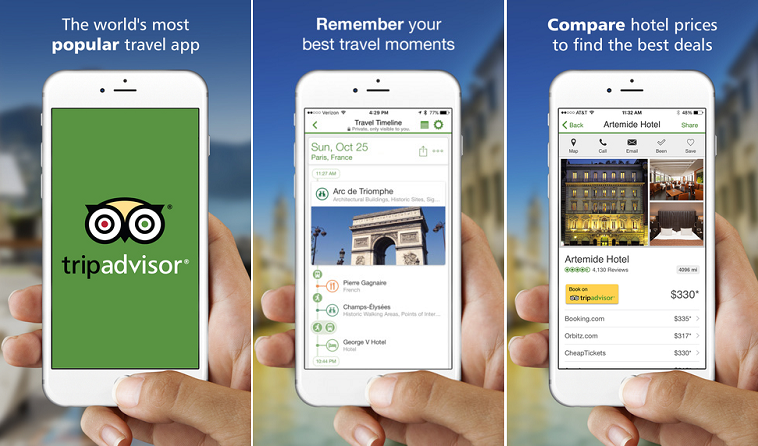 Tripadvisor app for smartphone
Vietnam is dotted with alluring places and of course, numerous accommodations ranging from budget hostels to luxury hotels. So, ever wonder where to visit, where to stay, what to eat?, etc. TripAdvisor will answer all your questions relating to traveling. If Google maps is a top choice for finding directions, TripAdvisor is an ideal one for customizing your journey. You can do almost everything before your trip including booking rooms, flight tickets and tables at any places you wish to visit. Furthermore, because TripAdvisor runs as a travel forum, you can find out useful advice, ideas and reviews from millions of tourists all around the world.
Besides, TripAdvisor also features Near Me Now helping you search for all places of interest around with just a touch and Virtual tour running as a map service.
Free for all three mobile operating systems.
Google Translate
Google Translate app for smartphone
Friendly locals are always ready to help you during your Vietnam day trips but it would be another trouble if you cannot understand what they are speaking. With the latest update of Google Translate, now you can translate from recorded files, pictures or texts unlimitedly. One of the most accessible apps gaining trust from people across the world will provide you with necessary messages that you do not know how to convey. Google Translate is now available for approximately 100 languages and works both online and offline.
Free for all three mobile operating systems.
Grab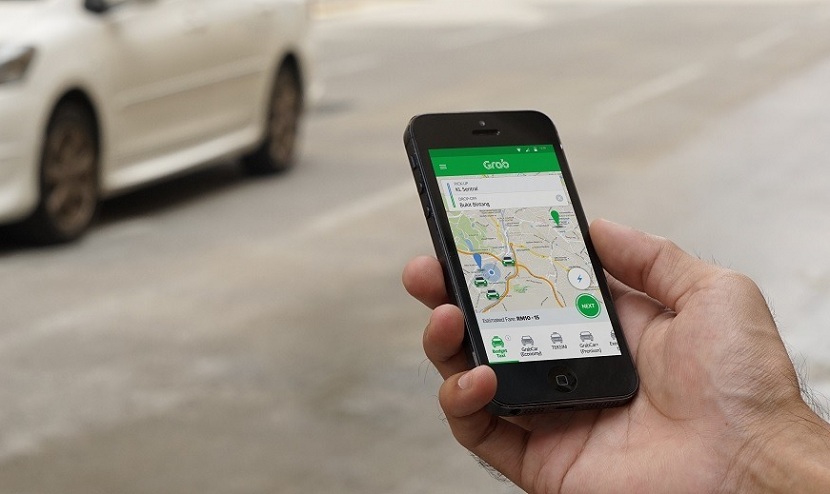 Grab app for smartphone in Vietnam
With just some small steps, you will easily download and take advantage of this helpful app for booking taxi. Apart from GrabTaxi, Grab now features various modes including most-favored GrabCar and GrabBike. You can keep track of the driver's route from the beginning, check the driver's profile and get the exact information about the price so that you will never be afraid of being cheated. For a trip to Ho Chi Minh City and other big cities in Vietnam, Grab is indeed helpful
Free for all three mobile operating systems.
Foody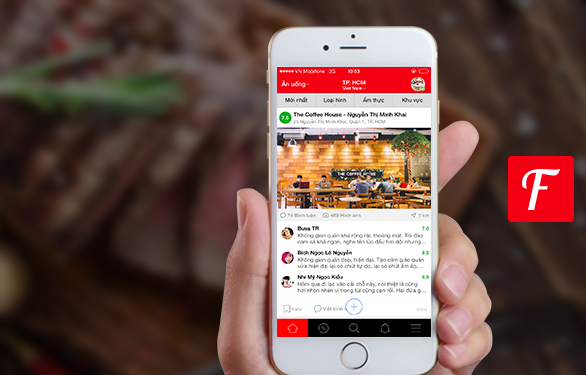 Foody app for smartphone in Vietnam
Exquisite cuisine must be an irresistible part when travelers visit Vietnam. Providing locations, reviews, and pictures of various restaurants, Foody will help you choose the most suitable place to have a meal and share your wonderful experiences with other users. You can optimize your search based on your interest, the restaurant's name or its location and feel free to enjoy various specialties from all Vietnam's regions.
Free for all three mobile operating systems.
---