A Hollywood blockbuster will break out and promise to win the heart of anyone fond of adventure and fiction type when it makes its debut in this March. The movie mentioned here is exactly Kong: Skull Island with the spectacular footage in Vietnam – a country in Asia, famous for UNESCO world natural heritage sites. Now it is the right time to explore the famous destinations chosen for the film by the director Jordan. Perhaps, some of them will also become top choices for your coming Vietnam tours and holidays.
Quang Binh
Phong Nha Cave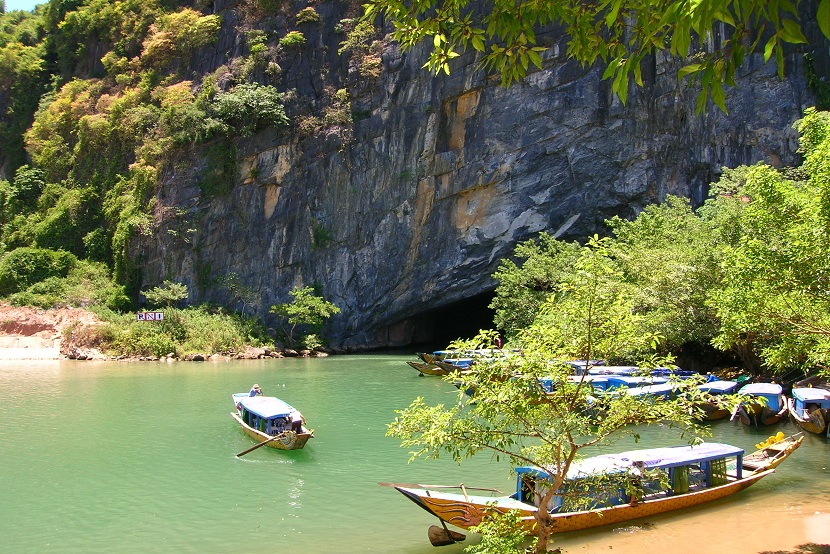 Phong Nha cave
Exactly, Phong Nha Cave belongs to Phong Nha – Ke Bang National Park, which has been designated as a UNESCO world natural heritage site with phenomenal spectacles seemingly just found in an ethereal wonderland , so there is no doubt to consider this region as a deserving wonder for cave explorers in the world. Because of this unspoiled and splendid natural beauty, it was chosen to become the background for shots in the blockbuster Kong: Skull island movie making its debut in March, 2017.
It is estimated that Phong Nha Cave has evolved due to the incredible tectonic changes for hundreds of millions of years. Also similar to others caves in the Phong Nha – Ke Bang National Park, Phong Nha Cave is shaped by the Chay River, by what makes it mightier is that stalactites inside the cave look extremely miraculous when they are shone by glimmers of sunshine. There are 14 chambers linked together by an underwater river stretching for 1.5 km, ideal to discover thanks to corridors to all directions. Besides, the cave also includes other larger chambers, but it is believed that they are too dangerous to penetrate into.
Book now: The road of the world heritage 6 days price from $290
Tu Lan Cave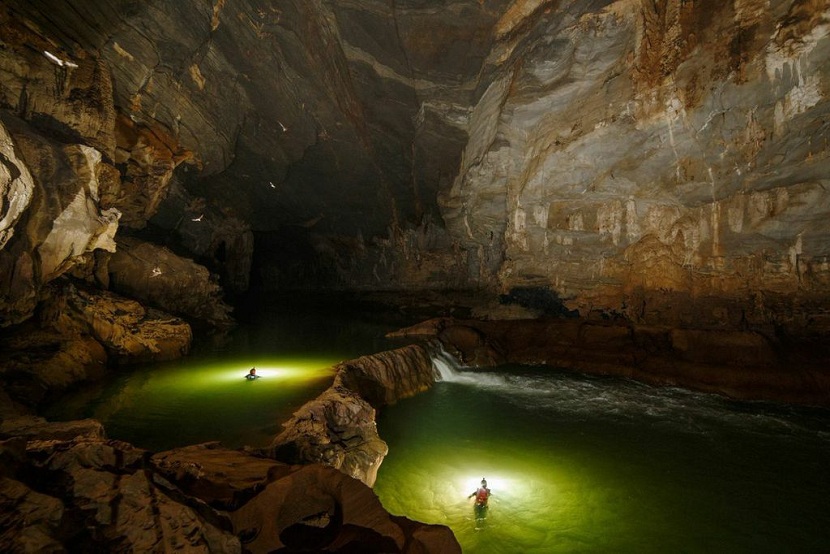 Tu Lan cave, Quang Binh
Covering over 10 caves, Tu Lan Cave is a complex of limestone mountainous regions, stalactites, waterfalls, and underground rivers. Also like En Cave, Paradise Cave, and Son Dong Cave – the world's largest cave, it carries the irresistible scenic beauty, contributing to the tourist attraction system of Quang Binh Province. To hit the cave, explorers must go trekking through jungles and fields embracing huge massive limestone mountains; it is definitely a backdrop along the way as they can contemplate a picturesque natural spectacle at two sides.
Da Deo Pass
Belonging to Phong Nha-Ke Bang National Park, Da Deo Pass was put into the footage of Kong: Skull Island blockbuster due to its natural grace. This pass is winding around high mountain ranges, and what makes it more fanciful is that clouds always cover this region, creating an enthralling painting. Looking at the valley, you will be overwhelmed as it is an extremely deep area of a thick rain jungle. Infiltrating into the mountains is where you can find untouched and unexplored caves.
Tan Hoa Valley
Situated in limestone mountains on Quy Dat plateau, Tan Hoa Valley with 23 explored caves is magnificent like a vibrant painting, ideal to experience when you have a trip to Quang Binh Province. That is the reason why the director Jordan chose it for the background of his Kong: skull island movie. Although there are lots of caves, the only eight are open for the tourist purpose; one of them is Hang Chuot, where the giant apes sheltered on the movie.
Yen Phu Lake
Another Quang Binh Province's destinations on Kong: skull island movie is Yen Phu Lake. Because of the favorable position, the lake was selected to become the combat between Kong and monsters in the movie. There are a few large stones next to the lake shore, creating a magical perspective.
Ha Long Bay (Quang Ninh Province)
Halong bay is one of the best Vietnam's famous destinations on Kong: Skull island movie
Designated as a world natural heritage site by UNESCO, Ha Long Bay deserves to become part of the background in a Hollywood blockbuster – Kong: Skull Island, which will debut in March, 2017. From a remote position, you easily recognize this destination as there are towering karst pillars and lots of islands perched by lush forest emerge from the Tonkin Gulf water areas. It is supposed that the best way to experience the site's extraordinary allure for your Vietnam tours and holidays is to get onto the junk and cruise on the water.
Book now: Northern Vietnam Package Tour – 5 Days price from $280
Ninh Binh
Trang An
Trang An, Ninh Binh, Vietnam
Lying in the southern banks of Red River Delta is Trang An Grottoes, which contributed to the perfect footage on Kong: Skull Island.  In fact, it is a series of caves as well as one of the oldest places where there were the humans' first marks. Especially, the Vietnam's ancient capital, Hoa Lu used to be positioned here; it played a key role in the country's ruling in the past.
Tam Coc – Bich Dong
Tam Coc landscape in Ninh Binh
Tam Coc with the Vietnam's most outstanding cliffs and winding river valleys and Bich Dong – three caves in the pagoda complex are believed to a priceless gift Mother Nature brings to Ninh Binh Province. It will be great to enjoy the poetic scenery along two sides of the river, leading to the amazing caves. You will be certainly astonished by awesome rock formations and stalactites inside the caves.
Van Long Lagoon
Arriving at Van Long Lagoon, you take a chance to witness the surprising landscapes and also know why the director Jordan made a decision to select this area as part of the scene for his Kong: Skull Island. This is a wetland ecosystem site in the Red River Delta and owns the absolutely fabulous spectacles, perfect for exploring the world's charm.
---