It will be a pity if you don't list the following 5 beautiful waterfalls to visit in Da Lat in your Vietnam journey. The natural charm of those wonders will surely astonish you even at the first time of looking at them via images on the Internet. Read to know more:
Cam Ly Waterfall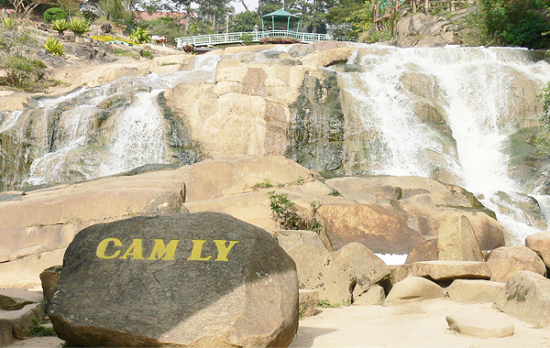 Cam Ly is among beautiful waterfalls to visit in Da Lat. Being about 2km west away from the Da Lat's heart, Cam Ly Waterfall is positioned on Cam Le Stream and supposed to one of the unique symbols of this flower city. The first approaching to the waterfall is that you should get to know why it's called Cam Ly. Indeed, Cam Ly has been used as it's easy to pronounce instead of K'Mly, known as the name of the chieftain whom locals have expressed their gratitude to. The waterfall is at a height of 30 metres and includes huge rough granite rocks whereby the water flow is split into the smaller flowers, which creates a picturesque scene. Further, combined with a garden of colorful flowers at the foot of the waterfall, it looks phenomenal and romantic like something just in the imagination of humans.
Dantala Waterfall
It's known that Datanla Waterfall is quite close to the center of Da Lat City and a deep fall with the strong flow pouring down; that's the reason why we often hear the thunderous sound when coming close to it. It's very amazing to admire the fall's beauty as surrounding it is a green pine forest of over 100 years. In additional to its attraction, Tuyen Lam Lake is a highlight here. Because of intending to appeal to more tourists, people built several wooden bridges for crossing from a place to another and some statues of fairies along the shores next to the water flow to flatter this spot. It's strongly recommended that you should try to experience it in rainy days when tour groups are kept away to able to immerse only yourself into nature.
Pongour Waterfall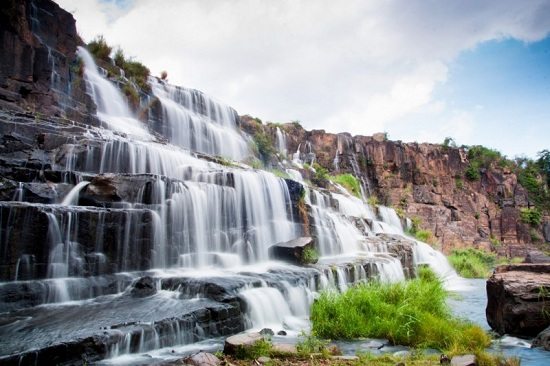 Another beautiful waterfall to visit in Da Lat is Pongour, which is situated at an isolated region 50 km away from the downtown of Da Lat. For those who have ever set foot here, the fanciful view will never slip out of their memory as the massive water strongly falling down into a big pool, creating the vague dew along with the violent sounds deeply impresses them. It indeed brings them an unforgettable feeling. Some activities experienced here are through festivals like Thai dancing, Buffalo – stabbing, rice cooking contest, Gong performance, folklore game, etc.
Prenn Waterfall
Prenn is not able to out of the list of beautiful waterfalls to visit in Da Lat because its magnetic charm. It's located right at the foot of Prenn Pass and 10km away from the heart of Da Lat City. This actually contains the magnificence anyone can't resist contemplating it. Being impressively created by Mother Nature, it is described as a water-curtain pouring down into a tiny valley from a height of 10 metres, and the picture is illuminated much more by plenty of colorful and beautiful flowers and pines.
Elephant Waterfall
Be prompt to add Elephant Waterfall to the list of the most wonderful waterfalls you should come to experience for a journey to Vietnam! Lying along the way to Nam Ban Town, Lam Dong Province, Elephant Waterfall is just 25 km away south-west from Da Lat City. There is no doubt that the fall is considered as a majestic spot of the province as it's designated as a national heritage.  Don't lose out on the chance to see how truly impressive, mysterious, and charming it is.
Read more: Top 5 places to visit in Da Lat
---