Are you confused about picking out the best places to visit in Moc Chau, Vietnam from dozens of options from different sites on the net? The information below may help. Hurry up! Be quick to know about your expected destinations to avoid missing the time when Moc Chau appears in the most beautiful way.
Read more: 5 Reasons to Fall in Love with Northwest of Vietnam
Dai Yem Waterfall
Dai Yem waterfall – one of the must-visit spots travellers are advised to experience when being in the tour to the North of Vietnam – is exactly positioned in Muong Sang, Moc Chau District, Son La Province. Ever wonder how the fall's charm is depicted, and why it is among places to visit in Moc Chau? It's amazingly phenomenal and deserves a masterpiece of the Creator due to its natural arrangement of spring, trees, a limestone wall, and the flow of water. Reaching this wonder, you can't certainly take your eyes off its poetic and grand look. Another fascinating feature helping the fall be listed in top places to visit in Moc Chau is that the story behind it is closely associated with the history of the Thai and tells about the brassiere of the young girl rescuing a boy from the flood.
Pha Luong Peak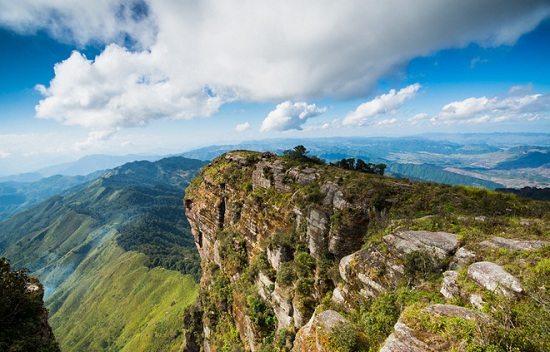 It's believed that Pha Luong Peak is something extremely special and meaningful when it comes to Moc Chau; interestingly, conquering this summit can help you come up with all confidence in yourself. Are you wondering if it's true? The answer is absolutely yes as you must make your hard effort to do that. Reaching the Pha Luong Peak requires you to go on a long hike through a dense forest with many severe slopes. Unlike other peaks of Vietnam, it just challenges you to the slopes without any valleys where you can recover your energy. It's a big challenge, right? However, after the effort, your deserving reward is that the nature beauty from a certain height is around you; you will freely get a sense of how wonderful and ravishing the combination of green trees, limestone, blue sky, mountains, slopes, and valleys.
Charming Tea Farms in Moc Chau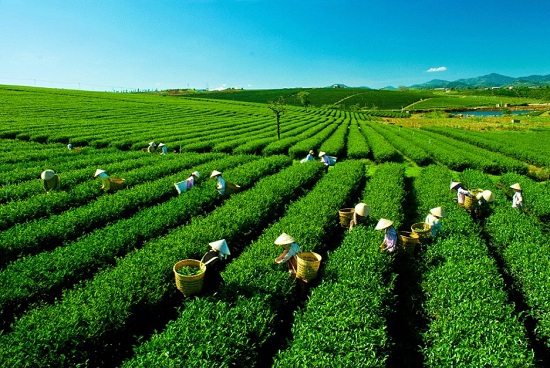 Being one of the upland areas of Son La Province, Moc Chau has been selected to become tea farms which brings back the certain outcome for the province. Nowadays, farmers smartly realize its further potentials from their plantations; it's exactly the fabulous scenery which can fascinate lots of both domestic and foreign travellers especially each time cherry and buckwheat flowers blossom. That's also the reason why lots of couples from other areas of the country choose Moc Chau as their ideal spot for their wedding photo sessions. As a result, it's worth coming to tea farms in Moc Chau once for a Vietnam tour; it's actually among places to visit in Moc Chau.
Book now: The North West Loops 7 Days price from $598
Pine Forest at Ang Village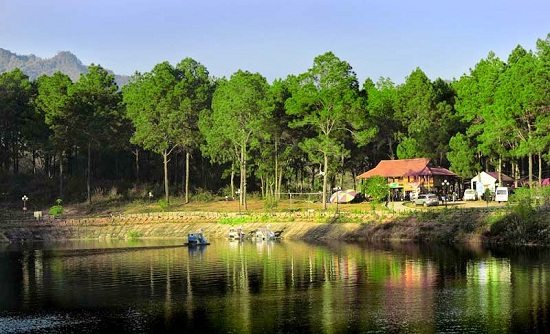 Ang Village is one of the places to visit in Moc Chau, for sure. The reason is, there is the beautiful scenery formed from a unique pine forest and two imposing lakes. Not only do you admire the excellent and romantic landscape from the nature, but also enjoy fresh and cool weather when coming to this spot. The helpful advice is that you'd better experience homestay in a traditional stilt house instead of four or five star hotels to dip yourself into the real nature.
---