Preparing for your Vietnam package tour, you are strongly advised to know about top 5 new destinations in Vietnam 2017, helping you have the most amazing trip. Let's read!
Cat Tien National Park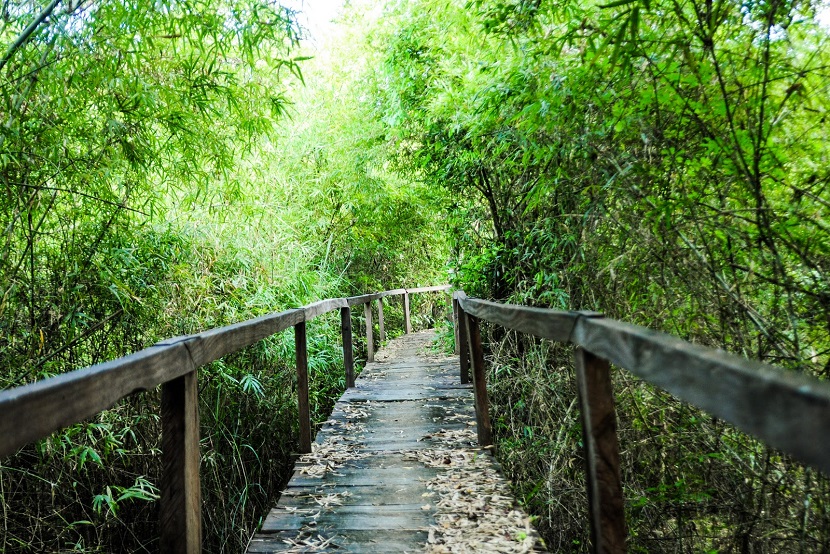 Trekking to Crocodile Lake
Listed in top 5 new destinations in Vietnam 2017 is Cat Tien National Park, recognized as a world biosphere reserve by UNESCO, so it is believed that the place is totally perfect to be put in your coming Vietnam package tour. In fact, arriving in this rainforest is surely a chance for you to understand more the importance of nature among our present life and the meaning of protecting it from humans' damage. It will be a trekking trip through the permitted zones under the direction of an experienced guide whereby you can spot rare species of flora and fauna you have never had any idea before. Additionally, Crocodile Lake is where you can gaze into peaceful scenic landscapes dotted with charming flowers, even though it is also home to over two hundred crocodile individuals. Also, a small part of the forest is chosen to make place for an endangered primate species rescue center, deserving to be visited; this is supposed to be a special world bringing you many thoughts about the humans' greed.
Diep Son Island
Diep Son Island
Referred to as one of the Khanh Hoa Province's poorest islands, Diep Son is inhabited by 83 households lacking clean water and electric for their daily life, but it has appealed to lots of travelers due to its untouched magnificence. To reach the island, you will depart from Van Gia Town and cruise on the sea for approximately one hour. The most wonderful thing you can experience in Diep Son is to leisurely stroll along a 700-meter path under the sea, connecting two islands of Diep Son while sometimes spotting flocks of colorful fishes at two sides. The seascapes are indeed stunning to relish for your package tour in Vietnam.
Mong Tay Island, Phu Quoc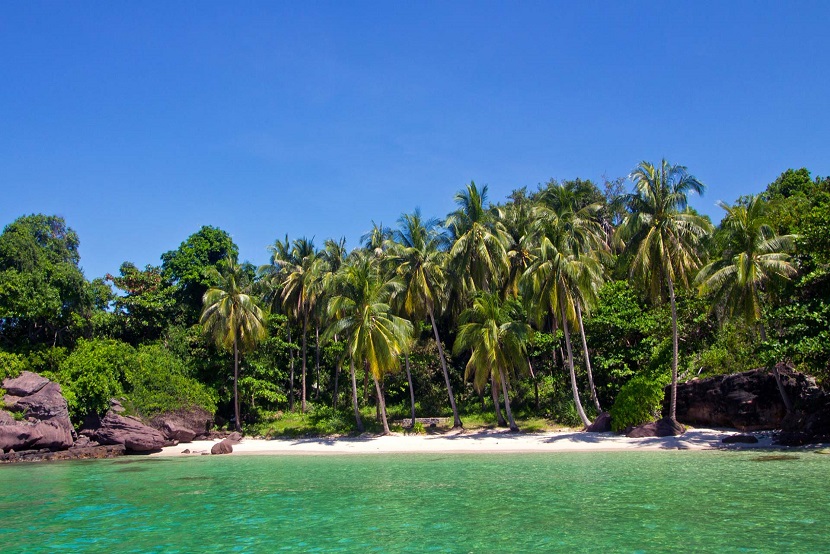 Mong Tay Island, Phu Quoc
Just like Diep Son Island in terms of the population, Mong Tay Island, Phu Quoc is also considered as an idyllic and nearly uninhabited place, so its unspoiled beauty has still been kept, totally ideal for becoming an escape for those who wish to leave the cities' bustle and noise. Fringed by green coconut trees, the island is gifted a stretch of smooth white sand, rocks in unique shapes, and turquoise water, easily winning the heart of numerous travelers. Coming here, you can experience fascinating activities, such as camping, alone exploring isolated areas, witnessing the miraculous scenery, and immersing into the cool water.
Binh Lieu, Quang Ninh Province
Binh Lieu, Quang Ninh Province
Approximately 100 kilometers to the northeast of Halong City, Binh Lieu is known as a small mountainous district of Quang Ninh Province, sharing its border with a region of China. The Binh Lieu district is depicted as a miniature of Sapa Town because here is also home to some ethnic communities, such as Dao, Tay, San Chi, etc. As a gift by the Creator, this mountainous area is full of mighty and overwhelming natural landscapes emerging from the harmonious mix of green forests, charming springs, and mysterious valleys. Interestingly, you can start your trip to explore such beauty at any time because Binh Lieu is enthralling all year round.
Mang Den Town, Kon Tum Province
Mang Den Town, Kon Tum Province
Regarded as a small town of Kon Plong District, Kon Tum Province, Mang Den deserves to be explored due to its unique charm. The town is favored pristine forests, lakes, and waterfalls, all of which create a ravishing natural painting making you fail to resist the trip there. Located at the altitude of 1,100 – 1,400 meter above sea level and covered by thick layers of green trees with gently beautiful flower, this is actually an ethereal wonderland, rewarding to discover. Therefore, it is voted as a new destination in Vietnam 2017 for your Vietnam package tour.
---