Before joining a Mekong Delta, maybe you wonder what things to see and do in Chau Doc include. It's true that there are lots of interesting travel spots and wonderful activities which will give you the more understanding of the Delta region and astonish you through the new perception of the journey. Read to know!
Chau Doc Floating Fish Farm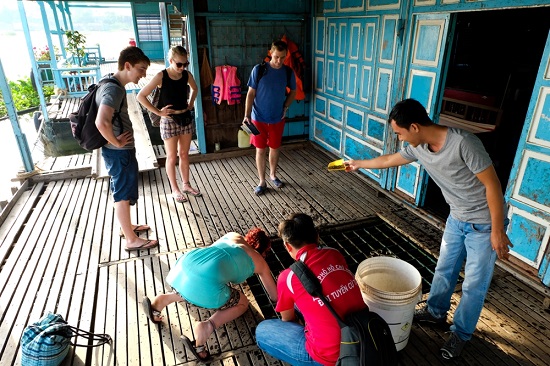 Chau Doc Floating Fishing Farms in Mekong Delta, Vietnam
It will not be a wise decision if you ignore Chau Doc Floating Fish Farm, An Giang for your Mekong Delta tour. A visit to this fish farm is seen as an exciting excursion, bringing you the understanding of the Khmer people's life and how they earn living. From the center of Chau Doc Commune, you will cruise upstream Hau River to the spot. Chau Doc is famous for raising and trading in basa fish, which is exactly the potential for the economy of the area. The most impressive activity you take a chance to experience is feeding a herd of fish, which will definitely please your eyes.
Cham Village in Chau Giang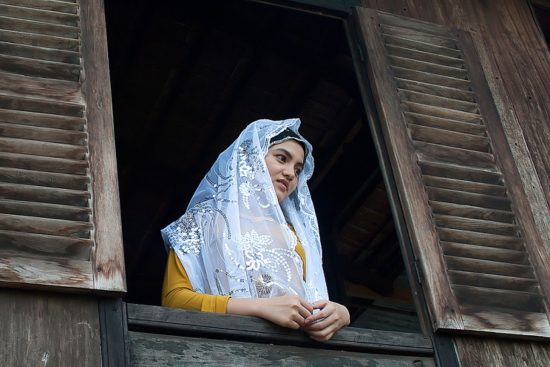 Cham village, Chau Doc, Vietnam
If getting an opportunity to join a Mekong Delta tour, you are recommended to Cham Village in Chau Giang, where you can explore lots of fascinating things about both the culture and people of this region. To reach Chau Giang Village, you must be ferried across the river to Fairy Islet; it's a quite peaceful village with many unique stilt houses and beautiful mosques. The Cham community mainly lives in An Giang and has interesting cultural traditions you will be attracted to. Besides, a visit to a Chau Giang Brocade Village should be included in the journey.
Tra Su Cajuput Forest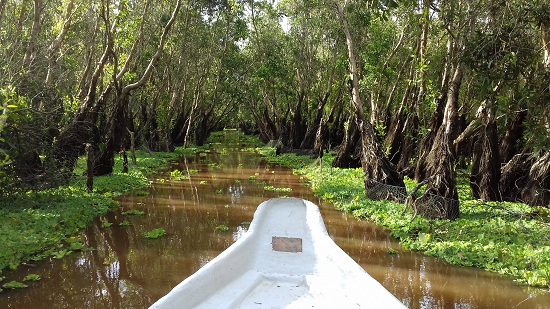 Tra Su forest is of the top things to see and do in Chau Doc
Blessed with the quintessential natural charm along with the ravishing tranquility, Tra Su Cajuput Forest, positioned in Tinh Bien District – An Giang Province, is considered as a great choice for numerous travelers to this water location. Situated 10km away from the Cambodian border, Tra Su carries plenty of potential for developing outdoor activities, the ecotourism destination, environment studies, and others. Another point wooing travellers is that the forest is home to a great diversity of birds, reptiles, fish, and other species.
Book now: Mekong Delta Discovery – 3 days price from $162
Sam Mountain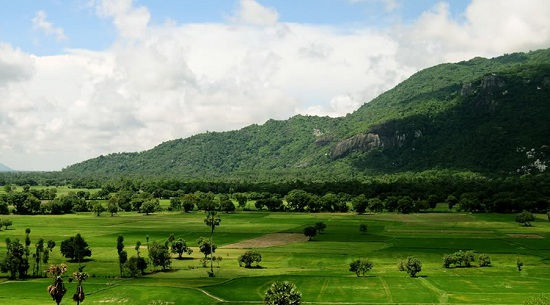 Sam mountain, Chau Doc, Vietnam
One of the things to see and do in Chau Doc for a Mekong Delta tour is Sam Mountain. This is referred to as a sacred location for Buddhists and the home of many temples and pagodas. It's known that the Chinese background strong affects this spot and makes it common to ethnic Chinese, but all people from all ethnicities often pay a visit here. It's fantastic to enjoy the excellent landscape at the peak of the mountain.
Cave Pagoda (Chua Hang)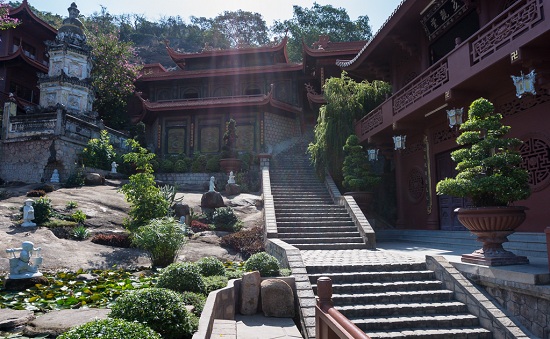 Hang pagoda, Chau Doc, Vietnam
One of the highlights of the tour to Chau Doc is climbing over 400 stairs to Buddhist temple which is also Cave Pagoda on Sam Mountain.  It was founded in 1926 with the aim of commemorating Nguyen Huu Canh in the Nguyen Dynasty, who regained the territorial sovereignty for Vietnam. The structure contains colors of Chinese styles with funeral tables which bear the deceased's names and a little historical information about them.
Chau Doc Fish Sauce Market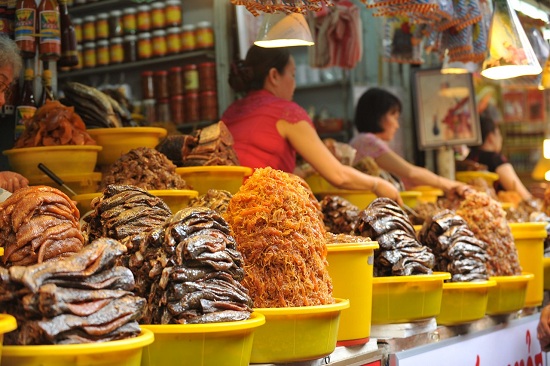 Chau Doc fish sauce market, An Giang, Vietnam
If choosing things to see and do in Chau Doc, what will you wish to enjoy? Certainly, for a Mekong Delta tour, Chau Doc Fish Sauce Market is possibly the excellent spot you want to explore and experience. The fish sauce market is situated in the head of Tien River and Hau River. Perhaps, you have known that fish sauce is one of the strongly impressive specialties of Vietnam, so it will be an amazing taste to visit this market. Here, there are many different kinds of fish sauce with special flavors which will dazzle and interest you a lot. Don't miss a visit to the fish sauce market.
Book now: Discovery Mekong Delta – Phnom Penh 3 days price from $191
Please feel free to contact us! Chat with us if you have any questions!
---