Ninh Binh is famous for picturesque landscapes, so chosen as the background of a Hollywood film by Director Jordan. In fact, its natural beauty is irresistible, phenomenal, and significant to the province's tourism. Besides emerging travel spots astonishing you at any cost, such as Tam Coc Bich Dong, Trang An, Hoa Lu Ancient Capital, Bai Dinh Pagoda, Phat Diem Cathedral, and Cuc Phuong National Park, enjoying must-try food in Ninh Binh while learning about the quintessence in the land's cuisine is totally amazing for your Vietnam tour packages. Let's please your eyes with the following culinary pictures first!
Fried Rice (Com Chay)
Fried Rice (Com Chay)
Referred to as among the most celebrated delicacies of Ninh Binh Province, Fried Rice is what you must try for sure when visiting this land. This specialty is mainly found along National Route 1, in Ninh Binh City, and tourist attractions. What to distinguish the food from that in other regions is the way to fry rice and the sauce going with it. While the rice is slightly fried to have a beautiful yellow, this way to fry makes it tasty, crispy, and great to enjoy. The sauce surely enhances the rice's flavor.
Kim Son Salad with Fish Raw (eel)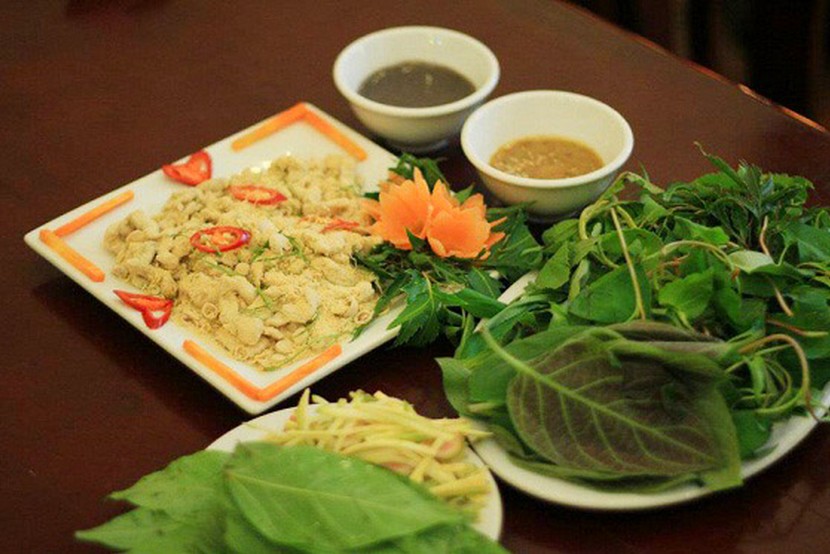 Kim Son Salad with Fish Raw
When experiencing a trip to Ninh Binh Province, you ought not to ignore Kim Son Salad with Fish Raw as it is considered as the most delicious specialty here. To prepare this food requires a cooking process of many complex steps. It is a perfect balance of local ingredients: thin slices of eel, fried glutinous rice, vinegar, chilly, pepper, garlic, citronella, etc. All harmonious together create the unique taste and unforgettable flavor. Another interesting thing is, this salad must be served with a local type of pâté which is just found in this province, but anywhere else.
Mountain Snails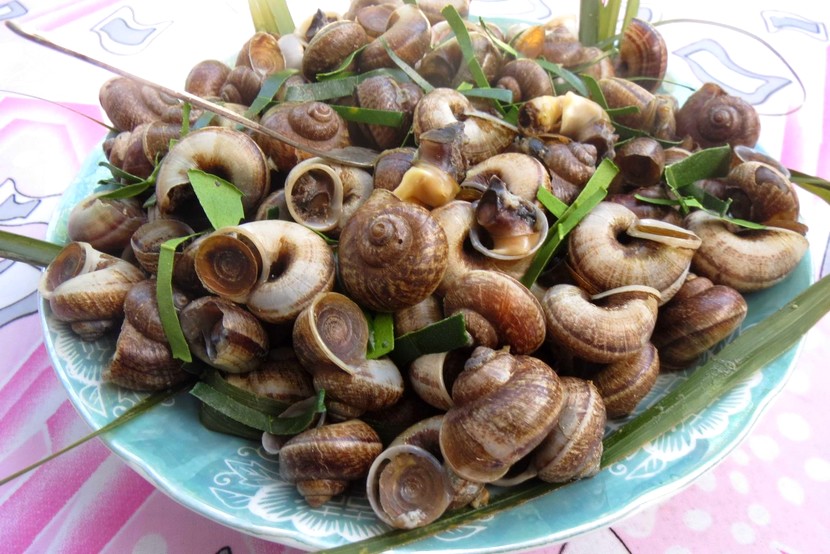 Ninh Binh Mountain Snails
The range of limestone mountains at Tam Diep, Yen Mo District, and Nho Quan Communes is home to this type of snails. They often occur from April to August, the rainy season when the weather is humid. The snails' staple food is different sorts of mountainous plants, some of which are valuable herbs. Therefore, it is believed that eating this snail type is probably good for your health. The food from it includes mountain snails steamed with ginger, mountain snails fried with chilly and citronella, and salad.
Hoa Lu Rare Goat Meat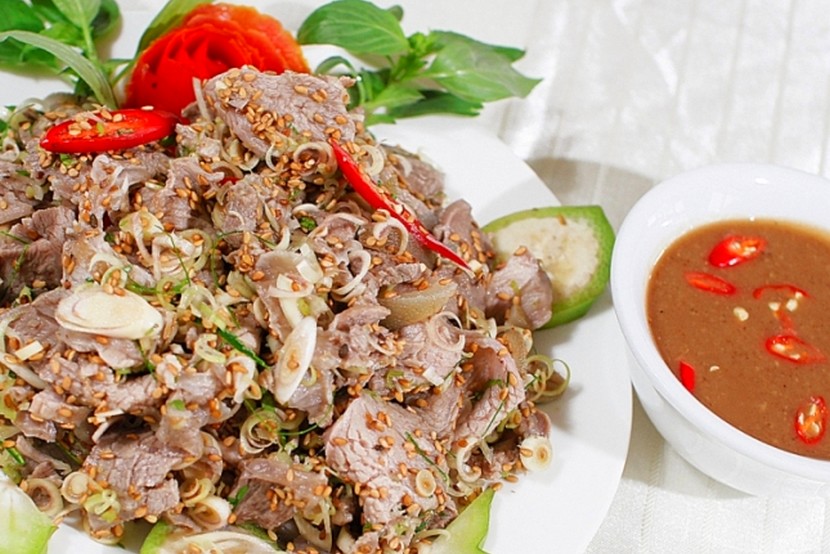 Hoa Lu Rare Goat Meat
Despite the fact that there are lots of dishes from goat meat, the Hoa Lu people love to prepare and enjoy, such as fermented goat meat, steamed goat meat, grilled goat meat, etc., rare goat meat is still considered to be the top position of the list. What makes the dish more special than the others is the secret recipe to cook it and the way to add spices. The goat meat is not only luscious, but also nutritious since the goat is supposed to feed on precious herbs on the mountains.
Cassava vermicelli soup with eel (Mien Luon)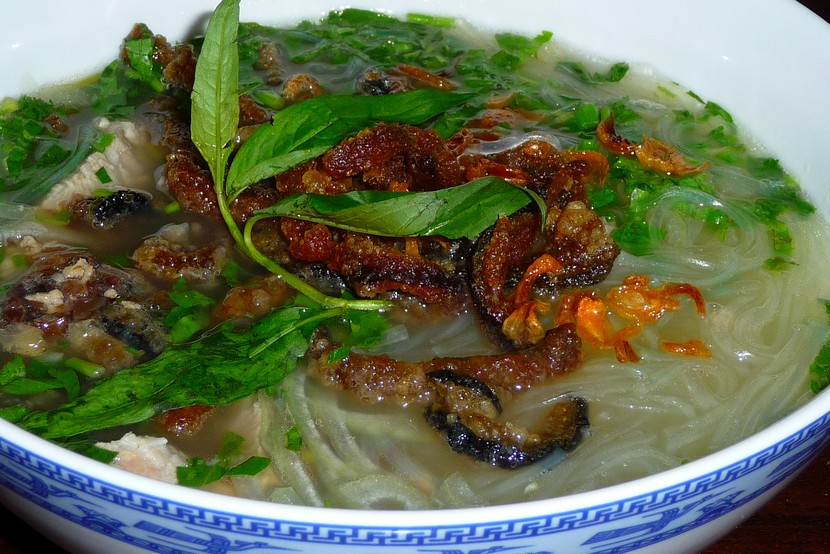 Cassava vermicelli soup with eel
Apart from fried rice and rare goat meat, cassava vermicelli soup with eel is also referred to as the must try food in Ninh Binh. The place where you can savor these three dishes is street corners at the intersection Tran Hung Dao, Ninh Binh City. The tantalizing aroma of the soup wafts everywhere, encouraging you to try it. Surely, for a Vietnam tour package to Ninh Binh Province, it is difficult to ignore this wonderful delicacy.
---