Your Vietnam package tour will be more awesome if you keep an eye on the following luxury travel experiences in Vietnam. Don't hesitate to know what those are!
Staying in the most sumptuous hotels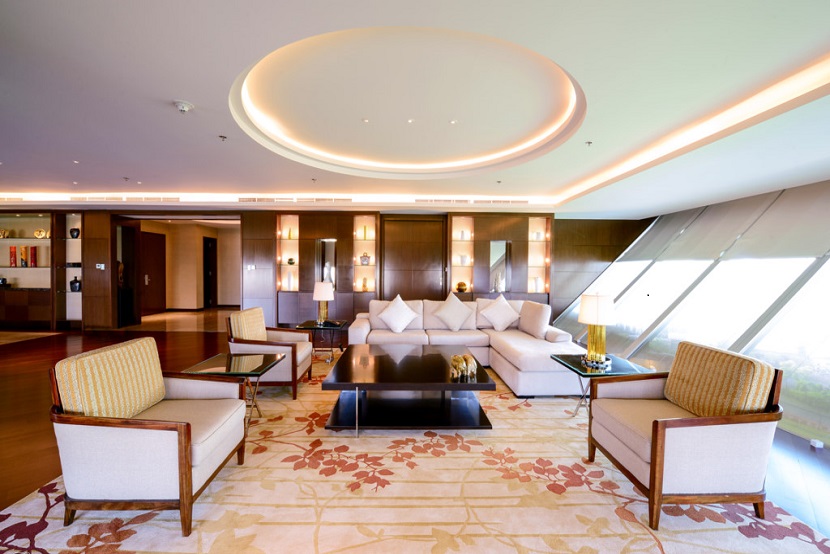 The most grandiose hotel offers President Suite in Ho Chi Minh City
The majority of the most grandiose hotels in the world offer President Suite, which is for the heads of state in their business occasions. The price for each room of this suite is up to dozens of thousands of US dollars. And Vietnam is not an exception as staying in the hotel room with the standard of President Suite is surprisingly expensive compared to the locals' general living cost. At present, the most lavish accommodation is situated at the 38th-39th floors of Times Square in Ho Chi Minh City. With the total area of 313 square meters, it includes two bedrooms, one living room, a private room for work, a dining room, and a kitchen. The price for this type of room is exactly over 17,000USD. Located at the top floor of the building, the room brings you the view of Dong Khoi and Nguyen Hue Streets and is extremely outstanding with the elaborated design. Some other hotels in Vietnam, also providing President Suite consist of Mariott, InterContinental Hanoi Westlake, and Sofitel Hanoi.
Exploring Son Doong Cave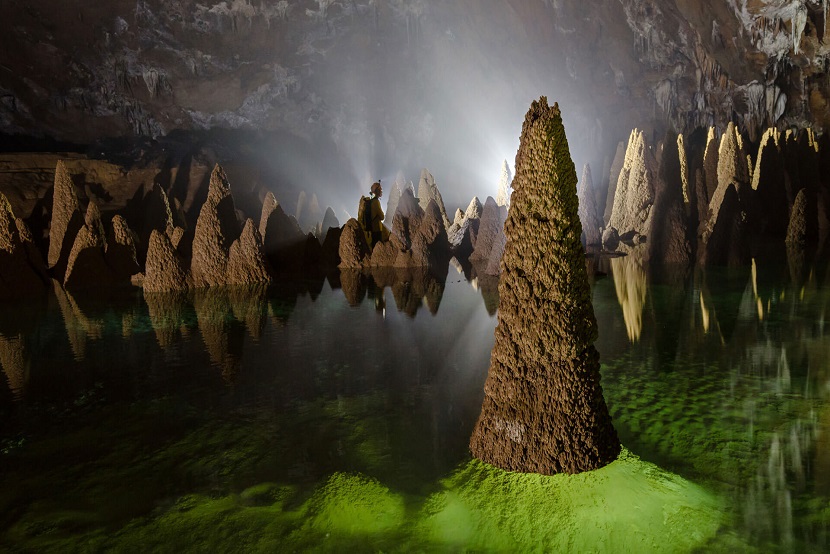 Exploring Son Doong Cave
According to National Geographic Magazine, Son Doong Cave is voted as the most phenomenal cave which is never found anywhere else on earth by renowned scientists. With the height enough for a 40 story building, Son Dong Cave seems to be a mystery which has not still been uncovered entirely. Especially, it has been discovered that there is a special biosphere with the diversity of ecosystem inside the cave; it is possible to say that entering the site is like that you are led to another world of thick jungles, rivers, and splendid landscapes. Everything existing here will certainly overwhelm any explorer. One thing you are dazzled is that a Son Doong Cave expedition for four days and three nights costs up to USD3,000; not only that you are required to have good health before going on the journey.  Therefore, many travelers put the expedition in the list of luxury travel experiences in Vietnam for a Vietnam package tour.
Flyboarding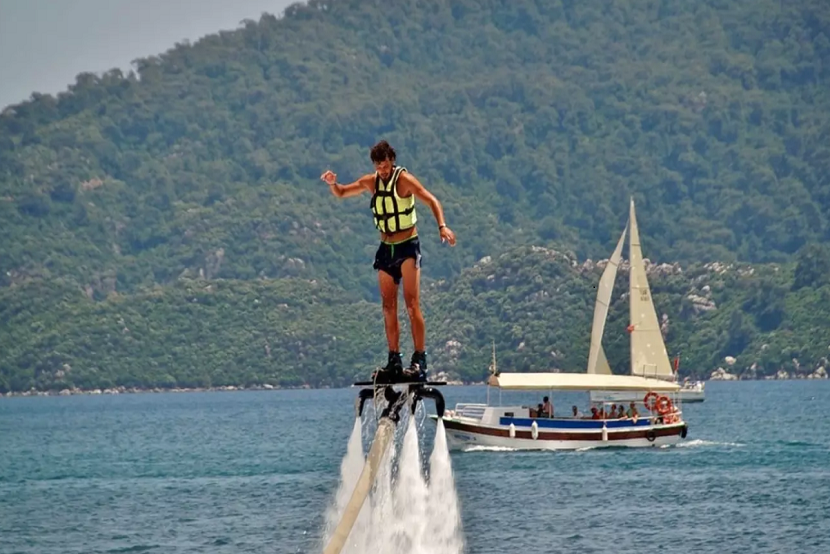 Flyboarding in Vietnam
Despite not being strange to the majority of teenagers in the world anymore, flyboarding is still a new type of adventure travel in Vietnam. Just by controlling the hydroflight device that makes up propulsion on a flyboard in the air, you can perform spectacular flips while flying above the sea. The fee for experiencing this sport within 10-15 minutes is from USD40-60. Although it is not too expensive for one time playing, but it is sure that you cannot smoothly control the flyboard just at the beginning. Playing it under the direction of the master within one hour supposed to be ideal to gain full experience may cost up to USD360, so it is also one of the luxury experiences in Vietnam you should not ignore for a package tour.
Going on a premium five-star cruise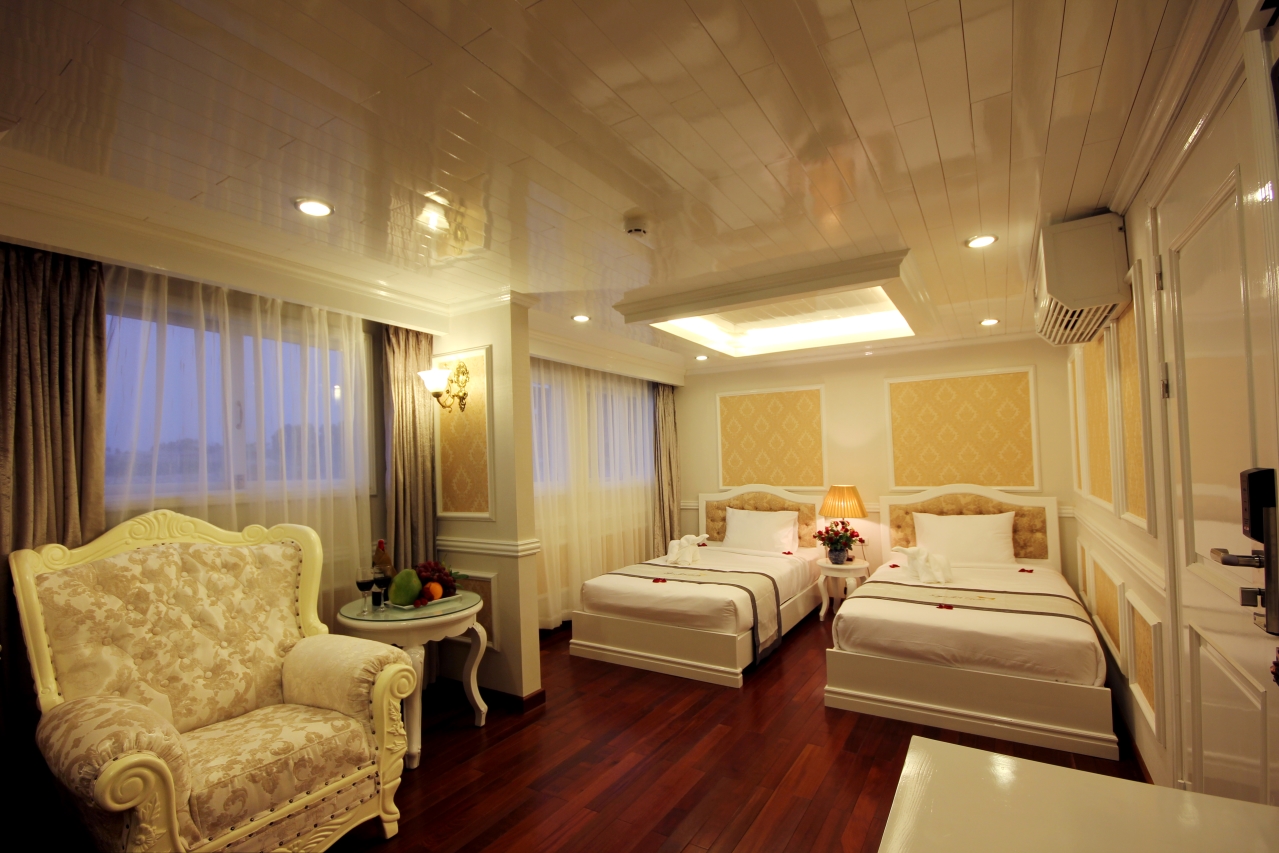 Going on a premium five-star cruise
Endowed with an over 3,000 km coastline and hundreds of beautiful beaches, Vietnam is considered as one of the appealing travel spots where you can enjoy an amazingly leisure cruise. Realizing this demand, many travel companies have boosted cruising programs varying from standard cabins to deluxe suites. If you are planning to explore Halong Bay, designated as a UNESCO world heritage site, a five-star cruise from Signature Halong Cruise will never fail to delight you. The reason it is called a luxury travel experience in Vietnam is that the price for cruising within 3 days two nights is even up to USD1,500.
---