Learn something exciting about traditional villages in the Mekong Delta, Vietnam via the blog, and you will feel like to this beautiful S-shaped land and explore the water region with a Mekong Delta tour for certain.
Rice flour-making village in Sa Dec
Sa Dec Town, Dong Thap Province is referred to as one of the largest providers of food in the Mekong Delta and also famous for its traditional rice flour-making village dating back over 50 years. With the large amount of local labor in this traditional village in the Mekong Delta, the high yield of rice flour has been produced for consumers in Ho Chi Minh City, the Southern Vietnam and even export to the Southeast Asia region. There are two types of rice flour; one is wet flour which will be supplied for manufactures to produce the related food, and the other is dried flour for preservation. One interesting thing is that the rice flour is used to make attractive dishes, such as noodle soups, pho, and others.
Lai Vung fermented pork-making village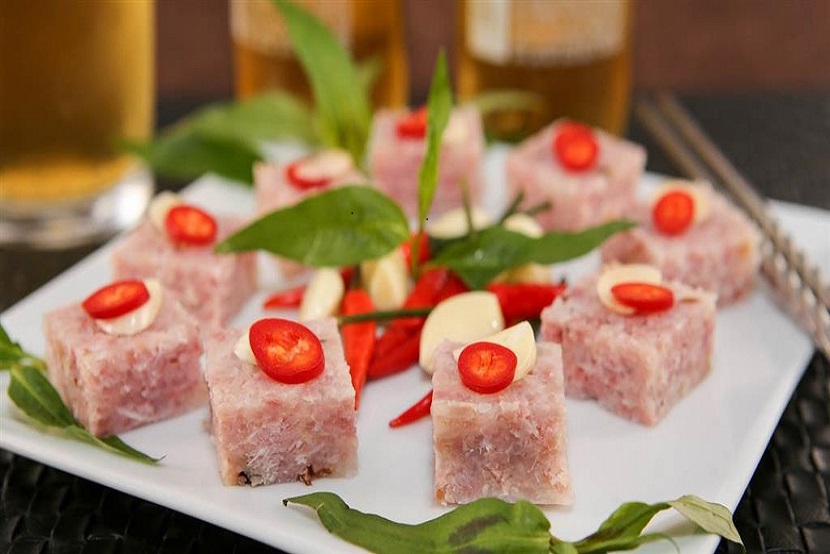 Lai Vung fermented pork-making village
Lai Vung is a district of Dong Thap Province, renowned for the traditional type of fermented pork. Situated to the north of Hau River, the village – among traditional villages in the Mekong Delta – dates back over 60 years and is one of approximately 30 long-standing traditional villages recognized by the Dong Thap's authority. Lai Vung fermented pork is amazingly tasty and made under the process of many steps. The pork used to make the food will be ground, and pork skin will be shredded into long thin pieces. They add some spices to the mixture of those, such as black pepper, chilli, and garlic, then wrap the mixture in banana leaves and keep it in 27 – 30 degree Celsius for three or four days. It is indeed ideal to buy some rolls of Lai Vung fermented pork as gifts for your family or friends after the trip there, e.g. a Mekong Delta tour.
Long Dinh sedge mat-weaving village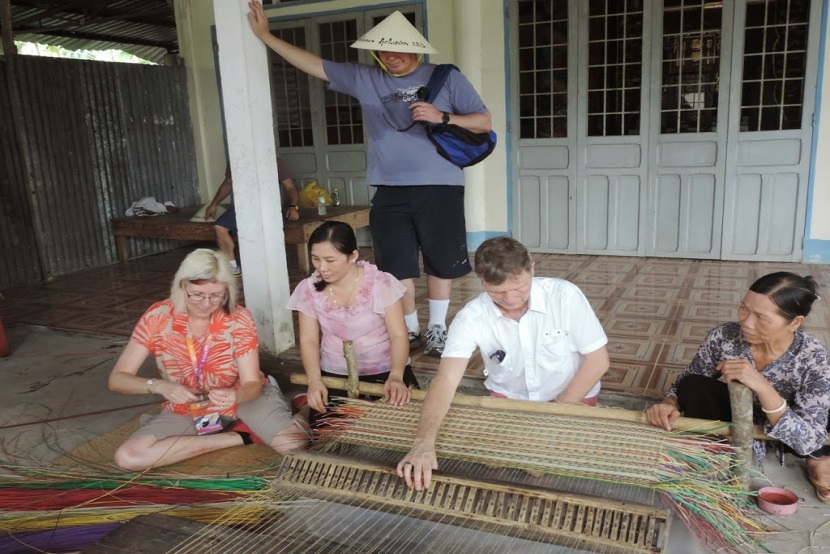 Long Dinh sedge mat-weaving village
In Long Dinh commune, Chau Thanh District, Tien Giang Province, weaving sedge mat is the traditional craft which has been also from generation to generation for many years. Dating back about 50 years, the village with a strong brand now provides the domestic market dozens of thousands of long-lasting sedge mats per year, contributing to the whole region's economic development.  Making a visit to this spot, you will find it very exciting to directly gaze into how the locals make each elaborated mat.
Conical hat-making village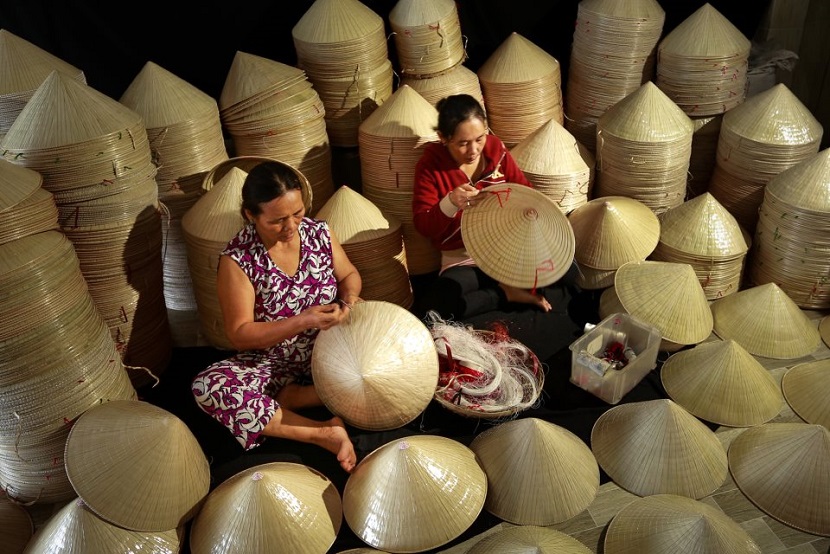 Conical hat-making village
There are up to three conical hat-making villages in Chau Thanh District, well-known not only through Vietnam but also in the world, including Than Cuu Nghia, Tan Ly Tay, and Tan Ly Dong. It is estimated that those three traditional villages in the Mekong Delta have brought economic benefits for the whole country through exports to foreign regions. Coming here is a chance to know about one of the items in the Vietnamese's traditional custom as well as obtain stimulating things in their culture.
Stone-carving village
The craft of artistically carving stones dates back 200-300 years, and there are up to seven small workshops specializing in fine carvings, such as, mortars, square mortar varying in sizes, censers, tombstones, lion statues, unicorn statues, and other items for decoration. With the excellence in carving, the craftsmen turn lifeless stones into exquisite things full of abstract and lively images. It is not totally surprised to know that the prices for each complete stone carving is pretty high as the process of creating it requires the artists' meticulousness, and its material is transferred home from a far distance.
Boat-building village
Boat-building village
The boat-building village – among traditional villages in the Mekong Delta, Vietnam is situated at Nga Bay Town, Phung Hiep District, Hau Giang Province. In the 1940s, the village just specialized in making small types of boat, such as wooden rowing sampans for local fishermen or those who wanted to transport their farming products on the river. Nowadays, they have started to build the larger boats, so coming here enables you to learn new knowledge about this craft.
---