One point you can't ignore when mentioning the water region is the greatest ecotourism destinations in Mekong Delta which take you to the idyllic, tranquil, and primitive nature. I will be a fantastic feeling to sit on the boat and gradually sink yourself into the wildlife with the relaxing ambience.
Read more: A Visit to Ancient Houses in Mekong Delta, Vietnam
Tra Su Cajuput Forest in An Giang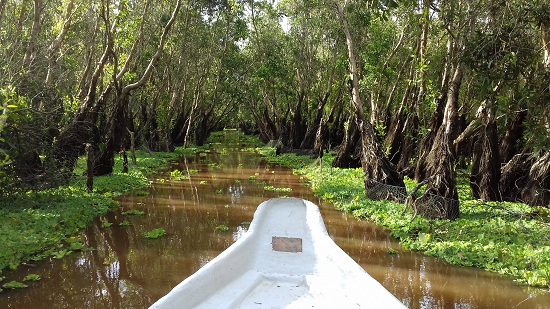 Acknowledging the cajuput forest conservation must be associated with the development and investment of tourism, An Giang in the Mekong Delta decided to improve tourist access routes through water and land to the forest. As a result, nowadays the forest has become one of the greatest ecotourism destinations in Mekong Delta for a Mekong Delta tour. You'd better visit the spot from September to the end of the year when the entire region is covered with water, which forms a phenomenal landscape. Further, it's absolutely amazing to be taken through small canals of the forest by motor boat or rowboat. This is exactly an opportunity for you to observe green fern on the water, white storks, and other species. Another interesting thing the tour to the Tra Su cajuput forest brings back for you is to taste specialties along with visiting Khmer and Kinh villages where traditional handicrafts have been made and sold to tourists.
Gao Giong Eco-Tourism Park
170 km away from the downtown of Saigon and positioned in the flooded region of Dong Thap Province, Gao Giong Park has been referred to as one of the wonderful ecotourism destinations in Mekong Delta for those who have a strong desire to explore the nature through meandering cruises on the water. This is also a mangrove lowland playing a role as the green lung of the wetland Dong Thap Muoi. Interestingly, the park is famous for diversified bird species, such as wild ducks, egrets, herons, sparrows, and some listed in the Red Book. Travelers to Gao Giong are not only ravished by the tranquility and fresh air of the park, but also enjoy sweet melodies from bird songs or savor specialties like baked rats, grilled fish wrapped in lotus leaves, hotpots, lotus tea, etc.
Book now: Mekong Delta Discovery – 3 days price from $162
Xeo Quyt
In the past, Xeo Quyt was known as a revolutionary base of Vietnamese guerillas in the wars against America and French armies. Nowadays, it's reclaimed to meet the demand of tourism due to its natural beauty; as a consequence, it has turned into an eco-historic attraction in Mekong Delta. The Xeo Quyt tourist area appears like a floating painting with lots of vines surrounding trees, creating a lively atmosphere of nature. In addition, travelers can find plenty of bird and fish species when being rowed through the waterway.
My Khanh Ecotourism Village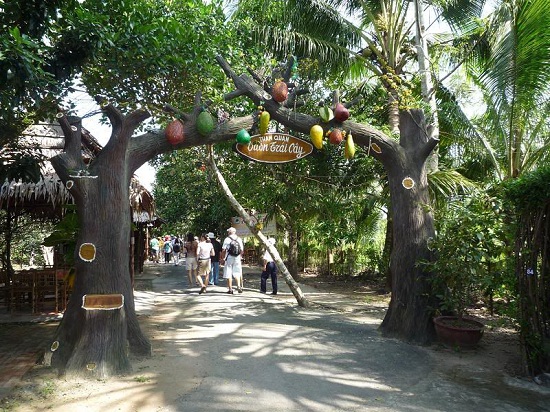 My Khanh Ecotourism Village is in Phong Dien District, Can Tho City, and home to tropical fruit gardens along with traditional handicraft villages. With a Mekong Delta tour to My Khanh, travelers can join rural activities, such as cultivating rice, gardening, catching fish, picking fruits, biking around village paths, learning culture of southern people, exploring the floating market which will amaze them as they acknowledge how special locals trade their farming products on the river.
Con Phung (Phoenix Island)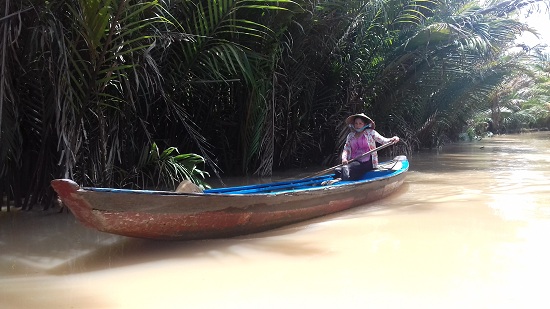 Being situated 25km away from the heart of Ben Tre City, Con Phung rises from My Tho River of Chau Thanh District. Ever wonder why it has this impressive name? In the past, Nguyen Thanh Nam, who founded Dao Dua (a religion of Mekong Delta) decided to build Nam Quoc Phat Pagoda; during the construction period, a phoenix-shaped bowl was unintentionally collected, so Phoenix Island was born. Something tourists can do when coming to the island is visiting the coconut candy workshop, cooking with locals, biking around the village, and experiencing homestay.
---