One of the most exciting features for your Mekong Delta tour is to explore ancient houses in this water region. It's probably said that the visit will also be a highlight of your Vietnam journey as you find an occasion to understand more the history of Binh Thuy Ancient House, Huynh Thuy Le, Cai Cuong Ancient House, The Villa of "Prince of Bac Lieu", and 100-Pillar House. Get started with the trip to ancient houses in Mekong Delta, Vietnam at once!
Read more: When is the best time to visit Mekong Delta in Vietnam?
Binh Thuy Ancient House (Can Tho)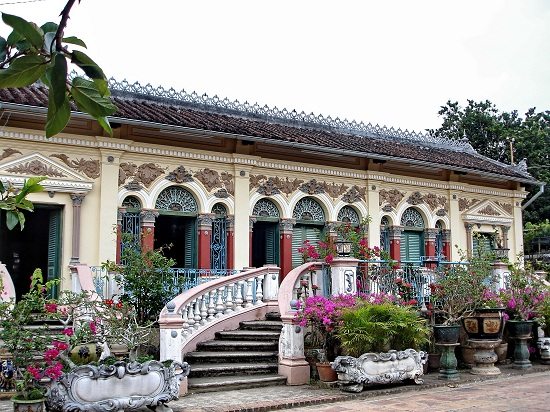 There is no reason to deny that Binh Thuy is among the most wonderful travel spots to discover the history of Mekong Delta. Lying at Bui Huu Nghia Street, Binh Thuy Ward, and around five km away from the center of Can Tho City, the house carries unique qualities which will let you visualize a picture of rural areas along the waterways during the 20th century. The house is in the French architectural style, constructed by the Duong family in 1870. Designed to have harmonious front and back gardens, this building will give visitors a relaxing space with fresh air and gentle sunshine. To prevent termites from damaging the house, its owner covered it with a 10cm layer of salt under floorboards.
Huynh Thuy Le Ancient House (Dong Thap)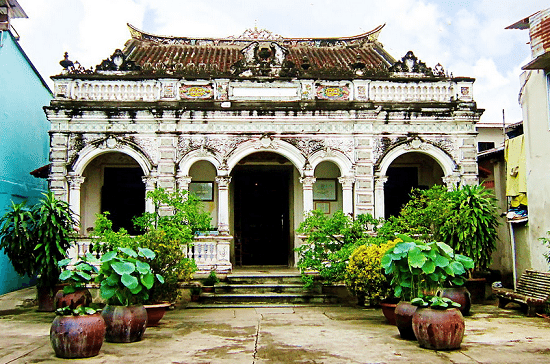 Huynh Thuy Le is an ancient house where the French writer Marguerite Duras lived in the past. Thanks to an exciting story behind the house's history, it has lied in the list of the most outstanding travel sites in Vietnam, rated by Vietnam Federation of UNESCO Associations. The house's name said that it belongs to the Huynh Thuy family, and is famous for its age and architecture. It is 119 years old and designed in the mixed style of China, France, and Southern Vietnam. There will be extremely stimulating things as you make a decision to visit this site and explore its love story.
Cai Cuong Ancient House (Vinh Long)
The family of Pham Van Bon, who owned lots of lands in the past is the owner of Cai Cuong Ancient House. It was constructed in 1885 and designed with the special shape like the Ding letter. One of the magnetic things about the house is that it's the quintessential mix of both Oriential and Occidental architectural styles; additionally, its front is Cai Muoi Canal, so all create the harmonious composition which is worth visiting and admiring.
The Villa of "Prince of Bac Lieu" (Cong Tu Bac Lieu)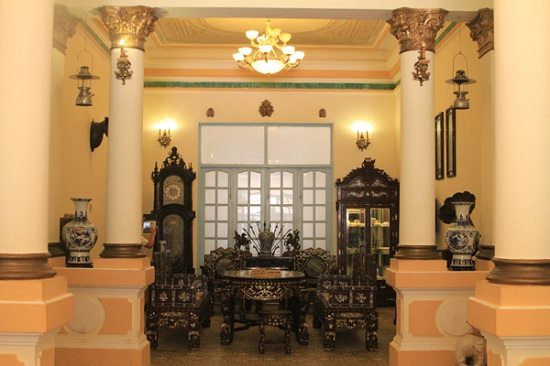 Included in the list of ancient houses in Mekong Delta, which travelers should spend time on a visit to is the Villa of "Prince of Bac Lieu". Why does the villa have a good reputation? It's because this is the house of the renowned prince of Bac Lieu, whom people dubbed a special name Cong Tu Bac Lieu; upon owning the enormous property and tending to show off his prosperity, he got so crazy that he boiled eggs over a fire of money to attract a girl. Nowadays, many people wonder how rich he was to be able to do that; that's why they are really eager to explore this site.
100-Pillar House (Long An)
With a Mekong Delta tour, travelers will be recommended to 100-Pillar House (Long An) as there are interesting features about the destination to explore. It is situated on the left side of Vam Co Dong in Long An Province and made of plenty of valuable wood, like redwood, kingwood, ebony, and barian. Despite having the cool name 100-Pillar House, it's especially rather great as designed with over 100 pillars (exactly 120 pillars), consisting of 52 square pillars and 68 round pillars. This architecture is quite similar to the structure in Hue: Nha Ruong. It's wonderful to discover!
---