Nobody can deny that what to eat in Can Tho is one of the interesting parts of a Mekong Delta tour, Vietnam. To be honest, just with a few clicks, you will find dozens of results regarding delicious traditional Vietnamese recipes of this water area, which will satisfy your eyes at any cost. Let's see some of those wonderful dishes below in order to prepare for your future Vietnam package tour!
Read more: What to Eat in Hue for Foodie
Magenta Plant Sticky Rice Cake (Banh tet la cam)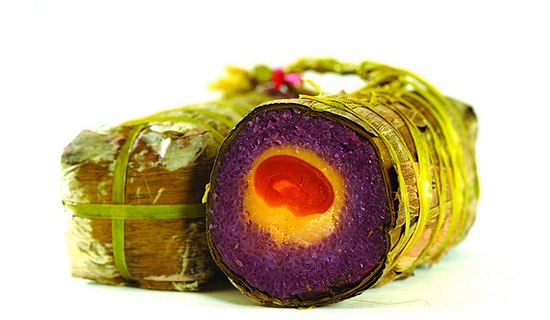 Magenta Plant Sticky Rice Cake is a unique and impressive kind of cake in Can Tho. Traveling to this travel destination, you should taste the one made by the Huynh family in Binh Thuy District as it's supposed that their descendants are people producing the best cakes. The rice used to make the cake will be soaked into the water with magenta plant whereby the cake has a natural magenta color. The filling is a wonderful mixture of meat, salt duck eggs, and coconut milk. There is no reason to resist a piece of the fragrant rice cake when staying in Can Tho.
Vietnamese Noodles in Coconut Cream (Banh tam bi)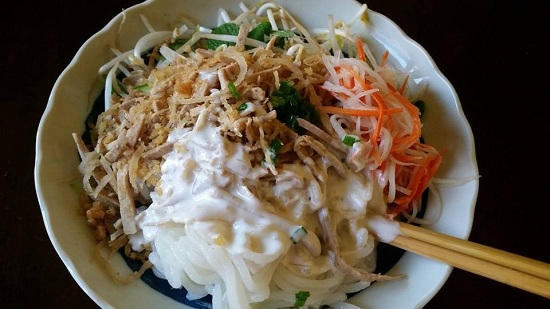 Search for what to eat in Can Tho when you are in a Mekong Delta tour? Then, don't let Vietnamese Noodles in Coconut Cream slip out of your list because of its special and awesome flavor. Specifically, it's a traditional southern Vietnamese recipe with tapioca noodles and thick rice sunk into thick coconut cream, creating the fat for the dish. It's topped with herbs, pork and served with pickles, sprouts, and sour and sweet fish sauce. Enjoying it is actually an unforgettable feeling.
Cong Cake (Banh Cong)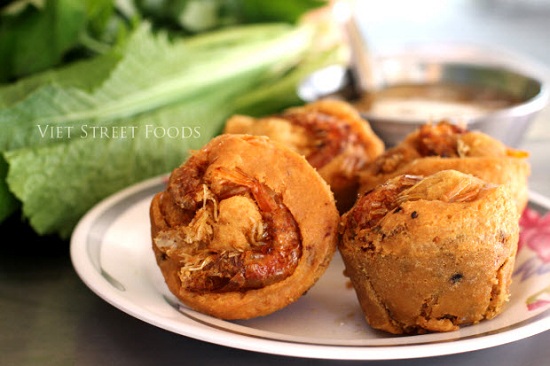 Cong Cake or Banh Cong is considered as a type of snack, so locals in Can Tho only enjoy it in in the afternoon or the evening along with their family or friends. With the crust and the core filled with meat and shrimps, the cake seems an interesting dish for many travellers when coming to Can Tho. It is enjoyed with fish sauce, pickles, mango shoots, lettuce, basil, and mustard, bringing you a brand-new taste about Vietnamese cuisine.
Cai Rang Grilled Rolls (Nem nuong Cai Rang)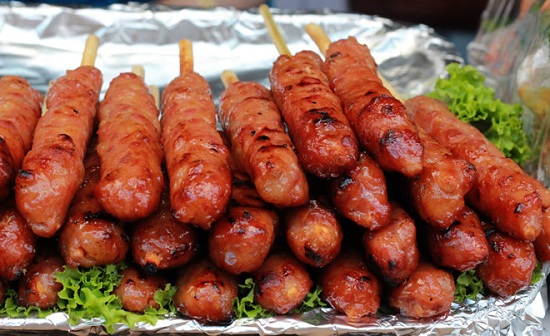 I bet that you will never forget the fantastic flavor of Cai Rang Grilled Rolls if you have an opportunity to taste it. It's exactly grilled rolls made of ground pork without fat. The ground pork is rolled into small balls and then grilled on charcoal. Often, the meatballs will be strung by bamboo sticks and decorated with on the plate to enjoy with salad and Banh Hoi – Vietnamese rice vermicelli.
Book now: Mekong Delta Discovery – 3 days price from $162
Grilled Green Pepper Snails (Oc nuong tieu)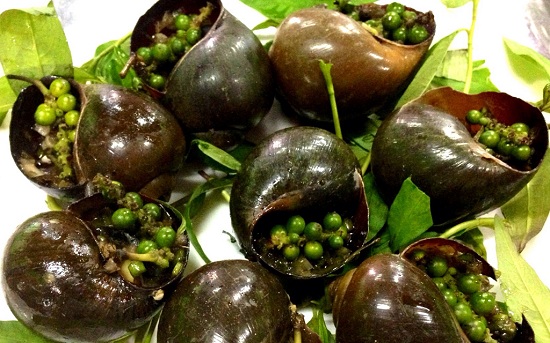 This Vietnamese dish is a unique kind of Vietnamese cuisine in which snails are steamed and grilled on charcoal. It's great to get a sense of the dish through not only your tongue, but also your eyes. It should be served with fish sauce with garlic which is not too salty and spicy. Imagine you will enjoy each of the steamed snails by using a small stick to take the snail's body out of its shell. It's amazing!
Apple Mangrove Hot Pot in Phu Sa (Lau ban Phu Sa)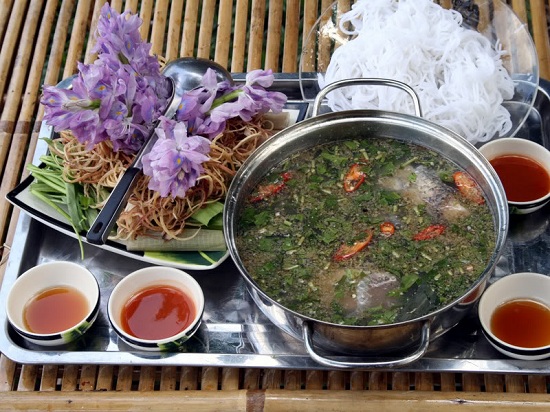 Apple Mangrove Hotpot in Phu Sa should be comprised in the list of what to eat in Can Tho when you join a Mekong Delta tour. One wonderful thing about this dish is that it's made and enjoyed at any reason as many local restaurants have certain methods for extracting and preserving the juice of the Apple Mangrove. Often, to have a yummy and savory hot pot, the fish must carefully be chosen in such a way that it's tender and fresh enough. Further, other alternative ingredients instead of fish are eeltail catfish, shark catfish, Taiwan tilapia, etc.
Grilled Snakehead Fish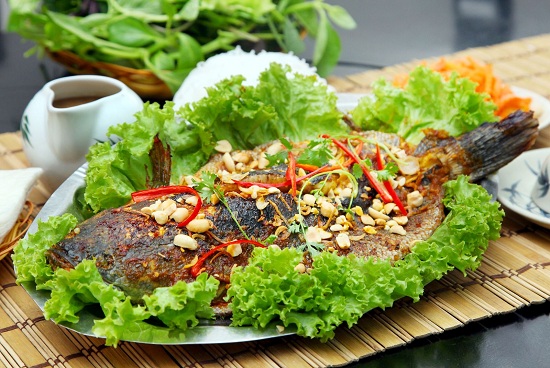 Grilled Snakehead Fish is a famous Vietnamese dish in Can Tho, so you will have to worry about wasting time if making a decision to enjoy this oldest dish of the Southern area. The perfect snakehead is the one caught after the flooding season. Just put the fish's head so that it faces the ground, toss straw around it, and built the fire. After that, prepare banana or lotus leaves to lay the grilled fish on. It's ideal to savor it with sweet and sour fish sauce and herbs.
---