If you have not got any idea about what to experience for your trip to Vietnam – a peaceful and beautiful country of Southeast Asia, the following things to see and do in Ben Tre, belonging to Mekong Delta will be deserving recommendations. Normally, some trustworthy travel companies in Ho Chi Minh City will offer plenty of programs to this destination, e.g. Mekong Delta Adventure Day Tour or Mekong Delta one day trip, but it's better to have a detailed prospect of the journey you will go through.
Boat trip in Turtle Islet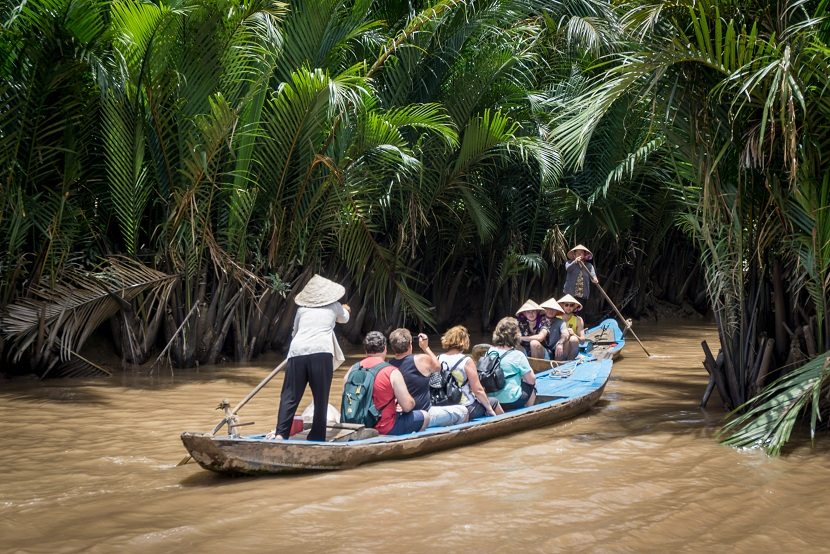 Boat trip in Turtle Islet is one of the top things to see and do in Ben Tre
Turtle Islet – Ben Tre Province is one of the four outstanding islets in Mekong Delta (aka the Southwestern Vietnam) and draws lots of people no matter they are domestic or international because of its rustic and delightful charm. The islet's name is based on one of the four mascots according to the Vietnamese's cultural tradition, including turtle, unicorn, dragon, and phoenix. One remarkable point which enhances the value of a trip to Ben Tre is the 22 km waterway on Tien River, stretching from the center of Ben Tre City to the outside. It will be an advantage for you to take a boat trip around the Turtle Islet while relaxing in the temperate atmosphere and observing local activities. Such a boat trip can also be found in premier tours or premier group tours of some travel operators in Ho Chi Minh City.
Book now: Mekong Delta Discovery Day Tour price from $30
Fresh fruit and Vietnamese folk music
Another interesting thing to see and do in Ben Tre is to taste fresh fruit and experience Vietnamese folk music performed by local singers. After going for a leisurely stroll through idyllic villages of Ben Tre, you will be invited to a snack with fresh fruit served while the locals entertain you with traditional songs which you have probably never known before. To be honest, all what you get from this trip is actually priceless, and you can't grab them in luxurious cities. Hence, it's the journey of a lifetime.
Day trip in Ham Luong
Mekong Adventure day tour in Ham Luong
Cruising along Ham Luong River allows you to observe the lush tropical islet and relish the cool breeze here. Not only that, the trip is a great chance to visit traditional workplaces where locals make their own products from coconut, such as activated charcoal, brooms, and souvenirs. It is difficult to express how comfortable and delightful you will be while being rowed under the shadow of palm trees on the calm water by small boat. It is definitely an amazing activity you must try, so a premier group tour to Ham Luong should be included in your journey to Vietnam.
Book now: Mekong Delta Adventure Day Tour price from $45
Traditional Coconut Businesses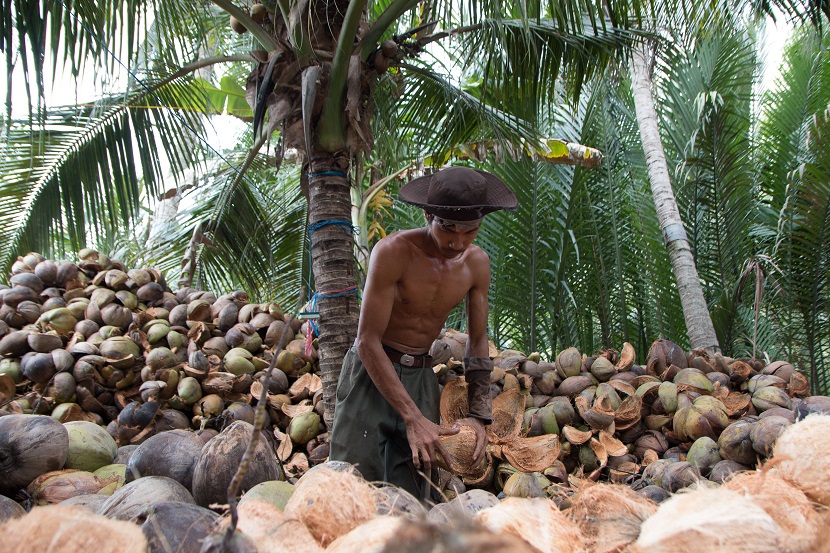 The local people is working hard with coconuts
Ben Tre is supposed to be the kingdom of coconut, and the most glittering thing here is that most traditional businesses are closely associated to coconut. In other word, coconut is the key material for renowned products in this water region. That is the reason why we should not ignore a visit to traditional coconut businesses when taking a chance to travelling here. While cruising along Ham Luong River, we can come across kilns used to produce activated charcoal by baking coconut shell. Further, nobody is not wowed by mills where coconut fudge, leaflet midrib brooms, and crafts with coconut fiber are created in artistic way. It is actually amazing to experience this visit.
Cai Mon fruit orchard
Why does Cai Mon fruit orchard become a must-visit spot in your list of things to see and do in Ben Tre? In fact, anyone who set foot in this fruit plantation will be dazzled due to the abundance and diversity of fruits like durian, sweet mango, longan, purple mangosteen, rambutan, others. Additionally, an attracting feature of the orchard is that it is the home of artists who have the ability of planting valuable plants and designing them in unique shapes.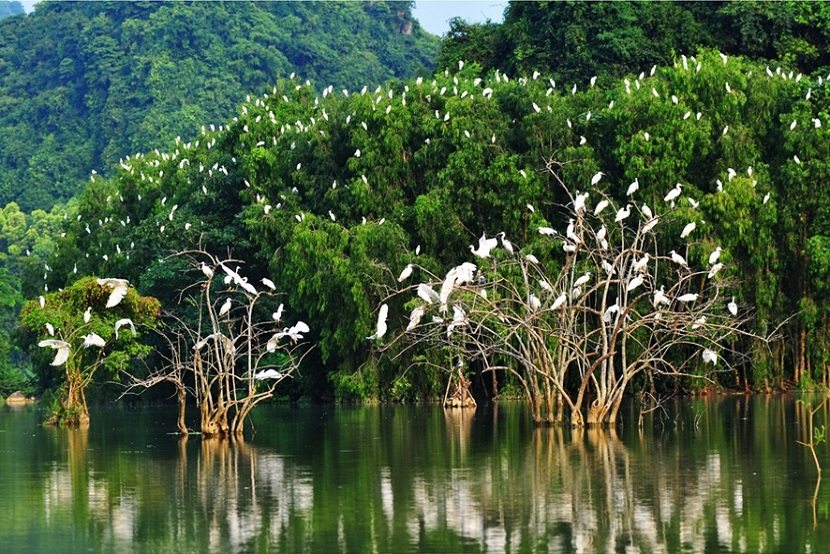 Vam Ho bird sanctuary
With a Mekong Delta Adventure Day Tour or Mekong Delta one day trip, you should let yourself freely discover Vam Ho bird sanctuary belonging to Ba Tri, located 120km to the south of Ho Chi Minh City. This place is the natural habitat of many genres of birds and trees, like date, coconut, reed, mangrove, and others. Here, there is nothing more wonderful than being rowed by boat to observe the whole sanctuary and penetrate into the spot by crossing narrow bamboo bridges.
---