Vietnam is famous for magnetic landscapes as well as the charming and poetic nature, but do you know that big streets of big cities like Ho Chi Minh City and Hanoi Capital are always full of traffic and activity. It's incredibly estimated that over six million commuters rush to the streets every day, and over haft of this number uses motorbikes as their regular mode of transportation.
Read more: How to Get Around Vietnam on Local Public Transport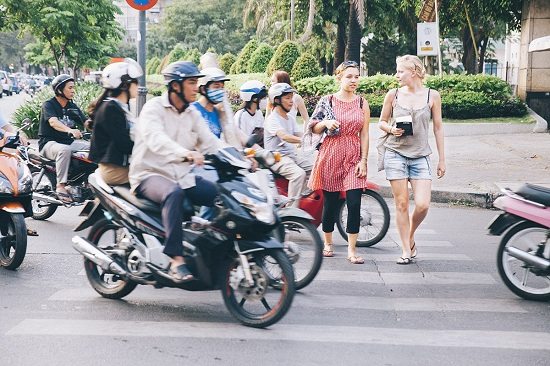 Vietnamese who are too familiar with heavy traffic during the rush hour have surely got necessary skills to overcome the crowd on the roads when they go to work or go back home. For them, it seems normal to see bikes heaped with a mountain of crates, furniture, bureaus, or even live chickens. It's interesting to know about their art of balancing everything while they control the bikes, but it's certain that you don't want to try. In contrast, foreigners don't know how to cross the street safely in Vietnam as they get a sense of everything seemingly thrown into chaos at every corner of street. Fortunately, a wave which is often used for calling a taxi will now support them in crossing the streets safely. There are also other useful tips a foreigner should notice in this case.
First, ask help of a local who also intends to cross the street; let's follow him/her. Often, Vietnamese are friendly and generous in giving help when a foreigner finds it difficult to cross the street.
Don't turn back. Maybe vehicles running too fast in front of your eyes will frighten you and make you stop or turn back immediately, but it's better to calm yourself and gradually move ahead. Surely, turning back is more hazardous than going on.
Importantly, remember the traffic in Vietnam is not like it in your countries. If all vehicles will stop when you step down into the road in your countries, the traffic in Vietnam may be your nightmare as they still flow around you.
Let motorists and drivers see your hands in the air to make sure you are visible to them as well as safe to cross the street.
Be careful of all buses, taxis, and cars! They are controlled to run very fast and especially don't stop for any pedestrian.
The most significant thing you must remember when crossing the streets in metropolitan cities of Vietnam is always looking around you and slowly moving to avoid all unexpected situations which can occur at any time. Don't hesitate to ask locals' help when you don't know how to cross the street safely in Vietnam. Escaping from the urban areas, you surely grab what you wish to experience as the idyllic life and natural charm are quickly found in the countryside and the water area. With those tips for crossing the street in Vietnam, hope you will get the most wonderful days during the journey to discover a beautiful Vietnam, ranging from culture, history, scenery, to Vietnamese people.
Book today: Explore A O Show & Foodie Haven In Saigon prive from $54
---