Ever wonder which kinds of local public transport are suitable for your plan to explore Vietnam? The followings with useful information, which also includes advantages and disadvantages of the local public transport in Vietnam will open your mind.
Read more: Some helpful tips for safe taxi rides in Vietnam
Taxi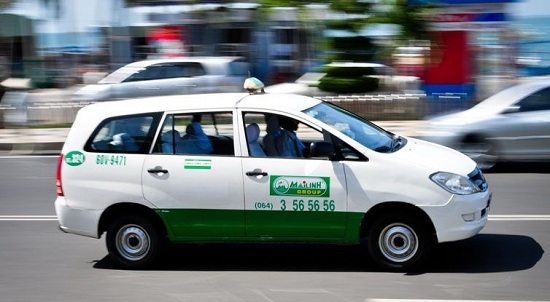 Taxi is regarded as a popular genre of local public transport in Vietnam, and especially it's easy to find it in big cities, such as Ho Chi Minh City, Hanoi Capital, Hue, Can Tho, Da Nang, and others. The cabs attached with the meter will be rather trustworthy, and fares for getting around one of the cities are not too expensive for a foreigner. Because standard of living is higher and higher, and which requires much more competition from different businesses to have the best services for customers, most reputable taxi service companies intend to offer the cheap tariffs which are just about NVD 12,000 – 15,000 per kilometer. Mai Linh and Vinasun are recommended when they are staying in Vietnam.
Bus
Bus is the top option for tourists who prefer to explore the big cities of Vietnam or travel a long distance in an economic way. There are minibuses, long-distance night buses, city buses, and tourist buses. Especially, the buses used to transport passengers in a long distance are designed with the high quality whereby they can lay down. Just gazing into the bus map of Ho Chi Minh and Hanoi, we can easily find the bus systems impossible to negotiate.
Motorbike taxi (Xe om)
Another type of local public transport in Vietnam is motorbike taxi called "xe om" in Vietnamese. It's surprised that you can't walk more than 20 yards in large cities of Vietnam (especially Ho Chi Minh City and Hanoi capital) because you will be offered a motorbike taxi ride anywhere along streets. Make sure that you should carefully bargain over the price and know which currency the bike and you are mentioning before getting in the motorbike.
Cyclo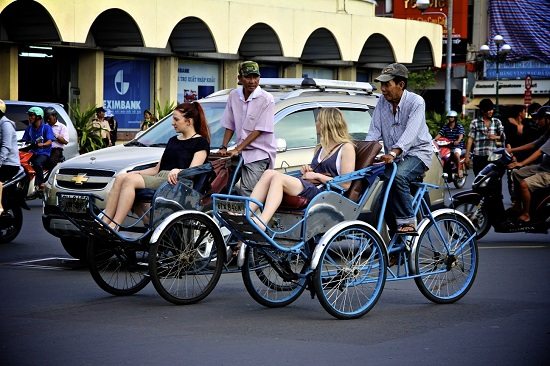 It's strongly recommended that you should try getting a sense of the beauty of some cities in Vietnam in a unique way which is taking a cyclo ride. There is nothing more enjoyable than sitting on the cyclo, being taken along streets, and viewing landscapes of the city without getting worried about heavy traffic. Nevertheless, new traffic regulations today do not allow this type of transport to move on many streets in Hanoi capital and Ho Chi Minh city.
Book now: Enjoy Sightseeing by Cyclos Water puppet show & Saigon Dinner cruise price from $38
Motorbike rental
What is indispensable for the list of real experiences in Vietnam is using a rented motorbike as the local public transport in Vietnam. If you are seeking for the one, the backpacker area in Ho Chi Minh City like Pham Ngu Lao Street will be the ideal to choose. To be able to have a rental, you must surely leave your ID (a photocopy of your passport), and the rent is around $7 per day plus discounts if you rent more days.
Train
Traveling from place to place when you are staying in Vietnam, you should pick out trains as your public transport as it's convenient, cheap, and safe. Vietnamese trains are not too fast, but seats are often hard and uncomfortable. Let's ask locals to know where you can get tickets.
Airplane
There are two chief international airports in Vietnam, including Noi Bai in Hanoi capital, and Tan Son Nhat in Ho Chi Minh City. Further, Dang Nang Airport and other domestic airports will be the fast public transport for you. Remember that a foreign traveler needs a least 6 months validity along with a visa valid for 30 days as the crucial requirement to use this type of transport.
---