Hanoi is the capital of Vietnam, which brings interesting and wonderful things with itself in order to fascinate many tourists from other countries in the world. Before starting a journey to discover attractions of Vietnam, from urban places to the countryside, you should experience day trips in Hanoi to know about things to do in Hanoi at night.
Read more: The top 7 nightlife experiences in Ho Chi Minh city
Drink beer in the ancient quarter (Hanoi)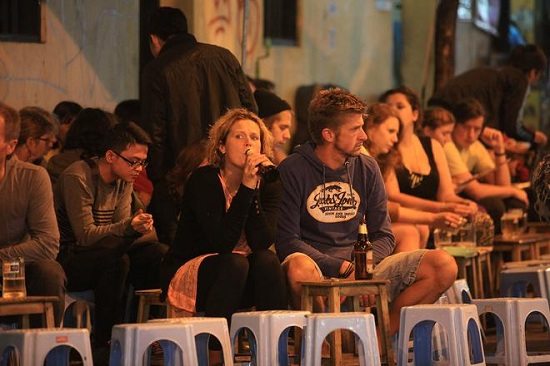 Hanoi people often choose Ta Hien Street in the ancient quarter as their gathering place to drink beer and chat with each other when the night is coming. This is actually considered as the most crowded snug where foreigners prefer to come. Just with plastic small tables and chairs, beer, and snack from the vendor, you will get an enjoyable experience in Hanoi at nightfall.
Watch Water Puppet Show
For day trips in Hanoi, you ought to keep an eye on Water Puppet Show at Hanoi Water Puppet Theatre as getting access to this unique type of art will be a meaningful experience. The show's content simulates the idyllic daily life of Vietnamese farmers, such as catching fishes, feeding buffalos, and growing plants and crops. Moreover, it also revives traditional entertainment of Vietnamese in the past (dragon dancing and swimming contest). Indeed, it's taken into account as a fast way to obtain the understanding of Vietnamese culture within a short time.
Book today: Ha Noi half day cyclo tour and water puppet show price from $40
Enjoy Street Performances
Street performances are supposed to be the exciting art whereby traditional Vietnamese music – "Ca tru" or "Trau van" – is performed along streets in the old quarter by locals, or pop music is performed by groups of the youth. Regularly, this wonderful activity will take place in every corner of the ancient quarter every weekend night.
Shop at Dong Xuan Night Market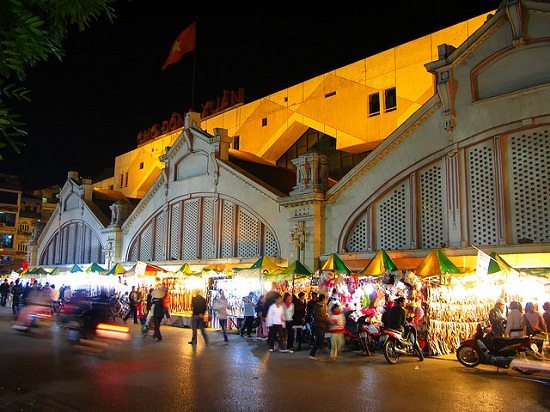 Dong Xuan Night Market is along Dong Xuan and Hang Ngang streets. It will be a good choice if you are seeking for a place to shop when you are in Hanoi Capital, Vietnam. To go shopping at this market is exactly one of the things to do in Hanoi at night. There are many things you may pick out for yourself or as meaningful gifts for your friends and family. However, be aware of pock pickers somewhere in the market.
Listen to opera music at Hanoi Opera House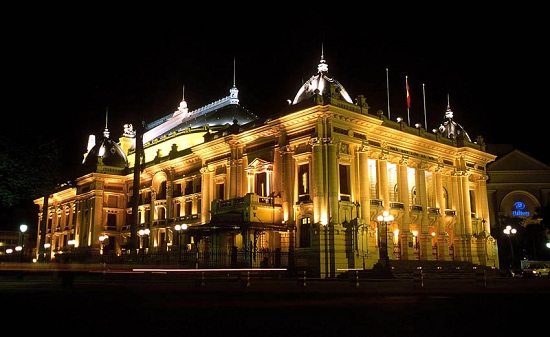 Hanoi Opera House is referred to as one of the most outstanding architectural styles in Hanoi, which is built with the aim of serving art performances for people. It is clearly an ideal place to listen to classical music and opera when tourists are touring around Vietnam and seeking for things to do in Hanoi at night. The ticket's price is just VND 200,000 per person.
Relax at Binh Minh's Jazz Club
Behind the Hanoi Opera House is Binh Minh's Jazz Club; it's a warm lounge with the comfortable ambience where you can sip your favorite drink and immerse yourself into great jazz. Although the club is small, the space brings you warmth, and it's possibly said that the club is totally a must-visit for jazz lovers.
---